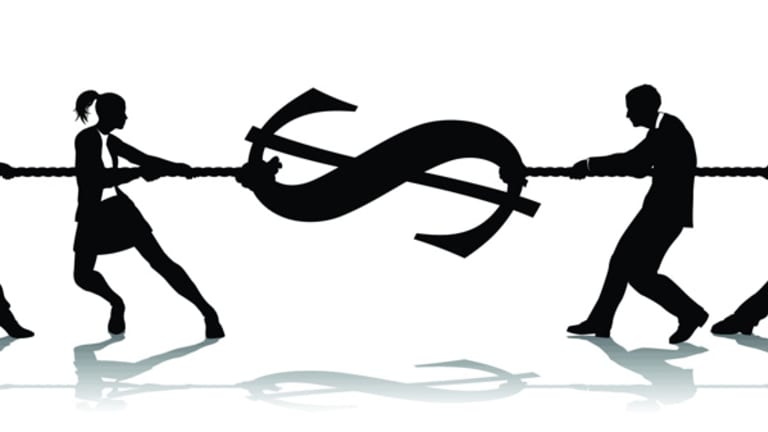 Encourage Equal Pay with Socially Responsible Investing
Investing in mutual funds or ETFs that target socially responsible companies shows your support for gender pay equality.
Income inequality between men and women is a major problem in the United States and globally. 
Although there has been a narrowing of the difference in recent years, men still earn significantly more than women. The gap is based on outdated attitudes. It does not reflect the ability of women to perform the same jobs as men with equal skill. Women are particularly absent at the senior executive and board levels, one study found. 
But investors can help effect change by purchasing shares in organizations that promote pay equality and equal opportunity, or in mutual funds and ETFs that target companies where gender-related work issues are part of the corporate DNA. 
According to the Bureau of Labor and Statistics, in 2014 women who were full-time wage and salary workers had median weekly earnings of $719 and those earnings were 83% of those of male full-time wage and salary workers. They earned $871.
By race, the discrepancy worsens. Black women had a median salary of $611 and Hispanic women had a median salary of $548 compared to $897 for white men. That's only 68% and 61% of white men's salary, respectively, for black and Hispanic women.
To be sure, the U.S. has made progress in closing the gender pay gap. Since 1979 women's-to-men's earnings ratios rose from approximately 63% in 1979 to 83% in 2014. But there's clearly room to improve.
Women are also under represented in the top-level, corporate and political leadership ranks. According to a Pew Research Center report titled Women and Leadership, only 17% of the board members for Fortune 500 companies are women, and only 26 Fortune 500 companies have a female CEO. In politics, only 19% of women make up Congress.
The reason for the discrepancy isn't a lack of qualifications. According to the U.S. Department of Education in 2013 56% of undergraduates at degree-granting post-secondary institutions were female, and according to the Pew Research report, women held 52.2% of managerial and professional occupations in the U.S.
Reasons for the gap include myths that women don't make good managers, or their family responsibilities will interfere with their work responsibilities. Women looking to advance their careers also face misconceptions that often break down among partisan lines. 
Of Republican men, 54% believe that the country has already taken the steps needed to create equality in the workplace. 
A way to encourage faster progress is to reward companies that promote women and gender equality in the workplace. This can be done by socially responsible investing in companies that make having a positive social impact part of their governance. This increasingly incorporates issues related to diversity and gender pay gaps.
Here are a few ways to invest in these firms.
Invest in A Socially Responsible Mutual Fund
The Vanguard FTSE Social Index Fund is a low-cost mutual fund that invests in numerous large and mid-capitalization companies that have been screened for social, human rights and environmental criteria. The largest holding in this fund is Apple, which has two women on its eight-member board of directors.
Apple is a holding in Jim Cramer's Action Alerts PLUS Charitable Trust Portfolio. See how Cramer rates the stock here. Want to be alerted before Cramer buys or sells AAPL? Learn more now.
Invest in A Socially Responsible ETF
Socially responsible ETFs are great because there are many ETF's that have investment philosophies geared towards a specific cause. The SPDR SSGA Gender Diversity Index ETF invests in U.S. companies that are leaders in advancing women through gender diversity on their boards of directors and in management. This is a product for investors who want to support companies that promote gender equality. The largest holding in this ETF is Home Depot, which has three women on its board of directors.
Buy the Companies' Individual Stock
This gives you a proxy vote that allows you to vote on issues such as electing someone new to the board of directors. Proxy votes give you a voice in the companies' direction. Hedge funds use proxy votes to become activist and guide companies in their preferred direction. A small investor won't have the same impact as a hedge fund, but if enough investors feel the same way on an issue, they can spur an organization to make changes.
This article is commentary by an independent contributor. At the time of publication, the author held no positions in the stocks mentioned.