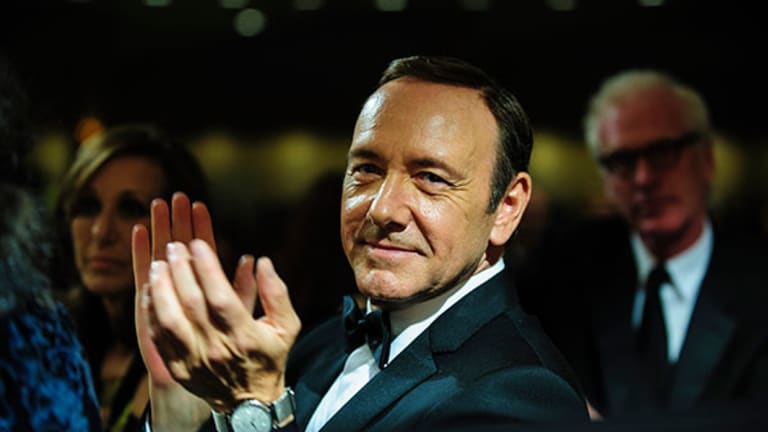 Emmy Nominations to Netflix, Amazon Force TV Establishment to Bow to Streaming
Netflix and Amazon led online sites' to a best-ever 54 Emmy nominations Thursday, a sign of streaming's further acceptance by television's old guard.
NEW YORK (TheStreet) -- Emmy voters are just like you and me: They like to stream their TV shows.
The television establishment on Thursday handed out 54 Primetime Emmy nominations to online shows, a rise from 35 a year ago, signaling a further normalization of streaming television within the industry awards long dominated by broadcast and cable.
Netflix (NFLX) - Get Netflix, Inc. Report picked up a leading 34 nominations among streaming platforms, up from their 31 nods from the Television Academy last year. But the big difference lies in other newcomers: Amazon's (AMZN) - Get Amazon.com, Inc. Report Instant Video earned its first nominations this year, scoring a cool dozen.
What's more is that streaming shows picked up awards in each of the biggest and most visible competitions: supporting and lead acting, and top comedy and drama. Netflix's political thriller House of Cards and Amazon's transgender comedy Transparent each earned a leading 11 nods among streaming shows.
While the organizations that controls Hollywood's establishment awards have often been slow to change, the Television Academy appears to be full-steam ahead with online streaming, the consensus future of TV consumption.
"Streaming sites have been greeted with open arms," said David Bianculli, the TV critic for National Public Radio's Fresh Air and the author of the forthcoming book The Platinum Age of Television. "Half the time [Emmy voters] want to nominate the same shows and the same people over and over, but when they have slots for new things, they're very open to streaming sites."
The reason for streaming's quick ascension has to do in part with the industry's move to digital, Bianculli said, but also the high quality of the programming on streaming services.
"It used to be that Emmy voters were hard pressed to fill five in a category," Bianculli added. "Now, there's seven or more. You can get very angry at what was left out, but if you look at the ones who made it, they're all good."
Part of glut of quality has to do with the playbook set by Time Warner's (TWX) HBO, the perennial top-nominated and most-winning network. This year, HBO picked up a leading 126 nods, three times more than its nearest competitor. Its fantasy epic Game of Thrones topped all shows with 24 nominations. HBO is also expected to be the big winner at the Sept. 20 awards.
Netflix has famously followed HBO's lead by focusing on high-concept and ambitious programming with top talent designed to bring recognition and more subscribers to its service. Amazon with Transparent and an upcoming series from Woody Allen is also following the model.
Shares of Netflix surged more than 18% to $115.99 late Thursday afternoon after the company reported higher subscriber numbers for its most recent quarter. It now has a total of 65.6 million subscribers globally, fueled in large part to its aggressive push for original programming. Netflix had 11 different programs earn nominations.
Whether it's the chicken or the egg, it's working.
Netlfix is the top-watched TV provider among young viewers, according to a new study. An Ipsos Media CT poll found that people in demographics covering ages 13-49 said they watched the streaming service more than any other network.
But it's not just the streaming sites getting into the Emmy act: Comcast's (CMCSA) - Get Comcast Corporation Class A ReportNBC.com and Viacom's (VIAB) - Get Viacom Inc. Class B ReportComedyCentral.com each earned nominations for web-only content, as did Time's (TIME) EW.com.
"There's too much good TV out there," Bianculli said.
This article is commentary by an independent contributor. At the time of publication, the author held no positions in the stocks mentioned.