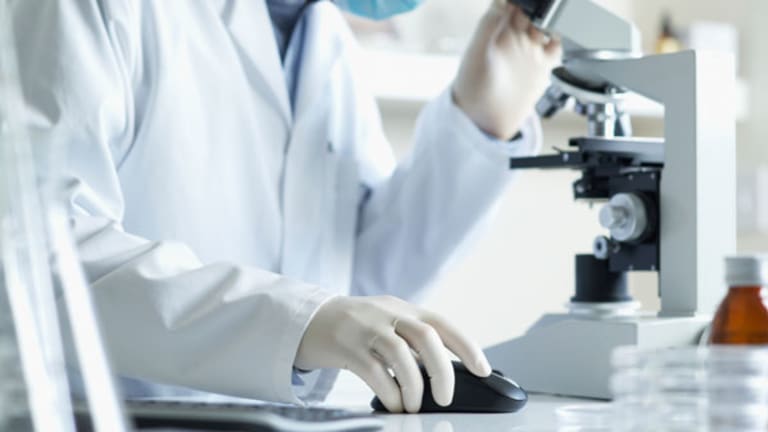 NEW YORK (TheStreet) -- We are in the Golden Age of modern medicine. Doctors can thread a tiny wire up an artery to your still-beating heart and manipulate vessels and valves to save your life. The once-feared HIV pathogen is managed as a chronic ailment, much like diabetes and high cholesterol. Patients are living longer, healthier lives.
Pharmaceutical companies are capitalizing on these advances, quick to develop new drugs and are generously rewarded for their efforts. So, if I were to tell you about a public health burden which affects two million Americans, kills over 23,000 patients, and leads to over $20 billion in direct health care costs per year, don't you think the drug industry would be salivating at the opportunity to corner this market?
Well, they're not.
The health care crisis is antibiotic-resistant "superbugs," and it's quickly spiraling out of control. Through years of reckless antibiotic use by both physicians and the agriculture industry, bacteria have evolved and are now outsmarting the drugs designed to kill them. Methicillin-resistant Staphylococcus aureus (MRSA) is the most well-known of these resistant bacteria, but it is just one of many. Carbepenem-resistent Enterobacteriaceae, Vancomycin-resistant Enterococcus, and Clostridium difficile are a few of the numerous bacteria that have recently emerged as a cause of significant illness and death among U.S. patients.
What is being done? Not nearly enough. According to the FDA, the number of new drug applications -- documents submitted to the FDA by pharmaceutical companies to request approval of new therapeutic compounds -- have dramatically decreased over the last three decades in the field of antibiotics (see Figure 1). From 2000 to 2012, the FDA granted 1,063 total new drug application approvals, with antibiotics accounting for a mere eight. That's less than 1% of all NDA approvals in this time period, a staggeringly low statistic.

Figure 1: NDA approvals for antibiotics from 1980 to 2012
What explains this decrease? For starters, antibiotics are more difficult to discover and refine than other medications. Researchers not only have to bear the financial burden of running a clinical trial, but also must contend with lower reimbursement costs and the severity of the disease.
Antibiotics usually require only days of treatment, whereas drugs for chronic diseases are often taken for months or years. It doesn't take a degree in finance to see why the industry is turning its back on acute illnesses. Since 2000, Eli Lilly (LLY) - Get Eli Lilly and Company (LLY) Report, Sanofi (SNY) - Get Sanofi Sponsored ADR Report, Pfizer (PFE) - Get Pfizer Inc. Report and Johnson & Johnson (JNJ) - Get Johnson & Johnson (JNJ) Report have all closed the doors of their antibiotic programs in favor of the more lucrative chronic disease market.
However, history shows antibiotic development is anything but a waste of money.
Cubist Pharmaceuticals (CBST) is demonstrating that the demand for antibiotics is huge and, perhaps more importantly, profitable. Their flagship drug, Cubicin, grossed over $1 billion in 2013, a number on par with some of the best-selling drugs in the pharmaceutical industry. In its heyday, Pfizer made over $1 billion per year on sales of its breakthrough macrolide antibiotic, Zithromax.
Furthermore, the U.S. government is enticing companies into the field of antibiotic development. In 2012, Congress passed the Generating Antibiotic Incentives Now Act -- legislation which requires the FDA to prioritize approval for drugs against resistant bacteria. This bill allows pharmaceutical companies to circumvent the standard approval process in favor of a faster track for FDA review. The GAIN Act also permits an extra five years of market exclusivity before the developed antibiotic is made generic, affording additional time for companies to land a handsome return on their investment.
New drug-resistant organisms are emerging in droves and creating a healthcare burden which is at this point largely unaddressed. As this problem grows and gains momentum, companies specializing in antibiotic treatments will be poised to fill this need and stand to profit immensely from the development of new compounds to fight resistant bacteria.
The new incentives in place through the GAIN Act only make these investments that much more palatable. Large caps such as GlaxoSmithKline (GSK) - Get GlaxoSmithKline plc Sponsored ADR Report, AstraZeneca (AZN) - Get Astrazeneca PLC Sponsored ADR Report, and Merck (MRK) - Get Merck & Co., Inc. (MRK) Report and small caps such as Cempra (CEMP) , Tetraphase (TTPH) - Get Tetraphase Pharmaceuticals, Inc. Report, and Durata (DRTX) are just a few of the companies currently researching novel antibiotics to capitalize on this mounting healthcare need.
They see this growing market and you should too.
At the time of publication, the author held no positions in any of the stocks mentioned.
This article represents the opinion of a contributor and not necessarily that of TheStreet or its editorial staff.