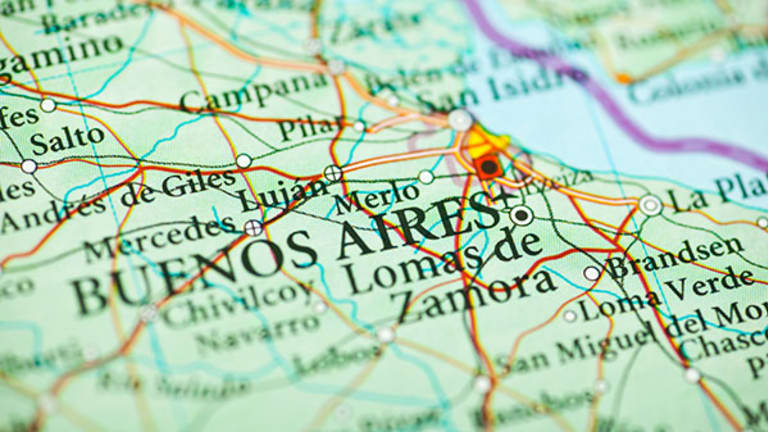 Emerging Markets Go From Bad to Worse
But where there are emotional declines, there is also opportunity.
NEW YORK (TheStreet) -- After a bad year for emerging markets in 2013, things have gotten worse in 2014.
Last year, the iShares MSCI Emerging Markets ETF (EEM) - Get iShares MSCI Emerging Markets ETF Report declined 5%, which wasn't necessarily that bad except that domestic markets were up 30%. So far this year, EEM is down 10%.
The centers of attention are Argentina and Turkey, whose currencies troubles could become crises. The equity markets for these countries can be easily followed by the Global X Argentina ETF (ARGT) - Get Global X MSCI Argentina ETF Report, down 11% year-to-date, and the iShares MSCI Turkey ETF (TUR) - Get iShares MSCI Turkey ETF Report, down 13%.
The declines are contributing to broader developing-market declines, stemming in part from the Federal Reserve's reduction in bond purchases.
The bigger story has been the currencies in Argentina and Turkey. The U.S. dollar has rallied 23% against the Argentine peso this year and 1.8% against the Turkish lira. Bespoke Investment Group notes that the Turkish lira has lost 34% against the U.S. dollar over the last year.
The central bank of Argentina last week decided to no longer intervene to defend the peso, and this week the focus has shifted to Turkey, whose central bank took the opposite approach, appearing to go all in to defend the lira. The Turkish central bank has taken the extreme step of huge interest rate hikes in several benchmarks, including increasing the one-week lending rate for banks from 4.5% up to 10%.
Looked at in isolation, raising interest rates usually strengthen the currency because higher rates means higher interest earned on deposits in that currency. Rates hikes, however, don't occur in isolation; they have consequences. When interest rates are high, they tend to impede economic growth because access to capital becomes more expensive.
The rate hikes in Turkey may force other emerging-market countries to also raise rates so that their currencies can remain competitive. This week, South Africa has raised its main interest rate to 5.5% from 5%.
Armed with some understanding of the situation, investors can consider how to proceed in their portfolios.
On Wednesday, exchange-traded fund provider Emerging Global Advisors hosted a conference call to share some thoughts on the current situation and the extent to which it is short-term noise for most emerging markets, the ones going down in sympathy with Argentina and Turkey.
The firm also reiterated the long-term story for emerging- and frontier-market investing more generally. While equity prices from many markets have declined in sympathy, some are holding up well. The iShares MSCI Frontier Market ETF (FM) - Get iShares MSCI Frontier 100 ETF Report is actually up slightly year to date.
Emerging Global said that on average, consumption accounts for only 53% of the economies of developing markets, compared with 68% in the U.S.
The implication is that the ascendance of a middle class with new-found disposable income will be one driver of long-term growth for these markets. Developing markets also have superior demographics, which Emerging Global says contributes to productivity growing at better than 5%, compared with less than 2% in the U.S.
Finally, the firm noted that unlike past emerging-market troubles in 1994, 1997 and 1998, emerging markets broadly speaking aren't overly indebted now, which gives it confidence that this isn't a repeat of past crises.
Still, that doesn't mean equities won't fall as much as they did before. Markets tend to sell first and ask questions later, which may create a buying opportunity for investors thinking in terms of decades.
Today's prices will likely look very cheap compared with several years from now, but investors need to prepare emotionally for the possibility that today's prices could look expensive several weeks from now.
At the time of publication, the author held no positions in any of the funds mentioned.
This article represents the opinion of a contributor and not necessarily that of TheStreet or its editorial staff.