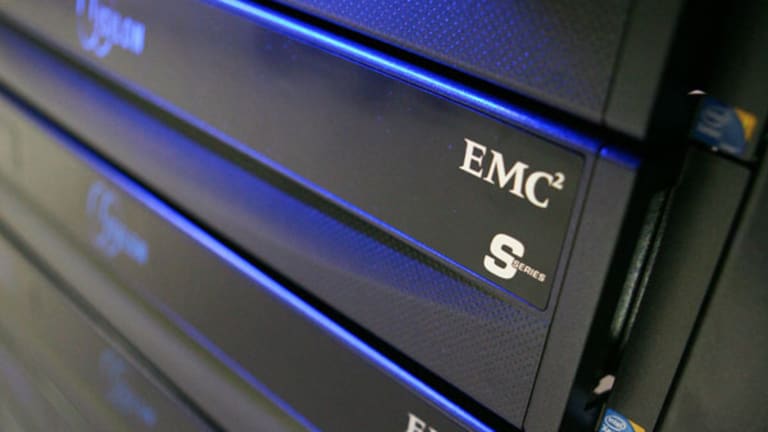 EMC Looks Incredibly Cheap
There is no company that is in a better position to capitalize on an IT spending recovery than EMC.
NEW YORK (TheStreet) -- So far, 2013 has not panned out the way EMC (EMC) investors have expected.
Although the stock has traded relatively flat since the start of the year, at one point EMC shares had lost 15%, falling to a 52-week low of $21.45.
Making matters worse is
VMware
(VMW) - Get VMware, Inc. Report
, which is 80%-owned by EMC, has lost 11% of its value since the start of the year.
While EMC is still the clear-cut leader in the storage business, where it competes with
NetApp
(NTAP) - Get NetApp Inc. Report
, EMC has shown no immunity to weak IT enterprise spending. That the stock has bounced back by roughly 21% over the past four months suggests investors have become a bit more optimistic about a recovery in IT spending and the direction of EMC's storage business, which has been under significant pressure.
I'm not going to boast about how well the storage market is performing. Truth be told, I don't believe the industry is as vibrant as it was, say, two years ago at the height of "everything Big Data." Even so, I believe the fear investors carry about what is projected to be a turbulent rest of the year is overblown. Although EMC posted in-line results, revenue grew 6% year over year -- ample evidence the worst is over. In my opinion, this makes the stock a strong buy at current levels.
EMC management has never gotten its due for being able to quickly adapt to changing trends. A perfect example was when management announced plans to spin off areas of its business to create a separate entity called Pivotal. The company believed that although it had assets that were performing strongly, they were getting lost in the shuffle.
Read: The Story That Took Steve Ballmer Down (Insert Emoticon Here)
Essentially, management believed the spinoff would create more value for shareholders. Given that the company recently posted 39% jump in its emerging products business, management has been right. What's more, there continues to be better-than-expected improvement in EMC's other businesses, including the company's new array of flash products.
Admittedly, given what has been a brutal storage market for most of the year, I had doubts about the risks management has taken, which I felt were going to disrupt EMC's core business. In that regard I couldn't have been more wrong.
Also impressive has been VMware's better-than-expected recovery. I noted earlier the stock is down 11% on the year, but there was a point when shares had plummeted 31%.
This brings up an interesting point. Unlike many holding companies, I believe EMC has seen more than its share of bearish activity solely due to the uncertainty surrounding VMware. There's no denying EMC has a strong and well-diversified operation. But with VMware's virtualization business threatened by
Citrix
(CTXS) - Get Citrix Systems Inc. Report
and an underrated
Microsoft
(MSFT) - Get Microsoft Corporation Report
, EMC, by virtue of its 80% stake in VMware, suffered the consequences.
Read: Should You Invest in a Morally Reprehensible Company?
Now, even with EMC's Pivotal spinoff, we still need to have realistic expectations. I'm not going to lie to you and pretend EMC is out of the woods just yet. I'm not ready to make this claim -- at least not until enterprises stop starving themselves and begin to spend more.
But this is what makes EMC a great buy today, especially with Pivotal expected to generate roughly $300 million in revenue this year.
Given that the total available market for Big Data is projected to grow to $17 billion by 2016, there is still plenty to love about EMC in the long term. Although bears are correct in their near-term projections of slowing growth, I wouldn't put so much weight on what EMC is likely to do over the next four months.
From the standpoint of its product cycles and growth capabilities, there is no company in a better position to capitalize on a recovery in IT spending. But I wouldn't wait until that happens. Buying the stock at that point will be too late.
Current trends and fundamentals support a fair value of $35 per share over the course of the next 12 months, which is a 35% premium from current levels.
At the time of publication, the author held no position in any of the stocks mentioned
.
Follow @saintssense
This article was written by an independent contributor, separate from TheStreet's regular news coverage.
Richard Saintvilus is a co-founder of
where he serves as CEO and editor-in-chief. After 20 years in the IT industry, including 5 years as a high school computer teacher, Saintvilus decided his second act would be as a stock analyst - bringing logic from an investor's point of view. His goal is to remove the complicated aspect of investing and present it to readers in a way that makes sense.
His background in engineering has provided him with strong analytical skills. That, along with 15 years of trading and investing, has given him the tools needed to assess equities and appraise value. Richard is a Warren Buffett disciple who bases investment decisions on the quality of a company's management, growth aspects, return on equity, and price-to-earnings ratio.
His work has been featured on CNBC, Yahoo! Finance, MSN Money, Forbes, Motley Fool and numerous other outlets.
Follow @saintssense