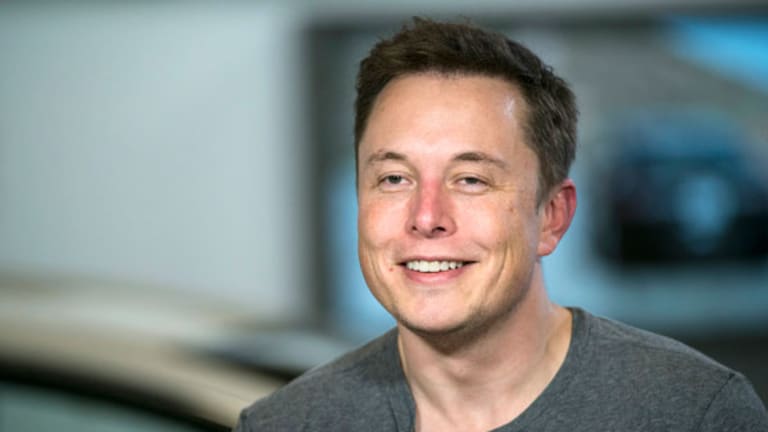 Elon Musk's Fabulous Distractions
Investors can sleep at night if they bet on names such as Bezos and Schultz. That's not the case with Elon Musk's speculative ventures.
NEW YORK (TheStreet) -- When I was at SXSW (that's short for South by Southwest for the uncool and uninitiated), I saw Elon Musk, founder and CEO of Tesla Motors (TSLA) and about 14 other companies, speak.
There was a buzz in the air before his speech. The media and other SXSW attendees came off like nervous teenage girls waiting to catch a glimpse of
One Direction
on a hotel balcony. It disgusted me.
We packed the house for a guy who
made a complete fool of himself with his comments about parenting
, yet no more than 100 people showed up to see the CEO of
Livestrong
talk about how his non-profit is dealing with the Lance Armstrong scandal that, unfortunately and inappropriately, hurts efforts to support people impacted by cancer.
That's how we set our priorities on the micro level when we choose which conference presentations we will attend and, on the macro level, when we idolize somebody like Musk, who, at the end of the day, packs more bravado and bark than he does bite.
Also see: Colleges with the Highest-Paid Professors >>
When we step back from the stuff that matters -- helping people navigate the systems and emotions that come part and parcel with a cancer diagnosis -- we're left with cats such as Musk competing for our attention.
And it floors me he gets so much of it.
This guy is pursuing the things that interest him. In and of itself, there's nothing wrong with that. Musk is dogged in pursuit of his goals. He does amazing things with really interesting companies, however, beyond
PayPal
, how has he really done anything to affect the daily lives of large numbers of people? How will he ever?
Also see: Tesla Jumps as Musk Hints at 'New Strategy' >>
If a bunch of rich dudes in Beverly Hills or
use solar power and drive Tesla Roadsters or Model S sedans and Musk realizes his life's dream of landing on Mars, how do any of us -- this collective we call society -- benefit at all? We'll gawk. We'll be entertained. We'll look to Musk for tips on how to be rich, successful and well-liked, but how will Musk make the world a better or different place?
Space travel. Solar. Super-expensive electric cars. These are all concerns of the rich. Toys of the rich. And, if you break each area down into unit sales, Musk's ventures add up to something less than a pimple on the rears of
Apple
(AAPL)
,
Amazon.com
(AMZN)
and
Starbuck's
(SBUX)
.
It's not that these companies are curing cancer -- though you could argue that Apple products in the hands of medical professionals gets us closer -- but they're the ones changing the world. They're the one making billions of people's lives most certainly different and arguably better.
Also see: Tito's Inspiration Mars: The Fly in the Flyby Ointment >>
And they were/are led by great CEOs. Only one -- Steve Jobs -- received more press than Musk. Jeff Bezos sort of does, but not really. And, for whatever reason, the media and general public tend to treat Howard Schultz (he's the Starbucks CEO) like a red-headed stepchild. Maybe he likes it that way, but the man deserves loads more respect than he gets.
Ubiquity -- Apple products, cardboard Amazon boxes and its emerging slew of services and Starbucks coffee. That's what I am talking about. Daily habits now, but massive disrupters not only in their infancy, but as they continue to emerge. While you can make the case that Musk will set his various ventures on similar trajectories, I just don't see it.
He's a sensational leader set on doing sensational things. Jobs, Bezos and Schultz -- sensational leaders set on doing practical things. Things that impact millions of people in billions of experiences and transactions every single day.
Starbucks took a hit after its Thursday earnings report. The stock probably needed to breathe anyway after setting 52-week highs north of $60. But, largely because of Schultz's leadership and his mobile/digital teams' track records of innovation, you can buy his stock knowing full well the long-term narrative remains intact.
Also see: Judge Rules in Microsoft's Favor >>
Same with Amazon, which
after a seemingly lackluster earnings report. Jeff Bezos makes it completely clear that how he runs Amazon's business. There is abundant long-term opportunity. Opportunity that involves you. That has nothing to do with Mars (space travel is merely a Bezos' side project). Amazon will chase it down and own it, spending whatever it needs to spend along the way.
You're not speculating when you buy SBUX or AMZN, even if you buy it because of the CEO in charge. You're buying into practical, stable and ubiquitous futures you can see in front of you each day. You live these futures now.
On something like Tesla or any other Musk venture, you're not only taking a speculative flyer into uncertain territory, you're buying "stock" in the whims of a rich man who plays a key role in society's decision to make him larger than life.
--
Written by Rocco Pendola in Santa Monica, Calif.
Rocco Pendola is
TheStreet's
Director of Social Media. Pendola's daily contributions to
TheStreet
frequently appear on
CNBC
and at various top online properties, such as
Forbes
.