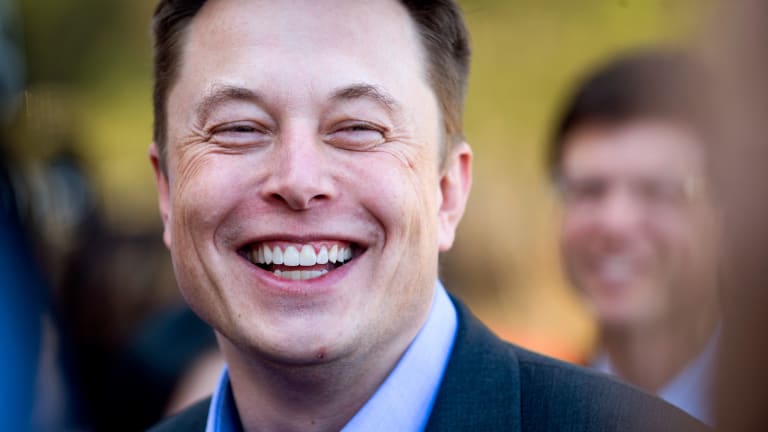 Elon Musk Will be Retired on Mars Before NYC-D.C. Hyperloop Is Built
Commentary: Moving the dirt is the easy part of the audacious proposal.
Elon Musk says he got verbal approval to build an underground hyperloop from New York to Washington DC. this week.
Goodness knows if anybody could do such a thing, it's Musk. After all, the CEO of Tesla (TSLA) - Get Tesla Inc Report managed to convince close to half a million people to put down deposits on an electric car, sight unseen. And he and his people manage to land rockets on barges rocking in the middle of the ocean on a pretty regular basis nowadays.
But getting the dirt out of the way is likely the easy part of any high-tech subterranean ground transportation service.
Without breaking a sweat, one can name dozens of state, federal and local political entities that will take a bite of the bureaucratic pie on such a project.
Between the mayors and elected councils of New York, Philadelphia, Baltimore and Washington D.C. there are eight "actors" alone. Throw in the fact that D.C. is actually overseen by Congress, and suddenly every bureaucracy from the EPA to the Dept. of Transportation is involved, not to mention congressional committees and subcommittees.
We haven't even touched on the state governments involved: Maryland, Pennsylvania, New Jersey, New York and perhaps Delaware, all paragons of upright, efficient and honest dealings.
Then there are the transit agencies, including the MTA, Amtrak, New Jersey Transit, SEPTA in Philadelphia, Maryland Transit in Baltimore and so on.
Musk might think he can ignore them and just deliver people to freshly built stations in the city centers, but transit agencies have a habit of employing politically active unionized workers. Besides, what good is a network, even a really fast one, if it doesn't connect to deliver people or data over the "last mile"?
Then there's the above-ground transport industry and their bureaucracies. Airlines, which are forever figuring out ways to literally squeeze profits out of their miserable passengers, will doubtless throw shade on any plans to cut into those profits. Let's not forget the Port Authority operating those airports! And the FAA.
Now consider the recent history of more conventional efforts to improve ground transportation in the Northeast Corridor. Before his subordinates got in the business of blocking bridges for political revenge, Gov. Chris Christie single-handedly blocked the ARC tunnel project, to build an additional rail route to Manhattan under the Hudson river. The move no doubt is adding to the joy of countless commuters going through Penn Station's reconstruction projects this year. (Nice catch, Chris!)
Then too, there's the tendency of all modern infrastructure projects to hit delays and overruns.
Boston's "Big Dig" took an extra nine years, and overran original estimates by billions of dollars.
The replacement of just the eastern half of the San Francisco Bay Bridge took 24 years from the time of the Loma Prieta earthquake in 1989. The original bridge, all 4 miles of it -- including a tunnel through Yerba Buena island in the middle of San Francisco Bay -- was built in just 3 years and six months, between July 1933 and December 1936.
In 2008, California voters approved $10 billion in bonds to construct a high-speed rail system between San Francisco and Los Angeles. To date, no track has been laid and construction on a bunch of viaducts in the state's central valley is only in preliminary stages. The first 29 miles aren't expected to be done for another two years. The ultimate completion of the first phase is not expected until 2029 at the earliest.
And finally, after all those issues, there remains the question of whether making it even easier for people to get from New York to Washington DC is really a good idea. Don't those people zipping back and forth between the finance and political capitals of the country do enough damage as is?
Of course, Musk is one of those rare people in the business of dreaming big AND executing on those dreams. So if anybody can pull off creating a new transportation system, and constructing it, he's the guy. But to make it work, he'll probably need to invent a whole new machine to push bureaucrats, politicians and lawyers out of the way.
More of What's Trending on TheStreet:
Hedge Funder Scaramucci Lands Job in White House; Sean Spicer Quits
Quiz: Which Company Makes Your Favorite Junk Food?