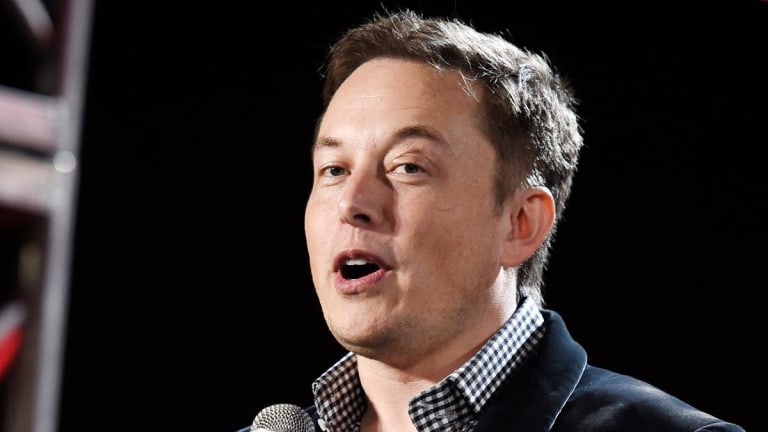 Tesla's Elon Musk Must Realize He Can't Do It All: Dumbest Thing on Wall Street
Can Elon Musk really run three companies and do philanthropic work? The answer is probably not, at least effectively.
Elon Musk can use some focus. 
As if being the CEO of Tesla Inc. (TSLA) - Get Tesla Inc Report , SpaceX and The Boring Company wasn't enough, Musk has decided to add in another hobby—philanthropy.
Or is it really philanthropy?
"Philanthropy is not picking something that everyone is writing about and not doing anything...philanthropy would be to help the guy who got hurt in his factory," said Gabe Hoffman, owner of Accipiter Capital Management LLC and a known Tesla bear. 
Musk has come under scrutiny recently for his supposed attempt to help out during the Thailand cave rescue. He assembled a team of engineers from his companies and tasked them to make a kid-sized submarine in order to aid the divers. But, the submarine didn't arrive at the cave until the rescue was already halfway done. And, on top of that, the rescue chief in charge of the Thailand mission was not too thrilled to use the submarine.
"It doesn't fit with our mission to go in the cave," rescue operations chief Narongsak Osotthanakorn said to BBC. Others on the scene panned the sub as nothing more than a PR stunt. 
Musk got hot and bothered on Twitter, tweeting that Richard Stanton, a British driver who was aiding the rescue, asked him to help.
On Sunday, July 15, Musk took to Twitter (again) to express his frustration after Vern Unsworth, a British cave diver who helped to rescue the Thai soccer team that was stuck in the cave, said that Musk's submarine was a "PR stunt" and that the minisub would not have worked in the conditions that the divers experienced during the rescue.
In a since deleted tweet, Musk referred to Unsworth as a "pedo" and said that he would prove that the submarine would have worked.  
While Musk was playing deep sea explorer, Tesla's shares were getting pummeled (again). 
But Musk's deep sea adventures aren't the only headlines being made by the CEO. On Saturday, July 14, it was revealed in a Federal Election Filing that Musk donated $38,900 to Protect the House, a Republican PAC. 
Musk has since, in a move that should feel very familiar to everyone by now, disputed that he isn't a donor to the GOP via Twitter.
Hoffman thinks there's a reason for Musk's lack of focus -- he believes that these kinds of stories get journalists to "write about what he [Musk] wants" instead of focusing on things like bad Tesla press. There is a lot more bad press that's possible on Tesla, ranging from deeper dives into frequent production misses to assessments on its survival. 
Hoffman even goes as far to say that Musk's attempting a form of gaslighting.
Musk may be acting over-the-top on purpose, Briggs Acquisitions, LLC CEO Matthew Briggs said. Fashion houses such as Chanel and Versace put huge amounts of their time and money behind their haute couture lines for a select clientele in hopes of getting the mass public to pay attention and buy the purses, perfumes and sunglasses that drive their revenue.
"He does an incredible job of displaying the fact that Tesla is a brand on the cutting edge of technology," Briggs said. "It's an excellent branding strategy. People can say, 'my car company built a tiny submarine,' in a way that people don't talk about the concept cars that Jaguar and Mercedes-Benz make to tour car shows."
More on Tesla's Future From TheStreet
But between his battles with the media, the mini-sub flub and now his attempt to aid water deprived residents of Flint, Michigan, when will Musk have time to focus on steadily producing 5,000 Model 3's a week?
Or, as Hoffman pointed out, when will Musk have time to focus on his own employees?
TheStreet contributor Bret Kenwell wrote that in November 2016, a worker was allegedly goofing around on a forklift and ended up injuring another employee. Tesla says both employees were horsing around, although the injured one ended up having his leg amputated as a result.
State agency Cal/OSHA fined Tesla $800 for what they described as a fractured ankle, according to a report from Bloomberg. They also did not speak with the injured worker.
Tesla says it's not aware that management had workers walk through sewage. It also argues that the company tried to arrange an interview between the injured worker and Cal/OSHA.
Imagine where Tesla would be with 100% of Musk's attention. In the meantime, be on the lookout for his midnight tweets on space exploration.