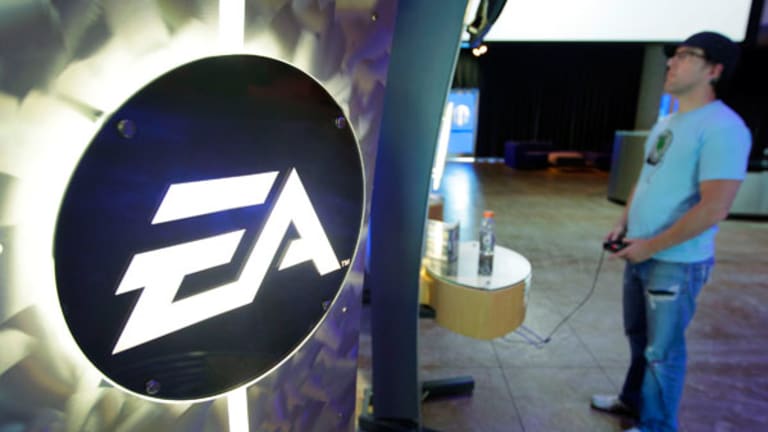 Electronic Arts: Your Next Move
The CEO's departure is not enough to save this sinking ship in the short term.
NEW YORK (TheStreet) -- Electronic Arts (EA) was slipping 0.3% on Wednesday to $17.10 following the announcement earlier this week that CEO John Riccitiello will step down, effective March 30. Based on recent news and general outlook, this stock movement smells like a short. I would only go long if the stock is whacked down to $13.
EA, which is most well-known for the video game franchises The Sims, Madden NFL, FIFA Soccer, Need for Speed, Battlefield and Mass Effect, is currently in a weak position. Its 52-week range is from $10.77 to $19.51. The company hit $19.30 in early trading on Tuesday, up 3% from Monday's $18.71 close. However, despite the brief rally on news of EA's leadership change, investors have turned cold. Shares fell 8.34% on Tuesday, closing at $17.15.
At this point, EA could still be a great stock to short -- as low as it has gone, it could still sink lower. This is a company without a head and not much to look forward to earnings-wise -- a poor prospect for a video-gaming company, given the need to stay on top of the trends, both with regard to what people want to play and the ways in which they want to be able to access that content.
At a minimum, EA is going to go down in share price before it goes up.
Right now, EA is coming up on the close of its fourth fiscal quarter at the end of the month, which is expected to coincide with the release of "Dead Space 3" and "Crysis 3" -- and the outlook is not good. Each of these titles are sequels in franchises that have disappointed critics, and in the current market, there just isn't room for errors.
PlayStation is set to release a new console later this year; Xbox has not announced it yet, but is also expected to release a new console later this year. Then there is the changing market in the gaming industry with which to contend. More people are turning toward downloads instead of buying the actual game discs and then there is the issue of mobile gaming to compete against -- and all those gamers on smartphones and tablets.
In other words, this definitely isn't a time to have quality control issues or release titles that cost customers more if they want to unlock certain features -- and there is no indication that de-throning Riccitiello is going to help with that, at least in the short-term.
The issues at EA were bad enough to earn the company the
Consumerist's Golden Poo Award
last year, and they seem to have been deeper than simply who was at the helm. The Consumerist blasted the company, saying that it would deliberately hold back game content so that it could charge for it later, rather than just selling a complete version of the games. It also claimed that EA would release products before the bugs were ironed out, just to be able to release on time and sometimes even make money on providing those fixes.
Fair enough. During Riccitiello's tenure, EA underwent a transition to a stronger digital presence and worked to reduce the number of annual game releases the company made. The idea was to release fewer titles, which would free up the resources to make those titles bigger and better -- but there was a series of issues. EA had a variety of quality issues with many of its releases and lost several key people to social game giant
Zynga
(ZNGA)
, setting off a legal battle between the two companies.
More importantly, from an investing perspective, those issues are being reflected in EA's earnings. In the press release announcing that Riccitiello would be stepping down from the helm at EA, the company took the opportunity to revise its guidance, saying that it expects revenues and earnings for the current quarter to be at the low end of expectations, if not a little below.
In other words, even EA isn't that encouraged about its earnings.
It is going to take another ground-breaking game franchise to pull this company back up to its former glory. That means EA needs to focus on getting good people on research and development, to make sure that the game has mass appeal. It also means that EA is going to have to attract the top talent in the industry, to make sure that the game looks and functions like a true blockbuster.
EA is going to need to up its game on quality control as well, and possibly up its entire value proposition, if it is going to make up for its recent poor performance. In order to do all these things, EA is going to have to make some serious investments, least of all in whose name is on the letterhead.
The company could turn it all around, but will it happen in the short term? No.
Games, especially the sort that EA needs to erase its previous failures, take longer than a few months to develop and market. This means that the company is going to have lower earnings for the next year or so as it makes these investments and sort of hangs tight until revenue from a groundbreaking new franchise starts to roll in.
For my money, I say short it. EA is falling, fast. A long position could be in order down the road, once it sinks to say under $13 a share, but really there are better and more profitable positions for the money.
--Written by Renee Butler in Seattle, WA
At the time of publication the author had no position in any of the stocks mentioned.
Follow @ReneeAnnButler
This article was written by an independent contributor, separate from TheStreet's regular news coverage.
Renee Butler is a freelance financial journalist based in Seattle. She has written hundreds of articles and blog posts on hedge funds, the financial markets, investing trends and company developments. Her articles have appeared on MSNBC, MarketWatch, the Motley Fool, The Street and Seeking Alpha, among others. Butler is a member of the National Press Club and the Society of Professional Journalists, and holds advanced degrees in business, financial management, psychology and sociology.