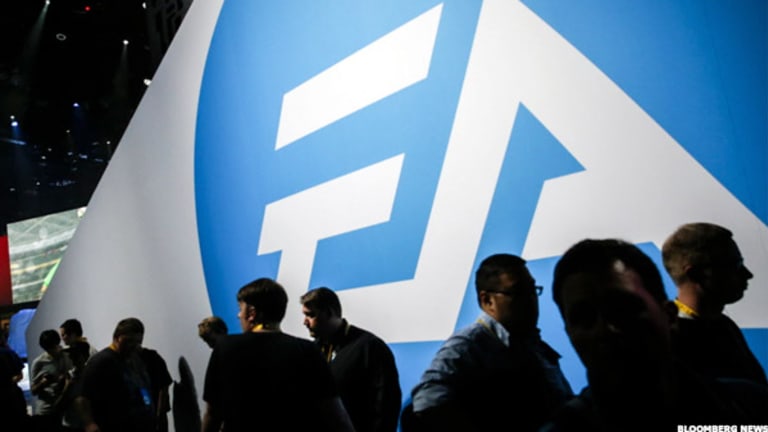 Electronic Arts (EA) - Get Electronic Arts Inc. Report could be a good bet ahead of its full-year earnings release, according to two research firms that are bullish on the financial numbers the video game maker will report.
Zacks Equity Research and MKM Partners are both out with reports projecting there will be an upside for the Redwood Shores, Calif.-based entertainment company's earnings, to be announced after the market close on Tuesday.
Consensus revenue estimates have EA pulling in $4.53 billion in revenue for its 2016 fiscal year and $3.08 earnings per share, the MKM May 3 report said.
EA management's expectations for the 2017 fiscal year are a crucial factor to watch, MKM managing director and EA analyst Eric Handler said. MKM projects $4.9 billion in revenue and $3.60 earnings per share for EA in 2017.
"Guidance is the most important thing," Handler said. "We're into a new fiscal year. This is the first peek at management's expectation for the coming (year)."
The Stamford, Conn.-based financial research company, which gives EA shares a "buy" rating, estimates that EA will pull in $900 million in revenue for its fiscal fourth quarter, bringing its 2016 total to $4.53 billion. That compares with $896 million in fiscal fourth quarter 2015 revenue and $4.3 billion in fiscal 2015 revenue.
The report from Zacks, which has a hold rating on the stock, said analysts have been giving favorable revisions to earnings estimates, which the research firm said is "generally a precursor" to a business reporting higher-than-expected earnings. The research firm did not provide specific numbers.
Investors "might want to consider this stock ahead of earnings," the Chicago-based research firm said. "Clearly, recent earnings estimate revisions suggest that good things are ahead for Electronic Arts, and that a beat might be in the cards for the upcoming report."
A representative from EA was not available for immediate comment.
The MKM report said the launch of marquee titles could buoy the company's stock. The anticipated releases are staggered throughout the year.
An upcoming release is Titanfall 2, a sequel to the initial third-person shooter Titanfall, which is scheduled to debut on June 12. FIFA 17, the latest installment of the soccer game, will likely be released in September, according to various gamingsites. Mass Effect: Andromeda, a third-person shooter science fiction title, is scheduled to be released in early 2017.
"Investors want to start seeing more consistent revenue growth," Handler said. "The management needs to lay out a strategy." He suggested the EA could expand its product portfolio and grow its mobile business, among other options to tap for revenue increases.
Handler said the video game maker may discuss some of these possibilities on Tuesday's conference call, but could also leave some initiatives to discuss at its investor day on May 17.
Electronics Arts shares were trading in the $64 range on Tuesday. The shares were trading at $55.50 on Feb. 5, 2016, and at $76.77 on Oct. 28, 2015.