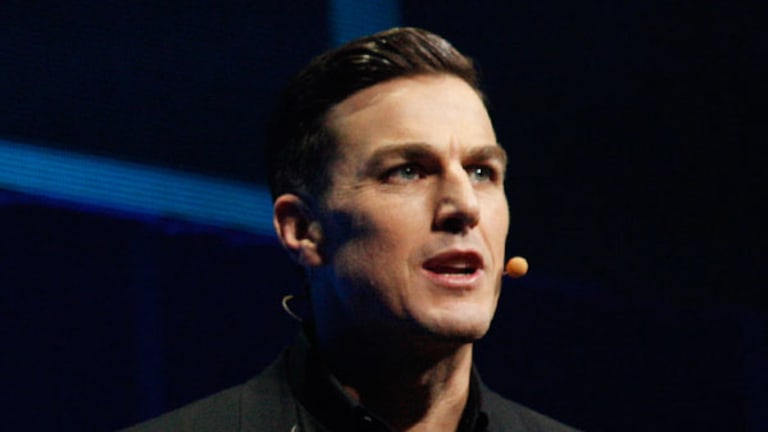 EA CEO: Day Is Coming When Driving a Tesla in Real Life Can Get You Points in a Video Game
The line between games and real life is about to become increasingly blurred, says Andrew Wilson, the 41-year head of Electronic Arts.
The line between games and real life is about to become increasingly blurred, says Andrew Wilson, the 41-year head of Electronic Arts.
As a long-time gamer himself, Electronic Arts (EA) - Get Report CEO Andrew Wilson knows that celebrating a victory for too long can be dangerous, since there's always another bad guy lurking around the corner. 
While Wilson's run since he became CEO in September 2013 has been extremely successful -- shares have risen 176% since then compared to a 33% gain for the Nasdaq overall, and operating margins are at record levels -- the long-time EA exec remains on a mission to reinvent the 40-year-old game publisher.
In an era of rapidly-changing technology and customer habits, Wilson has focused his game developers on making fewer, better-quality titles that can also be directly downloaded, introducing more games for mobile devices and extending the lifespan of hit franchises by developing new levels and challenges.
And he's working hard to take advantage of new technologies that will let gamers immerse themselves into a digital ecosystem -- whether it's via Facebook's (FB) - Get Report Oculus Rift virtual reality headsets, or faster processors on next-generation consoles from Sony (SNE) - Get Report and Microsoft (MSFT) - Get Report
"If I drive 30 miles in my Tesla (TSLA) - Get Report today, that may give me extra fuel when I log into our Need for Speed game next time," Wilson said, referring to the popular electric car that's been a vehicle option in EA's hit driving game for several years. "The notion that you may get credit in The Sims for having six gallons of milk vs. four gallons in your actual fridge is not so far-fetched anymore, either."
Instead of setting up a giant booth at the huge Electronic Entertainment Expo (E3), the huge video game trade show that begins today, EA decided to host its own event called EA Play this year to better showcase its own titles and engage with the public.
The 41-year-old Wilson previously served as head of the EA Sports label, and his efforts since becoming CEO to diversify away from simply selling packaged video games at GameStop (GME) - Get Report and Best Buy (BBY) - Get Report  have been paying dividends.
For the most recent quarter ended March 31, Electronic Arts' revenue and earnings rose a solid 3.1% and 28%, respectively, from the prior year. Sales gained 5.7% to $4.6 billion for the fiscal year ended March 31, while earnings jumped 25% to $3.14 a share.
Significantly, revenue from extra content such as downloading additional levels and character enhancements and mobile games each hit records of $1.1 billion and $570 million, respectively. 
But the avid martial arts practitioner knows there are plenty more levels left to conquer.
"Even when you are in the strongest position, if you don't spend time trying to advance your position, and just holding onto it, what's really happening is your opponent is getting time to think about how they are going to beat you," Wilson said.
TheStreet spoke with Wilson about whether buying physical video games will ever disappear, what virtual reality will mean to gaming and whether Electronic Arts has any big acquisitions up its sleeves after several years of being relatively quiet. What follows is an edited and condensed version of our discussion.
Wilson sees virtual reality as a major opportunity for game publishers. 
TheStreet:Will the next console cycle finally be the one that kills the physical games business? Do you think packaged video games will eventually disappear?
Wilson: I don't think packaged goods will disappear for a while. The reality is that if you go and look at a map, about 40% of the world's music is still bought on disc. The reason for that is because in different markets, there are different cultural norms, different sets of infrastructure, and different payment capability.
So what we are seeing is absolutely a drive towards digital download in markets where there is a strong online infrastructure and there is a strong non-currency based form of payment, whether that is credit cards or at retailers. In markets where the online infrastructure may not be as strong, and credit cards not as prevalent, the move towards digital download has not been as fast.
It all comes down to it being more convenient for people -- and the quality of the experience is as good, or better -- by virtue of digital delivery of games. We believe the world is a better place where everyone gets to make a little bit of time for play.
Our role in the world is to inspire people to play. And we get angry every day we come to work and we think there is someone out there who is not getting the fun we think they should be getting. For many, that fun comes digitally, and we will continue to transform our company into a digital company that delivers content and services because we believe that's the best way we can do it.
TheStreet: What's your sense on how the next console cycle will unfold?
Wilson: We have a philosophical approach to this, which is that it's not about the console or mobile device, or playing games on an internet-enabled refrigerator. It's actually about the modality of play. Here is how we think about modality of play.
One is the screen size. Forget how you get content -- how big is the screen, is it six inches, 60 inches or is it a hologram that comes up through your floor. The second is session time. Is it two hours or two minutes? And the third is, is it a discrete experience or an indiscrete experience -- so do I sit down and decide I want to play on my 60-inch TV, which is discrete, or is it an activity such as if I drive 30 miles in my  Tesla today, that will give me extra fuel when I log into Need for Speed next time, which is an indiscrete experience.
Ultimately, games will permeate our lives just like how digital music did. If you think back 100 years ago, we would get dressed up and go to the opera, and that's how we listened to music. Even when I was 15 years old, the only way I could listen to music was that I would go to the store, buy a Bon Jovi tape and put it in my boombox, or sit down and listen to the Top 40 -- it was a very discrete experience. Now, by virtue of the proliferation of devices that can play music and services such as Spotify, music is both discrete and indiscrete, and permeates my entire life.
This is the future of our industry.
The highly-anticipated Battlefield 1 will hit stores in October.
TheStreet:How do you compete for people's attentions with binge-watching services such as Netflix (NFLX) - Get Report and Hulu?
Wilson: The competition for eyeballs is certainly higher than it has ever been before. Something we have to our advantage is that what everyone is recognizing right now is that the one way to drive long-term extended engagement is interactivity. And not only interactivity with the content you provide, but also with a community around a set of content. So whether you are Netflix or Amazon (AMZN) - Get Report , what you are trying to do today is deliver, publish or launch a set of content and experiences to a community.
The good news for us is that we have been doing this for the better part of 40 years. What you see from us is that we are doing very, very well in the world of competition for eyeballs, and time in general. I mean we are engaging with hundreds of millions of people literally every month. Last quarter we had 10 million people still engaging with our Battlefield franchise nearly three years after its launch. I think we had about 60% growth in engagement in our EA Sports business.
TheStreet:You mentioned developing games for 6-inch screens, but what about for the Apple Watch? Millions have reportedly been sold since their launch.
Wilson: We already do a few things for the Apple Watch. Think about the FIFA Ultimate Team feature. If you have this mode open in one of our biggest products in FIFA, it's where you buy, sell and trade content in a digital ecosystem.
A big part of that ecosystem is an auction house where you can purchase packs of players. In a case where you get a bunch of players you don't want, they still have value in the trade world. So you put them up for auction and you can get notifications to buy, sell and trade them through your Apple Watch.
Am I going to play an 11-on-11 game of soccer on my Apple Watch? Probably not. But as things are going on in the auction world around my players, being able to stay in touch with that by virtue of my watch is a pretty positive experience. It's about giving players the access they didn't have in the past through their new devices.
TheStreet:Amazon has caused a lot of change in bricks and mortar retailers -- for example, GameStop is now selling more collectibles to diversify its business, and Best Buy has reduced floor space for video games. How is Amazon impacting Electronic Arts?
Wilson: What we see is that people are going to choose to buy games in a variety of ways, depending on what's right for them. I am an Amazon buyer. We have boxes turn up on my doorstep every day, and it's not only me -- I have a four-year old daughter who has figured out one click purchasing on Amazon, which is scary on so many fronts if you fast-forward 10 years.
The reason I am an Amazon buyer is not because of price, it's because of convenience. I simply do not have time -- time is my most valuable commodity. So I can buy things at 1:00 a.m. when I am done sending emails and they can be on my doorstep very soon.
For other people, they go into a store. Apple (AAPL) - Get Report has created a store that enhances the buying experience for many people. When you walk past the stores, they are crowded. As we think about Amazon, Best Buy, GameStop or the Apple store, each one of those buying experiences is targeting a different purchase motivation. What we want to do is provide our content through all of these avenues.
I expect Amazon will meet the needs of many, and GameStop will meet the needs of many, too.
TheStreet:You mentioned holograms earlier. When will a football player from Madden NFL pop out of my floor? And how will virtual reality impact the gaming business?
Wilson: I used to talk a lot of about playing games on refrigerators and holograms, which at the time seemed silly. But both of these things are not so far away now. The notion that you could get credit in The Sims for having six gallons of milk vs. four gallons in your actual fridge is not so far-fetched anymore.
As we design for the future, things like an internet-enabled fridge or car or the internet of things in general may have application to the games you love. Throwing a football around in a backyard may give you credit when you go back and play Madden.
I think that would be really cool -- we have a responsibility to promote activity in kids, and there is a way to do that and there are things we are investigating. These things not only enhance your gaming life, but your actual life as well.
When we think about holograms that come up through your living room floor, you start to see Oculus, HoloLens and we aren't that far away. The modality of gameplay where one sits back on a chair and plays on a TV or PC is trying to fulfill something pretty basic. That is this sense of immersion and escape -- anytime we build games for those modalities, we are trying to overcome the spatial disconnect between you and the screen. There are so many distractions in the real world that we as designers are trying to get you to forget about and not focus on.
Virtually reality does away with this problem as it puts you in the game. But virtual reality does have to overcome some challenges like the physiological disconnect that happens for many people when they play virtual reality games.
That is the concept of our brain's inability to calibrate why I am standing still and moving in a virtual space -- we will design around that over time. We have to overcome the social disconnect. So for many people, interacting with games is a very social experience. And right now, it's tough to be social with goggles on your head. We have to figure out how to immerse your friend inside the experience.
I think virtual reality has a very, very big opportunity for us to fundamentally change the way people play games. It will do away with the social disconnect we have had to design around for the last 40 years. In the near-term, we are doing a Star Wars experience with Sony (SNE) - Get Report and Playstation Virtual Reality where you will get to enjoy the fantasy of Star Wars from a virtual reality standpoint. We are also doing some things with Google's (GOOG) - Get Report  virtual reality with our racing game.
Madden NFL remains the dominant video game sports franchise.
TheStreet:You've mentioned virtual reality "experiences' --so are there no actual virtual reality games available from Electronic Arts yet? 
Wilson: What we are doing is building an extension to our Star Wars Battlefront game that allows you to play a component of that game in virtual reality. On the Google side, you will be able to play our racing game out of virtual reality mode. We will be one of the first to do this -- there are not a lot of games out there right now, particularly big well-known franchises -- that are making a meaningful leap forward on virtual reality. We want to push the boundaries.
TheStreet: You were at Electronic Arts when it made a hostile bid for rival Take Two Interactive (TTWO) - Get Report back in 2008. Is that something you want to revisit? What's your appetite for acquisitions?
Wilson: For the last three years, we have been very focused on our company and getting it right in terms of culture and reinvigorating the company. We are now at a place where we think we are in a really good position. And so we are open to acquisitions for the first time I would say in the last few years.
With that said, we have no targets on the horizon or any active engagements with anyone. So while we are open, any purchase better be good -- it better be awesome, and it better enhance and sit alongside the quality of the people we already have.
TheStreet:Have you been a gamer your entire life?
Wilson: I play a lot of games, I have always played a lot of games. I come from a very blue-collar background. At 13, I sold beds. I worked for my father who had a landscaping business digging turf and laying roads. I have scrubbed toilets on building sites when I was 16 to try and help raise money for me to go to school. I have been a host on TV. I have run a restaurant. I have done tons of cool stuff that has led me to this point in time. 
But throughout the entire process, games have always been a very important part of my life. Whether that was Donkey Kong when I was very young or California Games on my Commodore 64 or Double Dragon or Out Run at the arcade, games have been important to me. The CEO job is a whole lot of hard work, but a whole bunch of serendipity and a little luck. My dad used to say the harder you work the luckier you get, and I feel lucky every day.
Wilson says EA is open to acquisitions for the first time in several years. 
TheStreet: Any regrets as CEO?
Wilson: I don't spend my time in regret. I spend time training Brazilian jiu-jitsu with the legendary Gracie family, and there are a couple things you get from jiu-jitsu that I think apply to life and business. The first thing it tells you is that it doesn't matter how big you are, how fast you are or how strong you are, even as a small slow un-athletic human, you can beat a bigger person in a fight if you have to.
Also, even when you are in the strongest position if you don't spend time trying to advance your position, and just holding onto it, what's really happening is your opponent is getting time to think about how they are going to beat you. Never stall.
And unlike other martial arts, where you do a lot of punching and kicking in space, in jiu-jitsu you have it out on the mat every day. Every day you put your abilities to the test, and check your ego at the door and go toe-to-toe and test what you've learned.
As I think about Electronic Arts as an organization, in some fights we are the 800-pound gorilla, in other fights we are a buck fifty soaking wet, going against giants. We can't have a difference of opinion on how we succeed. We have to be trying to advance, we can't cheer and celebrate. We can't be punching air.