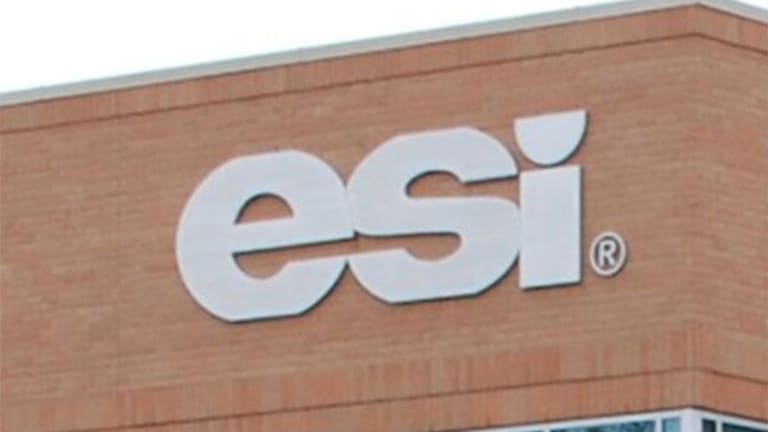 Publish date:
Electro Scientific Gets Bitten
The little-known stock will likely drop today after yesterday's earnings miss and outlook. This may be a buying opportunity.
The little-known stock will likely drop today after yesterday's earnings miss and outlook. This may be a buying opportunity.
NEW YORK (TheStreet) -- The earnings parade continues, and yesterday we got some interesting updates on several companies, including Electro Scientific Industries (ESIO) - Get Report, one of the five companies in my "BITES" portfolio, a collection of small and seemingly cheap technology companies I unveiled to TheStreet's readers back inMarch.
Electro Scientific, which provides laser-based manufacturing systems to the microtechnology industry, is a little-known, underfollowed company with a $360 million market cap. It has also been the worst performing member of the BITES portfolio, up just 3% since March, while the four other companies in the portfolio have risen on average more than 28% during the same period. The stock will likely take a hit today following yesterday's earnings release
The company's fiscal second-quarter results were actually better than expected. While revenue for the period ended Sept. 28 fell 25.6% to $59.6 million versus the same quarter last year, that was still better than the $58.7 million average estimate of analysts. Meanwhile, earnings per share from continuing operations came in at 9 cents, ahead of the 6 cent estimate. That was the good news.
Looking forward, however, the situation is a bit murky. First, the company estimated that its revenue for its fiscal third quarter will be in the "low $40 million" range. While that is ahead of the $37.9 million in revenue the company generated in the same quarter last year, it is far below analysts' average estimate of $67.5 million.
The company also expects non-GAAP earnings per share to be between 5 and 9 cents, well below the 17 cent estimate. Today will likely be a wild ride for Electro Scientific.
The major reason for the shortfall next quarter is that previously announced expectations of $10 to $20 million in revenue from the company's glass micro machining business won't be hit this fiscal year after all. Although the company does expect that revenue next fiscal year, the uncertainty will likely weigh heavily on shares.
Despite the bad news, the company's balance sheet, one of the major reasons that I originally purchased shares, remains strong. Electro Scientific ended the quarter with $121.9 million, or just over $4 per share, in cash and short-term investments. Add to that $10.4 million in long-term investments, and there's $4.41 per share in cash and investments.
In addition, the company owns a 251,000 square-foot four-building complex on 15 acres in Portland, Oregon, and a 53,000 square-foot plant on 31 acres in Klamath Falls, Oregon. It has no debt on its books, and it pays a quarterly dividend of 8 cents a share, which equates to a 2.6% yield based on yesterday's closing price.
ESIO
data by
Following yesterday's results, the company trades at just under two times net current asset value (calculated by subtracting total liabilities from current assets), and about 1.15 times book value per share.
Shares will likely suffer the consequences today, and get even "cheaper". Of course, "cheap" is in the eye of the beholder.
At the time of publication, Heller was long Electro Scientific.
This article is commentary by an independent contributor, separate from TheStreet's regular news coverage.
Jonathan Heller, CFA, is president of KEJ Financial Advisors, his fee-only financial planning company. Jon spent 17 years at Bloomberg Financial Markets in various roles, from 1989 until 2005. He ran Bloomberg's Equity Fundamental Research Department from 1994 until 1998, when he assumed responsibility for Bloomberg's Equity Data Research Department. In 2001, he joined Bloomberg's Publishing group as senior markets editor and writer for Bloomberg Personal Finance Magazine, and an associate editor and contributor for Bloomberg Markets Magazine. In 2005, he joined SEI Investments as director of investment communications within SEI's Investment Management Unit.
Jon is also the founder of the
, a site dedicated to deep-value investing. He has an undergraduate degree from Grove City College and an MBA from Rider University, where he has also served on the adjunct faculty; he is also a CFA charter holder.