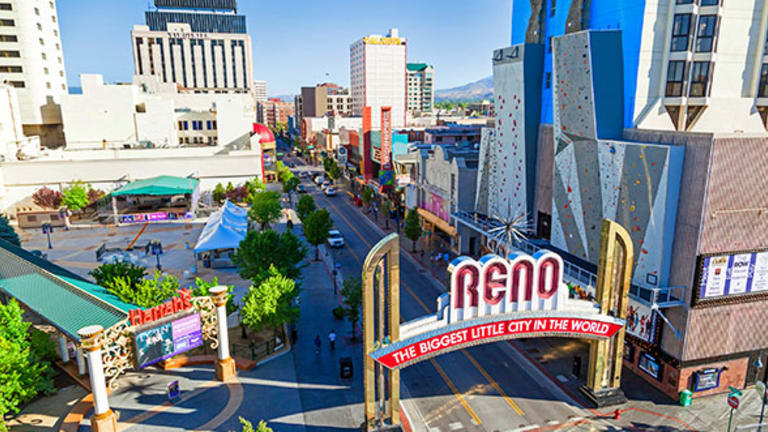 Eldorado Resorts Stock Will Benefit From Reno's Transformation
Reno, Nev. will get a big economic boost from its transformation into a high-tech manufacturing center. Traditional businesses such as Eldorado Resorts will only benefit.
The Wall Street Journal recently profiled how the city of Reno, Nev., long known for its casinos, is striving to become a high-tech manufacturing center. Investors looking to profit from the transformation and growth of the "Biggest Little City in the World" should consider Eldorado Resorts (ERI) - Get Free Report .
True, Eldorado Resorts is about as traditional Reno as it gets; it's a casino entertainment company. But as companies such as Tesla (TSLA) - Get Free Report are drawn by low taxes to build manufacturing facilities in Reno, they will boost employment in the city and create a "wealth effect" that will spill over and benefit local casino resorts.
ERI data by YCharts
This week Eldorado reported third-quarter financial results. Although adjusted earnings were only 7 cents, vs. the average analyst estimate of 11 cents, Eldorado's recently acquired Silver Legacy and Circus Circus Reno businesses were not included, because their purchase won't be complete until next month. And although revenue and earnings were down in the company's West Virginia businesses, the growth in Reno was the real star. Consider that West Virginia taxes gaming revenue at between 35%-49% and Nevada taxes it at only 12%. In which state would you prefer to have the growth?
There were also one-time charges for the refinancing of debt which reduced Eldorado Resort's interest expense from $80 million a year to $45 million a year. The full effects of the refinancing will be realized in the next reported quarter.
A competitor, Isle of Capri Casinos (ISLE) , saw its stock rally to $21 from $14 in just a few weeks after it refinanced its debt. The same thing could happen to Eldorado Resorts.
When a previous article on Eldorado Resorts was published in April, the stock was trading at just under $7. The article said the stock would rise to double digits. It did just that four months later, topping the charts at $10.04 in mid-August. In the last two months the stock has been consolidating and closed Tuesday at $9.13.
On the conference call following the earnings release, the company reported that trailing-12-month earnings before interest, taxes, depreciation and amortization of $160 million. If you back out the $45 million in interest expense and the $35 million in capital expenditures, you are left with $80 million in free cash flow. Dividing the free cash flow by 46.5 million shares outstanding leaves $1.72 in free cash flow per share. Tuesday's closing price of $9.13 divided by the $1.72 computes to just over 5.3 times free cash flow. Compare that to the industry, which trades at close to 15 times. By these metrics, Eldorado Resorts is still extremely undervalued.
Continue to follow the growth story that is Reno, as well as one of the only publicly traded ways to get exposure to it: Eldorado Resorts.
This article is commentary by an independent contributor. At the time of publication, the author held a long position in ERI.