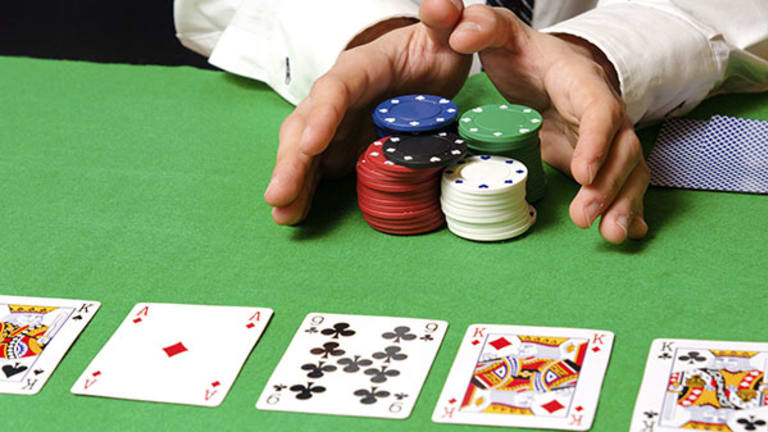 Eldorado Resorts Shares Go Higher Amid Takeover Battle Between Two Rivals
A buyout battle between Pinnacle Entertainment and Gaming and Leisure Properties is driving Eldorado shares higher.
NEW YORK (TheStreet) -- When gaming company Pinnacle Entertainment (PNK) - Get Pinnacle Entertainment Inc Report ignored a deadline set by hostile bidder and rival Gaming and Leisure Properties (GLPI) - Get Gaming and Leisure Properties, Inc. Report, it was really good news for another gaming company, Eldorado Resorts (ERI) - Get Eldorado Resorts Inc Report. Sound confusing? Allow me to explain.
Since March 9, when Gaming and Leisure Properties announced that it sent a letter to the Board of Directors of Pinnacle Entertainment conveying an offer to acquire the real estate assets of Pinnacle at an enterprise value of $4.1 billion, shares of Eldorado Resorts have been on a huge run. Over the same time span, Eldorado Resorts has increased 35%.
Why? Because domestic regional gaming assets are currently very undervalued. Pinnacle owns and operates 15 gaming entertainment properties throughout the midwest. Eldorado has six such gaming entertainment properties (five outright and one operated as a joint venture with MGM Resorts International  (MGM) - Get MGM Resorts International Report). Why is the hostile bid good for Eldorado? Well lets say you bought a house for $300,000 in a neighborhood of $300,000 houses, then all of a sudden someone buys one in your neighborhood for $500,000. It would stand to reason that the value of the houses in the neighborhood just became more valuable. And investors know this.
But the initial bid is just the beginning of the story for Eldorado.
Gaming and Leisure's original bid represented an 11.3 times multiple over Pinnacle's earnings before interest, taxes, depreciation and amortization (EBITDA) or $36 per share. The news resulted in an increase of $4.19 for Pinnacle, or roughly 15%. Pinnacle rejected the bid the next day and then rose another $2.13 or 6.4%. From March 11 to April 8, the company tacked on an additional 8.1%. On April 14, Gaming and Leisure Properties raised it's bid to $40 per share, setting an April 16 deadline to respond. 
The deadline has come and gone. Pinnacle's stock rose to just over $40 in the run-up to the deadline, but sold off even before Pinnacle opted not to respond in anticipation that the bid would be rejected. This, in fact, is even better news for Eldorado. Gaming and Leisure Properties' increased all stock offer is an effort to appeal to Pinnacle's shareholders, yet falls short of an open tender offer, a person familiar with the deal said. This bid can go higher yet.
In the coming weeks, expect Eldorado to be trading in the double digits. It's currently trading near $7.
In addition to this takeover drama, there are other factors driving Eldorado stock higher, including the refinancing of its debt, expansion into new markets, insiders making major share purchases, more analysts initiating coverage and an addition to the Russell 2000 index.
ERI also announced plans to refinance its substantial debt load of about $730m with a blended interest rate of about 10.8%. The refinancing to a rate of between 6% and 6.5% will produce savings of somewhere between $30 million and $38 million per year. These savings will flow straight to the bottom line, freeing up money to fund expansions and or acquisitions. This is certainly quite beneficial and the largest other factor driving the share price higher.
But there are others, too. On March 23, several insiders of Eldorado took advantage of a pullback to make open market purchases of over 20,000 shares at prices between $4.71 and $4.82 according to SEC Form 4 filings. Eldorado announced plans for an expansion in Ohio and an upgrade of its Pennsylvania property. Imperial Capital initiated coverage on April 7 with an "outperform." And lastly, the company's market capitalization (currently over $300m) now makes it eligible to be included into several Russell indexes and Index fund managers will have to buy it to maintain their allocations. The Russell rebalances its indexes each June.
For now, investors of Eldorado should continue to watch what happens at the company as well as what competitors Pinnacle and Gaming and Leisure do.
Must Read: 11 Safe High-Yield Dividend Stocks for Times of Volatility and Uncertainty
This article is commentary by an independent contributor. At the time of publication, the author held ERI.