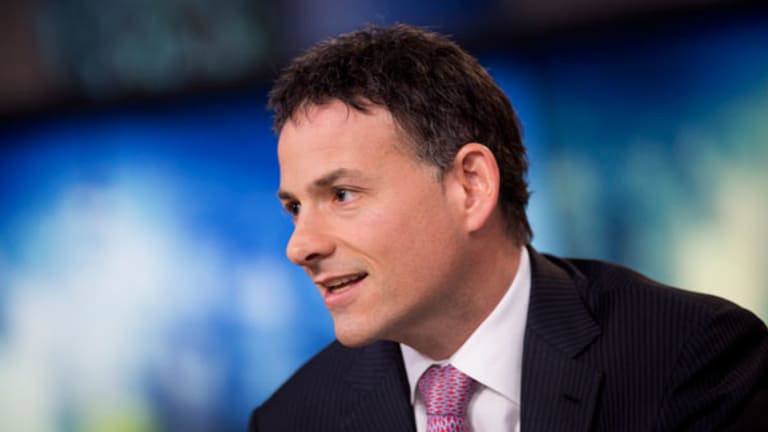 Einhorn's a Hustler and He Doesn't Understand Or Care About Apple
Don't be fooled into thinking Einhorn cares about what's good for Apple. He cares about what's good for David Einhorn.
NEW YORK (TheStreet) -- A few months ago, David Einhorn made news by telling us that he understands Apple (AAPL) - Get Free Report.
At the time, I told you Einhorn was the one who didn't understand Apple. While it sounds cool to assorted hipsters and a handful of tortured tech geeks, his line about Apple being a software company -- not a hardware company -- made no practical sense whatsoever. And the contention certainly doesn't qualify as a deep theoretical or philosophical thought that mere mortals cannot wrap their inferior heads around.
Einhorn's
Thursday morning dog and pony show
about preferred stock and capital allocation put it all to rest. It's official. He really doesn't understand Apple. In fact, he has absolutely no clue.
Let's make a few things clear though.
First, Einhorn is loaded. He's rich because he's a great investor. That's his thing -- to maximize his investments. That's his objective here. It wouldn't make a difference to him if Apple fell off of the face of the Earth in six months. As long as he squeezed as much juice as he could out of his position, it's all good. He'll move onto the next position.
Don't get me wrong. That's acceptable. Totally cool. It's just unfortunate that we take a guy who we know approaches things from that type of perspective seriously when he tries making sense about Apple.
Second, Einhorn has more money than most of us, but that doesn't mean he's smarter than most of us. Don't be intimated by these cats. There's no reason to be.
Third,
. Apple didn't need to apologize. Here's hoping the apology was a classic Apple blow off and not a preview of Apple letting others dictate its flow.
>>>Read "Lessons for Apple in Sony's Fall" on TheStreet
Apple doesn't have to answer to anybody. Not about innovation. Not about how it allocates its capital. And certainly not about how much of that cash it returns to shareholders. You don't like the company's strategy, buy another stock. I hear
Intel
(INTC) - Get Free Report
looks pretty "cheap" right now with a "juicy" 4.2% yield. Heck,
Microsoft
(MSFT) - Get Free Report
and
Hewlett Packard
(HPQ) - Get Free Report
--
they're doing some real exciting stuff
. And they're both "bargains," yielding 3.3% and 3.2%, respectively.
The people who claim to "understand" Apple -- as the company moves through little more than a media- and analyst-induced noise fest -- these people do not have even a basic comprehension of why Apple is great. In fact, they see the world through a lens that's so antithetical to what Apple is about that's it probably not possible for them to get it.
This fantastic Haruki Murakami quote sums it up:
If you can't understand it without an explanation, you can't understand it with an explanation.
The MBA-types are beside themselves. They can't make sense of what Apple's doing. You have people coming on
CNBC
and elsewhere applying whatever some freaking textbook taught them and concluding that Apple should do this with X much cash and yield Y percent based on Z. Because that's what the formula says. Anything else just can't be. It's not possible. They can't deal with anything outside of their boring, lukewarm comfort zone.
These guys are bean counters. And, when it comes to Apple and companies anything like Apple, the beaners have irrelevant and outdated opinions.
Sometimes things just don't make sense. They don't shake out in the real world the way you learned them in school. Apple doesn't play by the rules. Never has. Shouldn't now.
It's not just a case of Apple being Apple because Apple can. It's part of a much more complicated mystique.
>>>Read "Bulls Pile Into Waste Management" on TheStreet
When a company does what Apple has done since it introduced the iPod, it deserves to play by a completely different set of seemingly nonsensical rules. Like
Cramer said last night on CNBC's "Mad Money"
:
Apple deserves our patience
.
You don't completely disrupt entire industries, force companies into strategic implosions (see, e.g.,
Research in Motion
undefined
-- the company and ticker with "the artist formerly known as RIM" -- and HP) and put others in a position where they have no choice but to run and hide (see, e.g.,
Dell
(DELL) - Get Free Report
and then, just because your stock is going down, answer to the whims of self-interested, short-term thinking parties. Where were these people when AAPL was printing $700? The stock goes down and this is how they react? They clearly do not understand Apple. And they sure as hell do not think the way Steve Jobs thought or Apple's present regime thinks.
Tim Cook and his team at Apple are in head down mode. They're not the source of any of the noise of the past several months.
The last thing Cook should do is take advice from Einhorn, a guy who is out to squeeze as much juice out of AAPL stock as he possibly can. Don't be fooled into thinking Einhorn cares about what's good for Apple. He cares about what's good for David Einhorn. He's a hustler -- and I mean that in the positive, what a shrewd, sharp-as-a-tack kind of guy sense.
If Apple ever stops ignoring cats like Einhorn ... if it goes beyond issuing blow-off statements (which it should not have done anyway) ... then I will be concerned. If it ups the dividend on the common stock a bit, that's fine. I can deal with that. But, anything more than that and anything less than what has made Apple anything but a textbook case will be actual cause for critical near- and long-term concern.
--Written by Rocco Pendola in Santa Monica, Calif.
Rocco Pendola is
TheStreet's
Director of Social Media. Pendola's daily contributions to
TheStreet
frequently appear on
CNBC
and at various top online properties, such as
Forbes
.