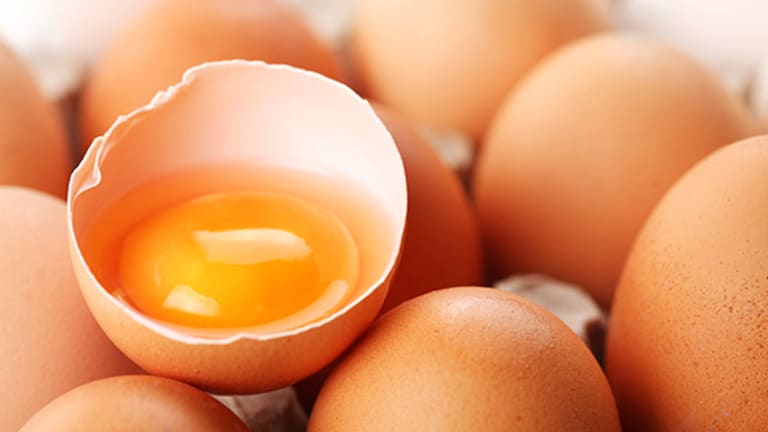 Egg-pocalypse? Stocks to Watch as Chicken and Egg Prices Continue to Spike
Egg prices are set to skyrocket as the avian flu demolishes the egg laying flock.
NEW YORK (TheStreet) -- Official reports indicate inflation remains tame, but even though we've started to see gas prices resume an upward climb, another pain will soon be felt in consumer wallets as chicken and egg prices go higher. Companies like Post Holdings (POST) - Get Post Holdings, Inc. Report, Kellogg (K) - Get Kellogg Company (K) Report, Con-Agra (CAG) - Get Conagra Brands, Inc. Report, Kraft Foods (KRFT)  and others could be affected. 
In the past month, the wholesale price of "breaker" eggs have nearly tripled while prices for wholesale large shell eggs, like the ones you tend to buy at your grocery store, have jumped about 85% to $2.20 a dozen in the Midwest. Chicken prices have climbed more than 8% year-over-year, per data from USDA Market News.
What's catapulting chicken and egg prices higher is the spreading avian bird flu that is hitting the Midwest hard. Altogether, the H5N2 virus -- "highly pathogenic" to birds, so far non-threatening to humans -- has affected more than 165 sites and a jaw-dropping 40 million birds, making it the largest avian flu outbreak in U.S. history. 
As bad as it would appear for chicken prices, egg prices have been zooming higher because the egg supply looks to be the hardest hit. Per the U.S. Department of Agriculture, of the almost 40 million turkeys and chickens dead, more than 80% have been egg-laying hens. As egg farmers are forced to slaughter these infected hens, it means tighter egg supplies ahead and therefore higher prices are to be expected. The fallout could resemble the strong move in beef prices we saw last year as ranchers contended with the shrinking beef herd.
Already, Post Holdings warned that about 25% of its egg supplies have been affected, forcing it to discontinue some product lines under its Michael Foods business. Nestlé said it is braced for shortages that could impact its ice cream products that include Dreyer's, Edy's and Häagen-Dazs. While it would be misleading to compare eggs to an essential like water, the reality is that any company that counts eggs as an ingredient -- bread, cakes, cookies, pasta, and so on -- will soon face shortage and higher prices, which are bound to impact revenue and profits.
Watch out for Kellogg, Con-Agra, Kraft Foods and others as well as restaurant companies like Denny's (DENN) - Get Denny's Corporation Report, DineEquity (DIN) - Get Dine Brands Global, Inc. Report, which owns the International House of Pancakes, and McDonald's (MCD) - Get McDonald's Corporation (MCD) Report.
This has many wondering if eggs will be the next issue, like winter weather or Pacific port closures, that will hit food and restaurant companies in the June and September quarters.
Even though egg prices are likely to be the hardest hit, given the laws of supply and demand, it means that chicken prices will continue to march higher -- that's not good for the consumer and therefore not so good for Pilgrim's Pride (PPC) - Get Pilgrim's Pride Corporation Report and Sanderson Farms (SAFM) - Get Sanderson Farms, Inc. Report shares. Tyson Foods (TSN) - Get Tyson Foods, Inc. Class A Report remains in a unique position because it's not a pure chicken play and in fact generates the bulk of its revenue from beef.
Stay tuned to Sanderson Farm's earnings call next week as the impact of the avian flu is sure to be a hot bed of conversation. The fallout of that call could make or break shares of Pilgrim's Pride and Cal-Maine Foods (CALM) - Get Cal-Maine Foods, Inc. Report.
This article is commentary by an independent contributor. At the time of publication, the author held no positions in the stocks mentioned.
Follow Chris Versace on Twitter and Facebook.