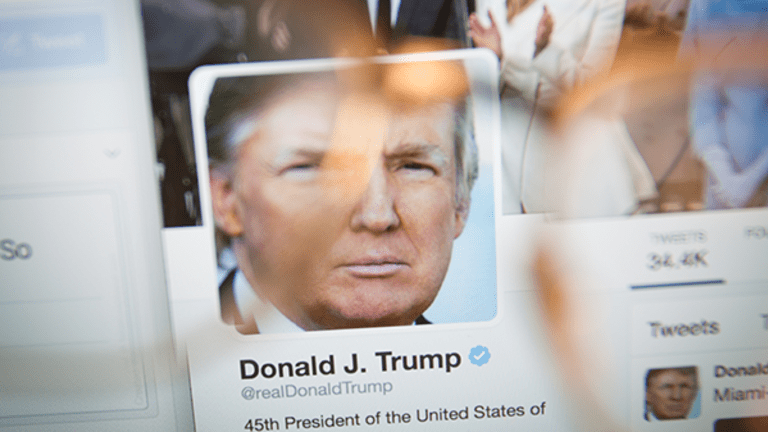 How This Week Might Have Saved Donald Trump's Presidency: Editor's Take
President Trump has had his best week in the White House - and his quietest on Twitter.
If you'd like to receive the free "5 Things Before the Bell" daily newsletter, please register here.
President Donald Trump may have finally found his feet as President of the United States this week amid a series of events that could turn his struggling administration around just in time for one last push towards a signature policy achievement before the end of the year.
It's not the easiest case to make when the President is pinned down by some of the lowest approval ratings in history, a revolving door of senior aides and officials, and a staggeringly short list of international supporters, but the past few days may have, in some respects, saved the Trump White House.
In truth, the President has barely put a foot wrong over the past 48 hours, given his measured response to North Korea's provocative missile test over Japanese airspace, in which he settled global markets and calmed geopolitical tensions with a sensibly-worded statement that seemed to have been coordinated with Pentagon officials and the State Department and included a reference to the United Nations.
That was followed by a low-key (on the Trump scale) Hurricane Harvey Flooding Is Something We Haven't Seen In 500 Years: Trump visit to Houston to observe the damage wrought by Tropical Storm Harvey and convey the image of a Commander-in-Chief at the helm of a Federal relief effort (exactly the opposite of President George Bush's approach to Hurricane Katrina in 2005, a stumble from which he never truly recovered).
Now Meg Whitman Must Deal With This Wolf Pack at Hewlett Packard Enterprise
Why Apple Shares Are Likely to Dip in September
Shortly after that, we had news that the Department of Commerce had revised its estimate of second quarter GDP growth to 3% - much higher than its initial forecast of 2.6% and bang-in-line with the mythical figures the President has been promising for several months. Data from payroll operator ADP, which suggested private employers added a much-better-than-expected 237,000 new jobs last month also give Trump some cover as he attempts to solidify his "jobs first" Presidency and gather political support for one last swing at a tax reform bill and a deal that could avoid a government shutdown.
In fact, Goldman Sachs wrote in a client note Tuesday that the risk of backlash towards lawmakers pressing for a shutdown when the federal government is involved in an historic relief effort has slashed the odds of a shutdown to 35%, down from what was essentially a 50/50 proposition earlier this month.
Trump is even Tweeting less, and with far less venom, with only 17 original missives over the past three days, less than half his average output, most of which were anodyne updates on the path of Harvey and the coordinated efforts of various response teams. Which, of course, are exactly the kinds of things the Leader of the Free World should be saying.
Furthermore, a cynical observer might also suggest that the costs associated with the long rebuilding process that will be needed in the Houston -- the country's fourth-largest city that accounts for more than 3% of U.S. GDP -- may also provide the perfect pretext for the President to abandon his ridiculous assertion that Mexico will pay for his promised border wall. Redirecting cash from the Federal budget is the right thing to do a at a time of national crisis, he can argue, and the change of tact would more than allow him time to craft a response for his GOP colleagues when the issue comes up during mid-term elections in 2019.
That's not to say the President's troubles have been washed away by Harvey's torrential rains: Special Prosecutor Robert Mueller has been quietly issuing subpoenas in relation to the myriad investigations into campaign ties to Russia that has yet to reach a meaningful conclusion and his business ties are only now coming to light; North Korean leader Kim Jong Un has vowed that his Monday missile test was merely a "meaningful prelude" to U.S. aggression and Trump's angry Arizona speech (and his controversial pardon of Sheriff Joe Arpaio) has left powerful Republican lawmakers feeling alienated and vulnerable to voter retribution.
But those problems are for tomorrow. For today at least, the President looks far safer, and, it must be said, far more effective than he ever has in the White House.
A week is, indeed, a long time in politics.
More of What's Trending on TheStreet: