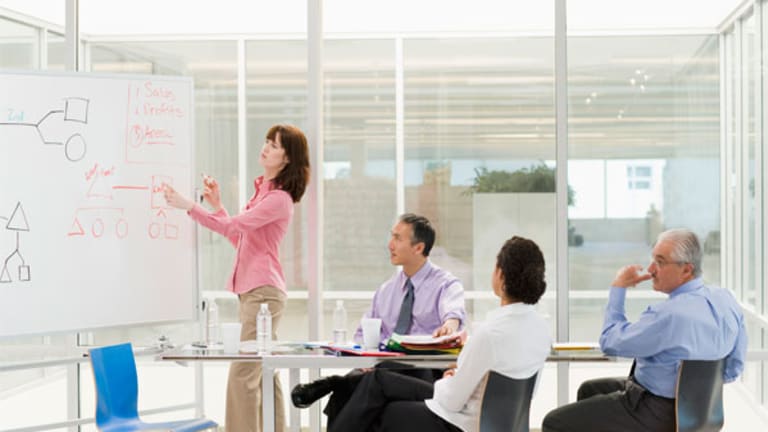 Economics of U.S. Military Interventions, Part 1
Defense contractors have been able to weather recessions.
Editor's note: This is the first of two parts on the economics of U.S. military interventions.
A significant portion of the U.S. GDP goes to overseas military interventions. This first will provide data on these interventions, while the second will focus on the effectiveness of the most recent invasions.
Before getting to the numbers, I offer three quotes that are as relevant today as when they were made:
"The spirit of this country is totally adverse to a large military force." Thomas Jefferson, 1806
"This conjunction of an immense military establishment and a large arms industry is new in the American Experience....The potential for the disastrous rise of misplaced power exists and will persist."Dwight D. Eisenhower, 1961
"The terrible military machine...must be in continual motion, grinding up human lives and trampling down the homes and the rights of hundreds of millions of men. Moreover it must be fed, not only with flesh but with oil." Winston S. Churchill, talking of the German invasion of Russia, 1941."The spirit of the country" appears to be preoccupied with other matters now. The US has developed a large military industry, well connected in Washington and eager to find new markets, both at home and abroad.
Intervention Numbers
Table 1 provides data on the costs of the most significant US military interventions since the Civil War, all in 2010 dollars. It is notable that Iraq has become the second most expensive US war ever. However, World War II, World War I and the Civil War were the most expensive as a percent of GDP. Note the high costs per soldier for Iraq and Afghanistan, a testament to how hi-tech war has become.
Table 2 provides fatality data on the wars. Civil wars nearly always have the highest fatality rates. The Iraq war has a high fatality rate, a probable reflection of the dangers of urban warfare as depicted in book and movie
Black Hawk Down.
Budget Numbers
The Congressional Budget Office estimates the total Defense Authorization for 2011 to be $726 billion. Of that amount, $158 billion is included for the Afghanistan and Iraq wars, down from $163 billion in 2010. When military-related outlays are included, e.g., care for Veterans (Veterans Department), nuclear weapons (Energy Department), and control of space (NASA), the total exceeds $1 trillion.
Arms Sales
Arms sales are a leading US export.
The Federation American Scientists
monitors these sales. It points out that:"American arms manufacturers have two major channels through which they can sell major weaponry to foreign countries: foreign military sales ("FMS"), in which a government-to-government agreement is negotiated by the Pentagon; and direct commercial sales ("DCS"), in which industry negotiates directly with the purchasing country and must apply for a license from the State Department."
In 2008, DCS totaled $105 billion while Defense (FMS) helped with another $11 billion.
Lobbying
Open Secrets reports that defense firms spent $136 million lobbying in 2009. The
noted a jump in defense lobbying activities just before Obama agreed to the surge in Afghanistan in late 2009. Leading lobbyists in that period are presented in Table 3.
Investing in Defense
The above documents the power and influence of the US defense industry. The industry also appears to be quite recession-proof. In
, I looked at four sin categories: drinking, smoking, gambling (casinos), and military (considered more of a sin industry in Europe than in the US). I took the average of quarterly stock price changes for three leading companies in each sector for the 2003 to April 2010 period. The betas were generated by regressing these changes on changes in the
S&P 500
index. Table 4 gives the results.
So the defense sector almost as recession-proof as tobacco. Since I knew nothing about defense investments, I contacted Eric Lansky, the CEO of the company that manages the
Vice Fund
(VICEX) - Get USA Mutuals Vice Investor Report
, which invests in only certain vice sectors: defense, gambling, tobacco, and alcohol. Eric was kind enough to introduce me to the Fund's Portfolio Manager, Jeff Middleswart.
Here is Middleswart's response:"In looking at Defense companies as investments, the results show companies that have generally grown regardless of the economy. There are three basic reasons for this:
"Contracts/projects are normally very long-term in nature and the funding continues annually as each year is a small part of the total. On top of that, there is a large portion of replacement parts and maintenance that needs to be purchased regardless of the economy.
"There are huge barriers to entry for large defense projects. These companies need to meet government standards, have to maintain large plants, invest billions in engineers and R&D, and have to show the ability to survive to continue providing parts and maintenance. There simply are not many upstarts that can appear and build a jet fighter. Thus, the bulk of the major projects go to the established players.
"This industry has consolidated into a small number of large players which has helped grow earnings as duplicate overhead costs were eliminated and synergies among defense contracts could be found."
"We focus on four major players in the defense business: Lockheed Martin, General Dynamics, Northrop Grumman, and Raytheon. Compare their EPS trends with that of the S&P 500 as a whole:
"The defense contractors have headline risk. People are aware that
General Dynamics
(GD) - Get General Dynamics Corporation Report
builds Gulfstream jets too and that
Raytheon
(RTN) - Get Raytheon Company Report
builds Patriot Missiles. That is not all they do, but those are product lines that appear in the paper in reports on sales trends or orders rising or falling.
"The S&P earnings fell for three straight years between 2006 and 2009. Not one of the defense contractors showed a significant drop in EPS in any year and all are reporting higher earnings now than in 2006.
"On top of that, the cash flows for the defense contractors have improved and all four in this group has boosted their dividends in each of the last four years. Many people do not know that when the historical return of stocks of 9% is talked about, half that return is due to dividends.
"Thus, focusing on stocks that pay dividends greater than the market as whole is a good way to find stocks that should have some solid future return potential. Plus, if a stock price declines, the dividend yield rises and entices people to buy the stock.
"As a result, strong cash flows and dividends should cushion defense contractor stocks in a bear market. Those higher cash flows also allow EPS growth to occur via repurchasing shares as well as boosting the dividend. Thus, when the market is stronger, these are companies that still post good EPS gains to help the stock prices.
"Finally, the defense contractors trade at lower valuations than the market as whole. This also provides more downside cushion and creates potential upside if the valuation multiples expand. And these four companies are not just a hair cheaper than the market:
"Launched in 2002, The Vice Fund (vicefund.com) focuses on four industry groups-Alcohol, tobacco, gaming and defense. The managers believe that companies in these sectors have the potential to generate above average dividends and cash flow, which may increase the odds of generating total returns greater than the market averages. Many of the Vice-related companies have been reporting higher earnings and strong cash flows despite the current economic problems."
Concluding Comment
Continuing recession or not, defense firms will continue to make money.
I am not an investment adviser and nothing I say should be taken as a recommendation to buy or sell an asset.
Elliott Morss is an economic consultant and an individual investor in developing countries. He has taught at the University of Michigan, Harvard University, Boston University, among other schools. Morss worked at the International Monetary Fund and helped establish Development Alternatives Inc. He has co-written six books and published more than four dozen articles in professional journals.