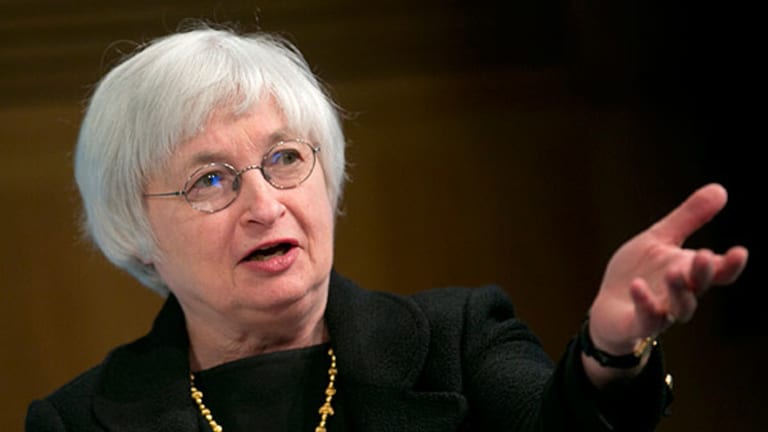 Publish date:
Economic Recovery Doesn't Satisfy Fed as Stocks Soar Higher
Low inflation and slack in the labor market has kept policymakers dovish, leading to strength in U.S. equities and in high-beta sectors.
Low inflation and slack in the labor market has kept policymakers dovish, leading to strength in U.S. equities and in high-beta sectors.
NEW YORK (TheStreet) -- U.S rates will likely stay low as the Federal Reserve remains unsatisfied with the pace of economic recovery.
On Wednesday, the minutes from the Fed's meeting from July 29 to 30 were released, showing that policymakers "generally agreed" that the economy was improving -- but not enough.
The Fed said that the labor market improvement was "greater than expected" over the last year, but that "significant" slack remained.
Slack in the labor market can be measured by the decline in labor force participation, a large number of part-time jobs relative to full-time jobs and the tepid recovery of wages.
The Fed's acknowledgement of the need for improvement in the economy comes a day after the consumer inflation figure edged slightly higher.
The Labor Department said on Tuesday that its Consumer Price Index edged up 0.1% in July after increasing 0.3% in June.
Labor market slack, marked by tepid wage growth, has also adversely affected increases in consumer prices. Even as energy prices have risen, the level of overall inflation has not considerably picked up.
The chart below shows the historical relationship between the CPI figure and the Fed Funds rate. Since 1954, the Fed Funds rate has tracked consumer inflation fairly closely.
Inflation has risen off of its lows in 2009, but remains stuck between an annual acceleration of 0% and 2% since 2012.

Data provided by The St. Louis Federal Reserve
So how should investors respond?
The continued fragility of the economy, as seen in the uninspiring inflation data and Fed minutes, indicates that policymakers are in no hurry to raise short-term interest rates and are willing to continue to support the recovery.
U.S. equity markets spiked higher in the aftermath of the Fed minutes on Wednesday, with SPDR S&P 500  (SPY) - Get Report , PowerShares QQQ  (QQQ) - Get Report   and SPDR Dow Jones Industrial Average  (DIA) - Get Report   all trading at or near record closing highs.
The relative leadership of the Internet and biotech sectors -- seen in the First Trust Dow Jones Internet Index  (FDN) - Get Reportand iShares Nasdaq Biotechnology  (IBB) - Get Report   -- also signal that investors are willing to take risks. Investors appear to have confidence in higher-beta sectors.
Similarly, precious metals -- usually bought during times of fear and heightened inflation expectations -- have been stuck under heavy resistance levels. SPDR Gold Shares (GLD) - Get Report , iShares Silver Trust (SLV) - Get Report   and ETFS Physical Platinum Shares (PPLT) - Get Report   have all shown weakness in 2014.
As long as market participants feel that the Fed will not abandon the slowly recovering U.S. economy, investors will maintain confidence in buying equities and higher beta sectors.
data by
At the time of publication, the author held no positions in any of the stocks mentioned.
This article is commentary by an independent contributor, separate from TheStreet's regular news coverage.