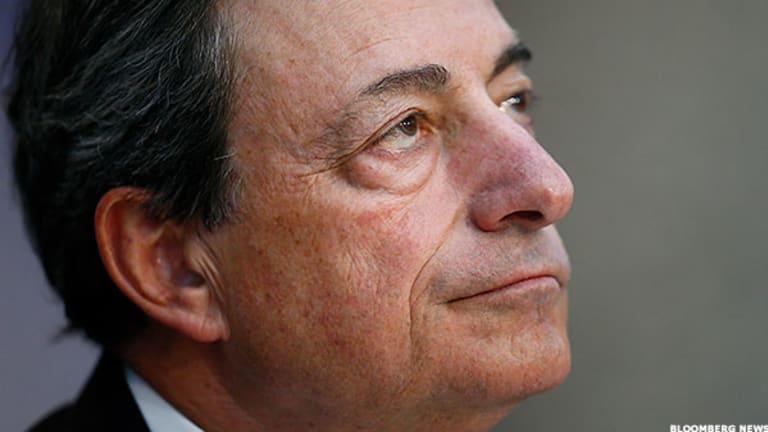 Publish date:
ECB President Draghi Puts Off Government Bond Purchases for Now
It may start early next year, though.
It may start early next year, though.
LONDON ( TheStreet) -- European Central Bank President Mario Draghi has ruled out any eurozone government bond-buying program before the New Year.
The news came Thursday as Draghi addressed a press conference at ECB's headquarters in Frankfurt, following a meeting of the bank's governing council. The council had earlier voted to leave eurozone rates unchanged. Its benchmark interest rate for the bloc remains at a rock-bottom 0.05%.
But Draghi did leave the door open to the possibility of bond purchases by governments in the eurozone in the first quarter of next year. Inflation-averse Germany would need to be won over to the policy. He added that the ECB's governing council remains "unanimous in its commitment to use additional unconventional instruments within its mandate" to combat prolonged low inflation.
Draghi also said the ECB will reassess the success of its existing stimulus programs against the background of weak oil prices and their impact on the eurozone.
Ahead of the ECB chief's statement, market participants had anticipated the bank would delay a decision on more bond buying, which is known as quantitative easing.
Speaking to Bloomberg ahead of the press conference, Alberto Gallo, head of macro credit research at Royal Bank of Scotland (RBS) - Get Report , said he expected to see a "postponing of the announcement to Q1."
Vitor Constancio, ECB's vice president and Draghi's deputy, has hinted that the central bank might embark on sovereign QE in the first quarter of 2015 -- and then only if the measures taken so far fail to haul the eurozone out of its economic coma.
On Thursday, Draghi made no reference to the shape of any future QE, particularly whether it would include mezzanine and not just senior debt tranches.
QE is widely regarded as a policy of last resort. Typically, a central bank will invoke the step when traditional monetary responses -- say, cutting interest rates -- have ceased to have an effect on an economy.
Central banks such as the Federal Reserve and the Bank of England have used QE since the onset of the financial crisis to revive consumer spending and stimulate economic growth. In essence, QE requires a central bank to extend itself a line of credit and use that to purchase assets from financial institutions such as banks. The move in theory will give those institutions sufficient liquidity to pump money into the wider economy.
Signals from the ECB on QE have been mixed. Draghi said in November that the ECB should boost inflation "without delay." Eurozone inflation is running at about 0.3%, which is substantially less than the ECB's preferred rate of inflation about, but not above, 2%.
Growth prospects for the eurozone's moribund economy are slim, according to many estimates. In an economic forecast summary in November, the Organization for Economic Cooperation and Development, a research institute, noted: "Growth in the euro area slumped as 2014 wore on, and inflation -- already negative in some countries -- continued to drift down, reflecting considerable excess capacity."
And saying that it expects the European economy will "recover slowly as confidence improves and uncertainty about banks' balance sheets declines," Paris-based OECD added that growth will remain weak because of stubbornly high levels of sovereign and private debt, poor credit availability and high unemployment.
That leaves a number of countries still vulnerable to stocks to the economy. One such country is Italy -- the world's ninth-largest economy, which is now battling its third recession in a decade.
Italian Prime Minister Matteo Renzi has said he expects no growth this year. According to the latest figures from Trading Economics, a research Web site, unemployment stands at 13.2% with youth unemployment at 43.3%.
Often overlooked in the discussion of stimulus measures in Europe is that the ECB already agreed in September to buy debt from banks. On Thursday, Draghi confirmed that the ECB's existing "non-standard" stimulus measures have had a "sizeable impact" on the bank's balance sheet.
This article is commentary by an independent contributor, separate from TheStreet's regular news coverage.
At the time of publication, the author held no positions in the stock mentioned.