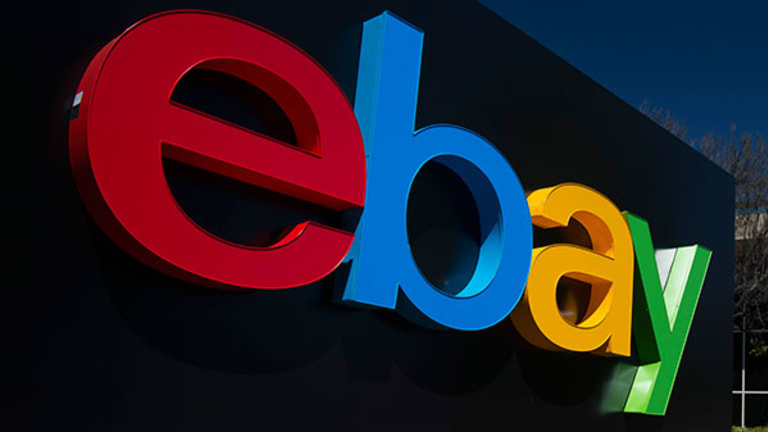 eBay Faces a Potential Breakout That Could Send It 60% Higher
eBay has been in a period of tight consolidation for over two years, but the tide may be starting to shift.
NEW YORK (TheStreet) -- Technical indicators are pointing to eBay  (EBAY) - Get Free Report  as a great buying opportunity, with potential for the stock to climb more than 60% within the next 18 months. 
That's a stark contrast to eBay's performance over the past two years and three months. eBay has been in a period of tight consolidation since the end of November 2012 -- until now. During this time period, the stock has vacillated within an approximate 20% range, indicating a fairly stable number of buyers and sellers.
The S&P 500 Index Fund undefined , however, has risen roughly 50% in the same period, putting eBay in the under-performance category. But as you can see in this weekly chart below, which compares the S&P 500 Index to eBay, the tide is just beginning to turn for the e-commerce giant. eBay is starting to outpace the overall strength of the market and is beginning to break through the downward trend line shown in blue.
Furthermore, in the panel just below the chart, the weekly momentum indicator called the Moving Average Convergence Divergence (MACD) is just beginning to enter positive territory, signaling a change in trend to the upside for eBay.
The MACD shows the relationship between two moving averages of prices and is calculated by subtracting the 26-day exponential moving average (EMA) from the 12-day EMA. In this particular case, however, a weekly chart was used. 
Prior to its most recent consolidation period, the last time eBay had a long consolidation stretch was between November 2010 to February 2012, roughly a year and three months. Once eBay broke out of its range, it exploded to the upside offering about a 60% return into the next year (see chart below). The current 27-month range is on the verge of a breakout higher and thus could be setting up for a 60% plus return over the next year to year and a half. 
Finally, with the recent development of the upcoming PayPal spinoff, the risk reward for being long on eBay is currently very high. The current price on eBay, as of Monday's close, stands at $58.07. Investors and swing traders would be wise to set a stop at $53, roughly half of the current range eBay has been trading at for the last two years.
This article is commentary by an independent contributor. At the time of publication, the author was long on eBay.