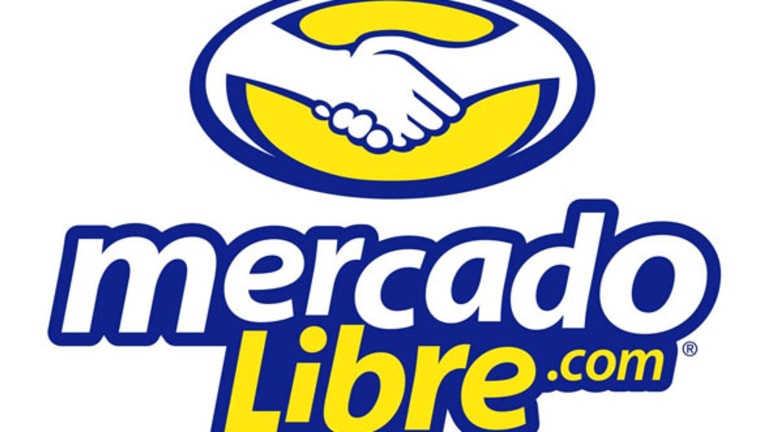 Publish date:
Earnings Preview: This E-Commerce Stock Will Soon Jump (to a Latin Beat)
Argentina-based MercadoLibre (MELI) is putting Latin American e-commerce on the map. Earnings results this week could boost the stock.
Argentina-based MercadoLibre (MELI) is putting Latin American e-commerce on the map. Earnings results this week could boost the stock.
In the financial media's coverage of emerging markets, Asia tends to hog the headlines. But investors shouldn't give short shrift to Latin America, which is home to an expanding, increasingly educated and computer-savvy middle class. And growing ranks of these Latin consumers are flexing their purchasing muscle online.
Burgeoning e-commerce activity in Latin America chiefly benefits one company: MercadoLibre (MELI) - Get Report , the region's leading e-commerce player. MercadoLibre is scheduled to report fourth-quarter 2015 earnings on Thursday, Feb. 25, and analysts expect the company to see its revenue to continue to grow. Below, we explain why the stock could gain nearly 50% this year, while the broader markets languish.
Wall Street's consensus calls for fourth-quarter earnings per share to come in at 69 cents, down 9.2% from the same quarter a year earlier. But revenue is expected to increase 6.4% year over year, to $171.62 million, a year-over-year increase of 6.4%.
This underappreciated company belongs in your long-term growth portfolio. And yet, MercadoLibre mostly flies under the radar. That's because many investors still view Latin America as undeveloped and riddled with civil strife, poverty, corruption and violent crime -- in short, too risky.
Many Latin countries undeniably grapple with a plethora of problems, but a preoccupation with the region's age-old afflictions misses the bigger and substantially more optimistic picture. You should put aside the media's redundant coverage of China, at least long enough to examine other regional opportunities that the pundits are missing.
The surest way to build wealth over the long haul is to invest in companies that are tapped into unstoppable trends. MercadoLibre exemplifies this breed of stock. Often referred to as "the eBay of Latin America," MercadoLibre functions in the same manner. Indeed, eBay (EBAY) - Get Report holds a major ownership stake in MercadoLibre.
Headquartered in Buenos Aires, MercadoLibre (which means "free market" in Spanish) hosts automated Web-based commerce platforms that allow businesses and individuals to list items and conduct sales and purchases online in an auction or fixed-price format. MercadoLibre's mode of operation is familiar to anyone who's used eBay or Amazon.
MercadoLibre also offers MercadoPago, an integrated payments mechanism similar to PayPal (spun off in 2015 by former parent eBay). In addition, MercadoLibre's "MercadoClics" program allows businesses and individuals to promote their products and services through online display and text advertisements.

MercadoLibre now operates e-commerce platforms tailored towards Argentina, Brazil, Mexico, Chile, Colombia, Costa Rica, the Dominican Republic, Ecuador, Panama, Peru, Portugal, Uruguay and Venezuela.
As the largest company of its kind in Latin America, MercadoLibre's dominance confers competitive advantages that even eBay and Amazon can't match. The countries south of the border represent a rich variety of languages, currencies, customs and regulations. It's a high barrier to entry over which MercadoLibre has already vaulted.
MercadoLibre is riding a strong multiyear trend. According to market research firm eMarketer, e-commerce sales will exceed $3.5 trillion within the next five years. The firm estimates that the Web accounted for 7.3% of global retail sales in 2015 and that it will account for 12.4% by 2019.
MercadoLibre's room for regional growth is considerable. Factors for e-commerce growth in Latin America include greater credit and debit card usage; the proliferation of social media and group shopping sites; enhanced online security that reinforces consumer confidence; and an expanding pool of "e-tailers" that reach customers through their Web sites.
Even if emerging-market economies continue to sputter this year, the case for investing in MercadoLibre isn't solely based on the region's future gross domestic product growth, although it certainly plays a role. Instead, the company is a direct play on the rise of a sophisticated, newly affluent middle class that's eagerly embracing the online shopping behaviors of the developed world.
The stock's trailing-12-month price-to-earnings ratio of nearly 45 seems a bit pricey compared with the industry's trailing P/E of 30, but it's certainly a bargain compared with Amazon's trailing P/E of 436.
Don't dismiss the potential for an earnings beat this week. Over the last four quarters, the company has twice exceeded earnings estimates, and analysts may have been too aggressive in lowering their earnings estimates for this company based on slowing overall economic growth in Latin America. Investors were bidding up shares of the company on Wednesday, apparently in expectation of an earnings beat.
The stock now trades at about $102, and the median 12-month price target from analysts is $125, suggesting shares could gain 22%. The highest price target among analysts is $150, suggesting shares could gain 47% over the next year.
As we've just explained, buying MercadoLibre is a smart move right now. Are you making the right investment moves for your retirement, or are you blowing it by making all-too-common money mistakes? There are crucial steps that you should be taking now, to build wealth over the long haul. To find out whether you'll have enough money in your later years, download our free report: Your Ultimate Retirement Guide.
John Persinos is editorial manager and investment analyst at Investing Daily. At the time of publication, the author held no positions in the stocks mentioned.