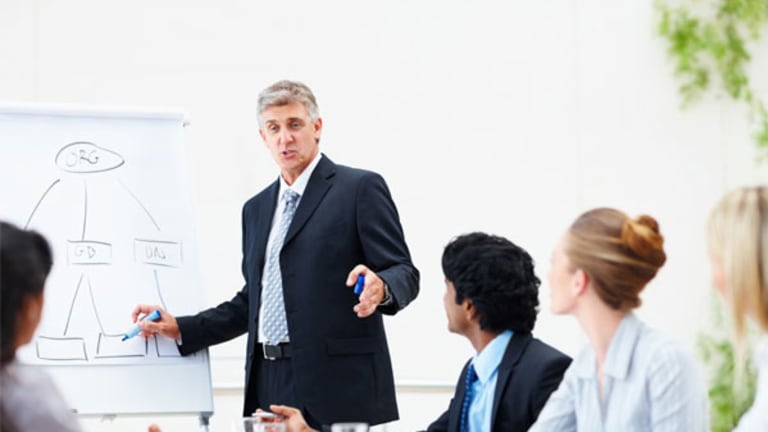 Publish date:
Earnings Just Got Serious for Buffett's Berkshire
Six stocks that make up a huge chunk of Buffett's legendary stock portfolio are reporting within the next four business days.
Six stocks that make up a huge chunk of Buffett's legendary stock portfolio are reporting within the next four business days.
NEW YORK (TheStreet) -- With earnings season getting into full swing, investors, analysts and market commentators will have their sights set on top companies as they continue to step up to the plate. Anticipation builds as banks and bellwethers release their most recent quarterly performance numbers and provide insight and guidance.
Billionaire Warren Buffett will surely be all ears. His investment empire
Berkshire Hathaway
(BRKA)
is not found on the list for this coming week, but a number of the companies that make up its legendary stock portfolio are.
Intel
(INTC) - Get Report
,
Johnson & Johnson
(JNJ) - Get Report
,
Coca Cola
(KO) - Get Report
and
IBM
(IBM) - Get Report
are among the firms slated to report on Tuesday, while
American Express
(AXP) - Get Report
is on the docket for Wednesday.
This quintet, along with
Wells Fargo
(WFC) - Get Report
, which joins
JPMorgan
(JMP) - Get Report
on the earnings stage Friday morning, is heavily influential in determining the day-to-day action seen from Warren Buffett's stock portfolio. At the start of the year, together they comprised nearly 70% of its assets. Coca-Cola, IBM, Wells Fargo and American Express alone represent a 65% slice.
10 Stocks That Fidelity Funds Are Buying
A strong showing from these names would be a welcomed relief for investors who have watched as Berkshire Hathaway has struggled to keep up with the broader
S&P 500
, in recent months. The firm's 3.5% return since the start of 2012 has been dwarfed by the S&P 500's, which has more than doubled this performance.
This underperformance extends beyond the past few months. Over the past year period, shares of Berkshire Hathaway are off nearly 4%. The benchmark average, meanwhile, has returned more than 3%.
As the company has grown in size, it has lost its ability to rely on small, fast-moving firms to move the needle. Instead, it has been forced to aim its acquisition elephant gun at companies like Burlington Northern Santa Fe Railroad and Lubrizol. While the size of these targets will help to ensure stability and security for Berkshire Hathaway over the long run, the company has been forced to sacrifice upside potential.
5 Most-Popular Stocks for Billionaires
Buffett appears to have embraced Berkshire Hathaway's shifting performance. In his 2010 letter to shareholders, the investor admitted that, for Berkshire, "
the bountiful years... will never return," and that, in the future, they will strive for, "better-than-average results." Unfortunately, as recent performance data have made clear, even this revised goal has been difficult to achieve.
Year to date, Berkshire Hathaway has managed to stay buoyed in positive territory as confidence has recovered and investors have ventured back into the equity markets.
Strong earnings performances from companies like Coca-Cola, American Express and IBM may help to inject some life back into Berkshire Hathaway. However, it is highly unlikely that this quarter's showing will lead Buffett to make any rash investment decisions. In the coming weeks, investors should be like Buffett: Keep an eye on earnings, but avoid letting the deluge of data cloud judgment.
What do you think the future holds for Warren Buffett and Berkshire Hathaway? Do you think the company has a chance to close the gap between the S&P 500? Leave a comment in the space below.
10 Top Warren Buffett Dividend Stocks
--
Written by Don Dion in Williamstown, Mass.
At the time of publication, Dion Money Management had no positions in stocks mentioned.