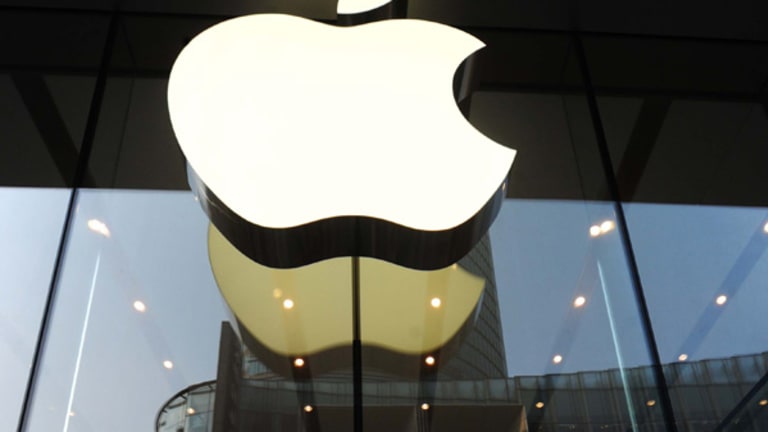 Earnings and iPad Mini, but This Week Means Nothing for Apple
It's the first half of 2013 that could dictate Apple's fate.
It's the first half of 2013 that could dictate Apple's fate.
NEW YORK (TheStreet) -- I love the hype. In fact, I live for it.
I just can't find much long-term meaning in it.
On Tuesday,
Apple
(AAPL) - Get Report
holds what we all think will be
its iPad Mini and a whole bunch of other products event
. Then, on Thursday, the company reports Q4 earnings, which include roughly one month worth of iPhone 5 sales.
TheStreet
will live blog both events.
for details on how you can track and participate in these live blogs.
I'm all for the buildup, the pomp, the circumstance, the scrutiny-filled aftermath that comes with the territory post-anything Apple does. It all excites me.
If you're an investor or a trader, however, go nowhere near this thing beyond the pop culture spectacle that it is. Maybe once the stock breaks one way or the other you can trade it, but that's too rich for my blood.
The next week means everything and nothing to AAPL, the stock, and Apple, the company, all at the same time.
While
I can hang with the notion of a premium-priced iPad Mini
, I'm not thrilled with the idea of an ever-expanding Apple product line. At least they're not making printers, but, at some point, Tim Cook could slice nuance between product line models too thin for Apple's own good.
Earnings could bring similar disappointment to what we saw with the Q3 results. It likely all depends on how strong of a month September actually was for iPhone 5.
Even record sales might not prevent another weak quarter. Another miss will likely produce more sustained downside. But, even if it brings AAPL below $600, it barely represents a chapter in what remains a developing story.
In the three months since the Q3 earnings miss, AAPL has swung wildly.
It's been pretty crazy. The stock headed into the report at about $600. Initial reaction took it to the $575 area. It proceeded to rebound, trading as high as $705 and change. It closed Friday's session at $609.84.
Go figure.
It's the elephant in the room for AAPL bulls. Why does the stock do this?
We do not know why AAPL does this.
The most psychologically comfortable thing for AAPL bulls to do then is chalk the gyrations up to noise, illogic and, for the crazed, conspiracy. When the stock goes down and up and back down, bulls brand anybody who is not ardently bullish on the basis of AAPL's earnings multiple a lamebrain. They believe past performance does indeed predict future results.
What we do know is that Apple's future is not only unwritten, it's uncertain. I used to think it was less uncertain than, say,
Microsoft's
(MSFT) - Get Report
, but now I'm not quite so sure.
It's quite clearcut for Microsoft under Steve Ballmer. They're
born to lose, destined to fail
. And
the company could take down a whole host of "partners" in the process
, ranging from
Intel
(INTC) - Get Report
to
Dell
(DELL) - Get Report
and
Hewlett-Packard
(HPQ) - Get Report
.
It's pretty sane and logical to predict that Windows 8 and all that it entails will not experience rousing Apple-like success. While it probably will not be an abject failure, it will be closer to the abject failure end of the spectrum than the rousing success side.
That's trademark of
of so many big and once wildly successful tech companies these days. Don't expect too much from them. They won't let you down (even as ...
they let you down
).
It doesn't work that way with Apple. We expect big things. And, relatively speaking, we're not getting them. I love my iPhone 5 as much as the next guy, but it's not a big thing.
This week means nothing. But don't take that out of context.
It means something in so far as everybody will be covering and talking about what Apple announces. Dollars will change hands like they always do. Fortunes might even be won or lost in some cases.
That said, all that
really
matters are the first six months of 2013.
In January we'll know how Apple, particularly iPhone 5 and the presumably forthcoming iPad Mini and other assorted products, did during the current holiday quarter. If results come in lackluster, Apple has troubles no matter what its backward, forward or current price-to-earnings ratio works out to.
From there, we need the next true innovation. That cannot come in the form of iPhone, iPad or iPod (unless they're remarkably different -- and I actually don't think they should be). It's more like iTV (remember that?) or something we haven't heard a rumor on yet.
The next leg up at Apple. It's overdue. That's what the company needs for the stock to take the next leg up past $1,000 and, for all intents and purposes, complete the best-case bull case.
Who knows? Maybe Tim Cook will shock us on Tuesday and introduce an ace in the hole early. He practically has no choice but to come through big time, however, in the first half of 2013.
Whenever the time comes, failure is not an option. Failure, or even something slightly north of mediocrity, could make recent volatility in AAPL look even more insignificant -- over the long haul -- than this past quarter's and this present week's instability will prove to be.
At the time of publication the author held no positions in any of the stocks mentioned.
This article is commentary by an independent contributor, separate from TheStreet's regular news coverage.
Rocco Pendola is a private investor with nearly 20 years experience in various forms of media, ranging from radio to print. His work has appeared in academic journals as well as dozens of online and offline publications. He uses his broad experience to help inform his coverage of the stock market, primarily in the technology, Internet and new media spaces. He has taken a long-term approach to investing, focusing on dividend-paying stocks, since he opened his first account as a teenager. Pendola, 37, is based in Santa Monica, Calif., where he lives with his wife and child.