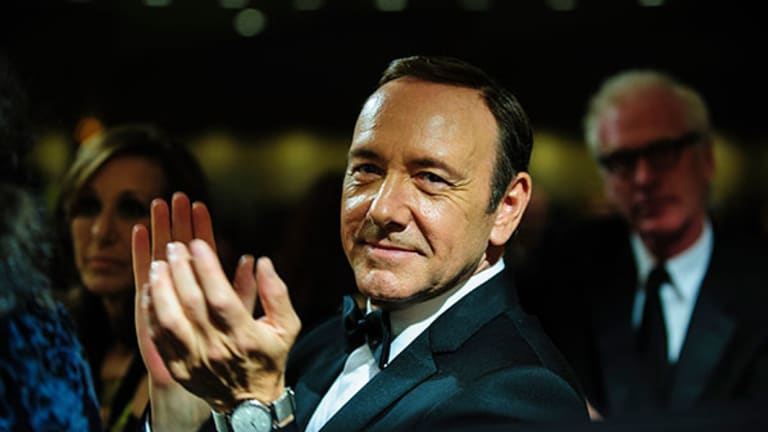 E-Trade Ditches the Baby for Kevin Spacey
Who needs a baby when you have the <I>House of Cards</I> star pushing the grown-up side of online brokerage?
Who needs a baby when you have the <I>House of Cards</I> star pushing the grown-up side of online brokerage?
NEW YORK (TheStreet) -- The baby is gone.
Online brokerage E-Trade Financial ( (ETFC) - Get Report) got a lot of play out of its commercials with its talking baby. But the ubiquitous ads, which also appeared in six football Super Bowls, are ending. Instead of a grownup baby, E-Trade plans on showing off its mobile capabilities and product offerings through a new campaign with baby-faced grownup Kevin Spacey in an appeal to a different generation.
In a commercial that aired during the NCAA basketball March Madness tournament, the E-Trade baby, voiced by Pete Holmes, walked off the set rather than work with a new cat sidekick. The commercial and subsequent YouTube video, which gained 191,000 views and counting, directs viewers to babyquits.com, which, in turn, re-directs to the E-Trade baby's Facebook page where he posted: "All good memories, E-Trade. I gave you the best year of my life."
The E-Trade baby was created by Grey Global Group, E-Trade's advertising agency since 2007. The funny ads were seen by 500 million to 750 million people and have gone viral many times.
But E-Trade changed its mind on the tot. For starters, the company did not run any Super Bowl commercials this year, which might be because Grey Global resigned the account in 2013 after E-Trade said it was launching an agency review.
E-Trade's new advertising company is Ogilvy & Mather. The venerable ad agency has 14 years of experience working with rival TD Ameritrade (AMTD) - Get Report and will now fashion ads around Spacey, veteran actor and current star of the Netflix ( (NFLX) - Get Report) show House of Cards.

In the new commercials, Spacey will star as an E-Trade scout looking for "Type E" people who know how to use the site and can name different product offerings that set it apart from rivals. Those online brokerage rivals include Charles Schwab (SCHW) - Get Report, Fidelity, Scottrade, Tradeking and TD Ameritrade.
In fiscal 2013, E-Trade posted revenue of $1.7 billion. The company added 95,000 new brokerage accounts and passed the three million mark. The company also added $10.4 billion in new assets, to take its total assets over 261 billion.
E-Trade has a market capitalization of $5.8 billion and posted revenue of $1.72 billion in fiscal 2013. Schwab had revenue of $5.4 billion in 2013 and trades with a market capitalization of $32.7 billion. TD Ameritrade has a $16.6 billion market capitalization and saw 2013 revenue of $2.8 billion. Of course, there are other variables like earnings per share and amount of assets, but on a strict price to sales ratio, E-Trade shares look undervalued.
E-Trade shares have a trailing price to sales of 3.3, compared to TD Ameritrade and Charles Schwab with 5.9 and 6.1, respectively. Even to get to a price to sales of 5.0x, E-Trade shares would rise 48%. The company continues to add accounts and assets.
The new focus on product offerings and not just simplicity could cause a plethora of account inflows that could help revenue and profits. E-Trade shares are up around 50% since a June 2010 1:10 split that really helped put the company on the right track.
At the time of publication the author had no position in any of the stocks mentioned.
This article represents the opinion of a contributor and not necessarily that of TheStreet or its editorial staff.