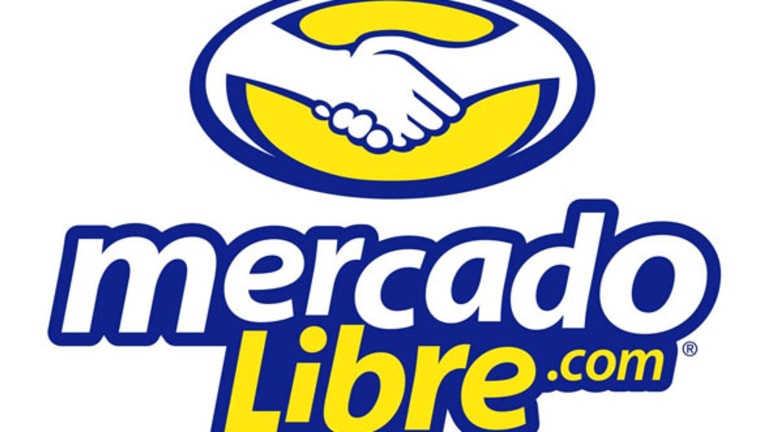 E-Commerce Site MercadoLibre Offers Long-Term Growth Prospects
Analysts predict that earnings at the Argentinian company will grow an average of nearly 25% over the next five years.
Turn on the television these days, and the news is bad. That includes an uncertain global economy, terrorism, migrant woes and rising tensions in different regions. 
Contrary investing, making investment decisions that contradict prevailing wisdom, can be especially beneficial in these challenging times.
Buenos Aires-based MercadoLibre (MELI) - Get Free Report  is one of the world's biggest but largely under-reported growth stories. The rise of Latin America's middle class, a multi-year phenomenon known as "the Samba effect," has also been overlooked.
Despite a huge earnings and revenue turnaround in the company's third fiscal quarter, MercadoLibre is down 3.24% year to date, largely weighed down by the contagion of fear that's dampening investments in emerging markets.
Below you'll find what everyone is missing about MercadoLibre.
To be sure, as an investment destination, Latin America carries a lingering stigma. Many investors view the region as riddled with civil strife, poverty, corruption and violent crime -- in short, too risky. In the financial media's coverage of emerging markets, and despite Brazil's growth through much of this century, Asia dominates the headlines. 
A preoccupation with the region's problems misses a bigger, considerably more upbeat picture.
Latin America is home to a growing, increasingly educated and computer-literate middle class. An increasing number of these Latin consumers are flexing their newfound purchasing power online.
The explosion of e-commerce activity in Latin America chiefly benefits one company: MercadoLibre, the region's leading e-commerce player.
Often referred to as "the eBay of Latin America," MercadoLibre functions in the same manner. Indeed, eBay (EBAY) - Get Free Report holds a 19.5% ownership stake in MercadoLibre.
The name MercadoLibre translates to "free market" in Spanish and the company is headquartered in Argentina, South America's most Europeanized nation. MercadoLibre hosts automated web-based commerce platforms that allow businesses and individuals to list items and conduct sales and purchases online in an auction or fixed-price format. MercadoLibre's mode of operation is familiar to anyone who's used eBay or Amazon (AMZN) - Get Free Report .
MercadoLibre also offers MercadoPago, an integrated payments mechanism similar to PayPal (PYPL) - Get Free Report by which users send and receive payments online. In addition, the company's MercadoClics program allows businesses and individuals to promote their products and services through online display and text advertisements.
MercadoLibre now operates e-commerce platforms tailored towards Argentina, Brazil, Mexico, Chile, Colombia, Costa Rica, the Dominican Republic, Ecuador, Panama, Peru, Portugal, Uruguay, and Venezuela.

As the largest company of its kind in Latin America, MercadoLibre's dominance confers competitive advantages that elude even eBay and Amazon. As opposed to the more homogeneous cultures of North America and Europe, the countries south of the border represent a rich and cacophonous variety of languages, currencies, customs, and regulations. It's a high barrier to entry over which MercadoLibre has already vaulted.
MercadoLibre is riding a powerful secular trend that should particularly interest investors who are building a long-term growth portfolio. QuartSoft, a web development company, reports that worldwide e-commerce sales will reach $1.4 trillion by 2015.
Factors for e-commerce growth in Latin America include greater credit and debit card usage; the proliferation of social media and group shopping sites; enhanced online security that reinforces consumer confidence; and an expanding pool of "e-tailers" that reach customers through their websites.
For MercadoLibre, mobile now represents 3.5% of its traffic. The company is working hard to expand its mobile presence through the continual development and release of new apps.
Throughout Latin America, leaders are plowing considerable sums into infrastructure spending, including Internet development, and  policies designed to shift their economies from a heavy dependence on exports toward domestic demand.
Governments also are implementing reforms such as individual and corporate tax relief, minimum wage hikes and business deregulation, all designed to boost indigenous consumption. These trends are substantial tailwinds for MercadoLibre.
MercadoLibre reported third quarter fiscal 2015 revenue of $168.6 million, a year-over-year increase of 14%. Earnings a share (EPS) came in at $1.03, compared to 76 cents last year. Items sold in the third quarter of 2015 came in at 34 million, a 26.2% rise.
Third-quarter revenue growth doubled the 7% growth rate analysts had predicted; EPS was a a nickel better than consensus expectations. But then again, MercadoLibre is accustomed to beating expectations. Moreover, analysts are forecasting the earnings rate to grow an average of nearly 25% over the next five years. 
The stock's trailing 12-month price-to-earnings (P/E) ratio of about 54 is in line with its peers, albeit far below Amazon, which sports an astronomical trailing P/E of 957.

The opportunities that this stock conveys in a fear-wracked world recalls the timeless advice of super investor Warren Buffett: "You want to be greedy when others are fearful and you want to be fearful when others are greedy." With a market cap of $5.4 billion and a powerful shareholder in eBay, MercadoLibre is in solid shape to survive the ups-and-downs of its volatile field and prosper over the long haul.
Stocks like MercadoLibre belong in any retirement portfolio, but there are other crucial steps that an investor should take to ensure a prosperous future. For insightful investment tactics that you won't find anywhere else, download a copy of this free special report: Your Ultimate Retirement Guide.
John Persinos is editorial manager and investment analyst at Investing Daily. At the time of publication, the author held no positions in the stocks mentioned.