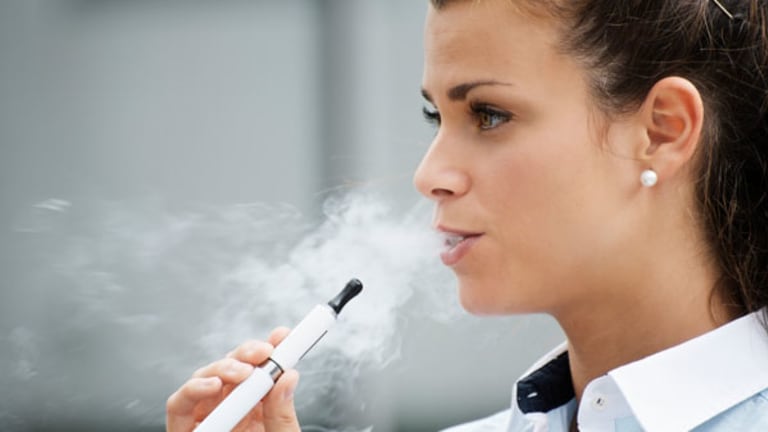 E-Cigarettes Under Fire, but Philip Morris Is a Smoking Buy
Despite a growing move to increase regulation of electronic smokes, the tobacco giant remains an attractive stock for investors.
NEW YORK (TheStreet) -- Despite a growing move to increase regulation of electronic cigarettes, Philip MorrisInternational (PM) - Get Philip Morris International Inc. Report remains an attractive stock for investors.
A group of state attorneys general recently asked the U.S. Federal Drug Administration to restrict e-cigarette advertisements and ban their flavors, citing studies showing health risks similar to regular cigarettes. Sales of e-cigarettes, which turn nicotine-laced liquid into vapor that can be inhaled, could top $2.5 billion in the U.S. this fiscal year, up from zero less than eight years ago, according to the Wall Street Journal.
Still, because e-cigarettes don't deliver the same kind of nicotine hit as regular cigarettes, the potential market remains limited. Even so, Philip Morris has an edge over its rivals with its huge distribution network and experience dealing with regulators. E-cigarettes could actually be a plus for the company.
Philip Morris is already expanding its presence in the e-cigarette market, recently announcing the purchase of Nicocigs, a leading U.K. based e-cigarette manufacturing company with over 29% of that market. 
Better Position

Meanwhile, the company's Marlboro brand is very popular in 180 countries, so Philip Morris is in a better position than rivals to weather the overall decline in demand for tobacco products.
The stock is popular among 28 investment gurus, who own a total of 16.6% of the company and rank it their second most-favorite investment. James Barrow is among the biggest holders in this group, with a 1.4% stake that represents 2.6% of his entire portfolio. Jeremy Grantham also has a 1.4% stake, which makes up 4.2% of his portfolio. Tom Russo owns a 0.63% stake, representing 8.1% of his portfolio.
The company's sales have been poor in key markets like the Philippines, Japan, Indonesia and Australia, but that's partly due to taxes and Australia's move towards plain packaging, which hurts Philip Morris' brand. But there have been significant sales gains in Canada, Latin America, Europe, Middle East and the African market.
Philip Morris has warned that increased prices will hit margins in the last two quarters of 2014, when comparisons will also be hurt by strong year-earlier results.  Philip Morris expects about $1.8 billion in price increases in a current fiscal year. But Roosevelt Investments Group, which has $4.5 billion under management, suggests that the company has enough cushion to weather continued price increases.
Conclusion
A multitude of factors, ranging from a huge market share to better marketing and diversification strategies, make this an attractive company for investors. Despite falling demand for cigarettes, the company has managed to maintain its revenue and profitability levels. In fact, the company has been growing in a highly regulated industry.
"Our key takeaway is that the absence of any new issues results in less risk," says Morgan Stanley's Managing Director David Adelman, who has a "buy" rating on Philip Morris. Of course, investors see big problems, or they wouldn't have pushed this stock down 9% in the past five weeks. But the phobias seem to have disappeared.
Adelman has a $92 price target on Philip Morris. That 10% gain plus the 4% dividend would net 14% over the next fiscal year. All these factors suggest the company is strong financially and has the ability to improve in the years to come. In short, this is one company that will not let its investors down anytime in the near future.
At the time of publication, the author held no positions in any of the stocks mentioned. ¿This article is commentary by an independent contributor, separate from TheStreet's regular news coverage.