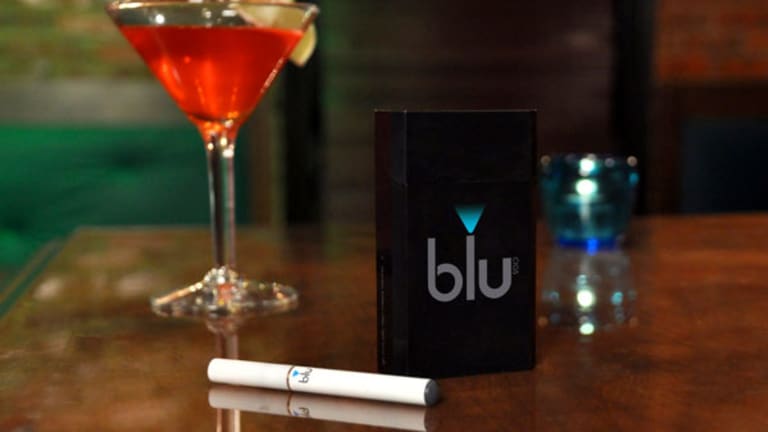 E-Cigarettes Are Smoking the Competition: Part 2
The major cigarette manufacturers are entering the booming e-cig industry. Will the hundreds of small e-cig companies survive? The second in a two-part series.
Check out the first part of this two-part series at TheStreet: "E-Cigarettes Are Smoking the Competition: Part 1."
NEW YORK (TheStreet) -- Part 2 of 2
Yesterday I wrote about electronic cigarettes, commonly called e-cigarettes, which have grown in sales from virtually zero five years ago $1.5 billion in 2013. This growth will likely continue, overtaking traditional cigarettes sales within the next decade.
Today, let's consider how investors can profit from this new market sector.
Competitive Landscape
There are more than 200 e-cigarette producers. The number of competitors is decreasing, but competitive pressures are increasing as the large tobacco companies are entering the fray.
In 2012, Lorillard (LO) , the third-largest tobacco company and maker of Newport cigarettes, entered the e-cigarette market with its purchase of Blu. Reynolds American (RAI) , the second-largest U.S. tobacco company and maker of Camel, entered the market in 2013 with their own e-cigarette offering, Vuse. In 2014, Altria (MO) - Get Altria Group Inc Report, the largest U.S. tobacco company and maker of Marlboro, acquired Green Smoke to enter the e-cigarette market.
The increased competition from larger players should lead to a consolidation in the market, with five to 10 players at the end of the industry shakeout. Economies of scale should be present in the market.
The large fixed costs associated with marketing and potential regulatory costs will likely eliminate smaller players. Marketing is particularly important at the early stages of an industry life cycle, when no brand has established itself as the clear leader and all companies are trying to increase brand awareness.
Limited shelf space at retailers creates another important market inefficiency, as the FDA may ban online sales of e-cigarettes. The access to retail outlets will be one of the key determinants of survival.
The large tobacco companies will gain access, given their relationships via traditional tobacco. But for smaller companies, this will be important to monitor.
Currently, Lorillard's Blu has the largest retail presence in over 136,000 retail outlets. NJOY is in over 80,000 retail outlets. Vapor's (VPCO:OTC) products are available in over 60,000 retail outlets; Mistic e-cigarettes are sold in over 40,000 stores. The recent merger between Victory Electronic Cigarettes (ECIG:OTC) and Fin increased their combined retail presence to over 50,000 stores. Logic is in 10,000 retail outlets.
Smaller E-Cigarette Companies

Victory Electronic Cigarettes is the largest pure play e-cigarette company by market cap, at $672 million. Victory has been very aggressive in expanding. In December 2013, Victory acquired Vapestick, one of the leading electronic cigarette companies in Europe, for $70 million in cash and stock. Since then, Victory has been aggressively expanding Vapestick throughout Europe. Victory recently announced a merger with Fin, increasing the company's retail presence significantly, to over 50,000 retail stores nationwide.
Victory has excellent management to support this growth. Brent Willis, chairman and CEO, ran private equity firms. He also was CEO for Cott (COT) - Get Cott Corporation Report, the world's largest retailer-brand beverage company, and Global CCO, president, and board member for Anheuser-BuschInBev (BUD) - Get Anheuser-Busch InBev SA/NV Sponsored ADR Report and AmBev (ABEV). From 1996 through 2001, Willis was president in Latin America for Coca-Cola (KO) - Get Coca-Cola Company Report, where he led his division to the No. 2 ranking worldwide of all Coke operating units and led the largest turnaround in company history. He also worked for Kraft Foods (KRFT) managing a number of their brands.
Marc Hardgrove, Victory's co-founder is president of the online division, and has been an entrepreneur with ownership of several companies, particularly Internet commerce. CFO Robert Hartford has worked in financial management and for the past 10 years was CEO, CFO and COO for private and public companies. John Perner, president of the retail division for Victory, was chief customer officer of Chateau Sales, and led efforts to secure distribution with Costco (COST) - Get Costco Wholesale Corporation Report, Target (TGT) - Get Target Corporation Report, Home Depot (HD) - Get Home Depot, Inc. (HD) Report, Safeway (SWY) and Publix (PUSH:OTC). Perner also worked at Pepsi-Cola (PEP) - Get PepsiCo, Inc. Report. Michael Clapper, director and president of international operations, was founder of Vapestick.
Vapor Corp. has the largest U.S. retail presence of all publicly listed e-cigarette companies. Their products are in over 60,000 retail outlets. Vapor sells 4 different brands: Smoke 51, Krave, Green Puffer and VaporX.
Vapor recently added depth to its board. Ryan Kavanaugh will join as a board member and strategic advisor. Kavanaugh is the principal at Knight Global Services as well as the founder and CEO of Relativity.
What Is This Opportunity Worth?
As I've mentioned, there have been quite a few mergers and acquisitions recently in this field.
Imperial Tobacco (IMT), Europe's second largest tobacco company and maker of Davidoff cigarettes purchase Dragonite International in September 2013. This was reportedly an IP acquisition. In October 2013, Lorillard increased its e-cigarette offering and geographical presence with its acquisition of European e-cigarette Skycig.
Neither Victory nor Vapestick's previous owners provided revenue figures. With the information available, the average enterprise value-to-sales multiple was 3.2.
Victory believes the newly merged entity of Victory and Fin will have sales of $100 million in 2014. Assuming Victory can reach $500 million in revenues by 2018, applying an enterprise value-to-sales of 3.2 times would lead to a fair enterprise value of $1.6 billion. Victory's current enterprise value is $654 million leading to upside of 144% over the next five years, or a 20% annualized return.
Vapor had sales of $23 million over the trailing 12 months. Assuming Vapor is able to double revenues to $50 million in 2014, and --like Victory -- has a fivefold increase in revenue over the next five years, at the end of 2018 Vapor's revenue will be $250 million. Applying an enterprise value to sales of 3.2 times, Vapor's fair value in 2018 is roughly $800 million. With a current enterprise value of approximately $100 million, Vapor's up side is 660% over the next five years, or a 46% annualized return.
Investing Decisions

The three pure plays in the e-cig industry are all traded in the OTC marketplace at present.
They are all very speculative. There are severe risk factors, such as federal, state and local regulation and/or taxation.
Rumors fly every day -- be very careful when you enter orders on these three OTC-listed stocks.
It is very important that you enter limit orders -- and if you miss it, you miss it.
However, we believe that a 5% position in the group of three is warranted at this time. If you want to be conservative, invest in the major cigarette manufacturers that have entered the e-cig business as a hedge.
The e-cigarette market is growing at a very rapid pace. The big tobacco players are entering the market and are a way to play this sector.
In the short term, e-cigarettes will not alter the performance of these players. In the long run, these companies must position themselves so the disruptive technology that is e-cigarettes does not threaten their survival.
For more focused access to the e-cigarette market, Victory Electronic Cigarettes, Vapor and mCig are  over-the-counter pure plays. These stocks are more risky, but the growth in the e-cigarettes market will significantly increase the intrinsic value of these players.
Victory is pricing in much more growth than Vapor due to its international expansion and strong management team. Victory's recently announced  acquisitions might take their current run rate over $100 million in revenues in 2014.
Vapor has one of the largest retail distribution networks in the United States (third to Lorillard and NJOY) and is much more modestly valued by the market.
In the long run, I see e-cigarettes smoking traditional tobacco in the marketplace.
Harris Shapiro is the publisher of The Focused Stock Trader.

At the time of publication, the author held no positions in any of the stocks mentioned.
This article represents the opinion of a contributor and not necessarily that of TheStreet or its editorial staff.