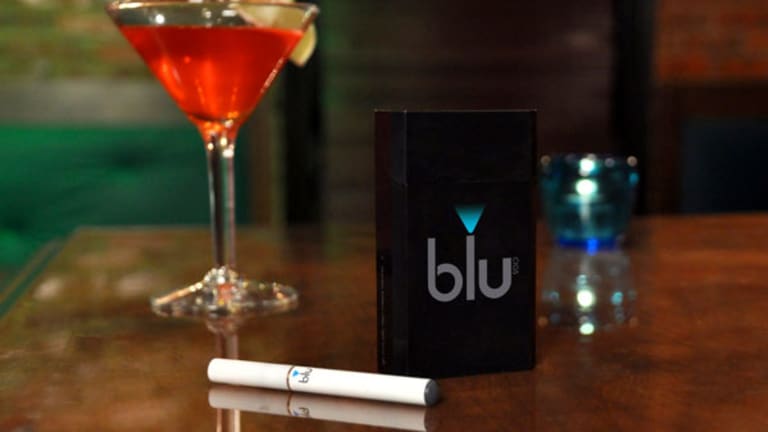 E-Cigarettes Are Smoking the Competition: Update
The major cigarette manufacturers are entering the booming e-cig industry. Will the hundreds of small e-cig companies survive?
Updated with more information about the e-cigarette marketplace.
NEW YORK (TheStreet) -- Part 1 of 2

Electronic cigarettes, commonly called e-cigarettes, are becoming more and more common. From relative obscurity five years ago, e-cigarettes have grown to $500 million in sales in 2012, and over $1.5 billion in 2013. The growth in the market is expected to continue, with e-cigarettes sales expected to top traditional cigarettes sales within the next decade.
How can investors profit from this trend?
There are a number of ways to take advantage of the growth in the e-cigarette market.
Investors who seek exposure to e-cigarettes can buy into the larger tobacco companies. They are now entering the market, following on the heels of smaller start-ups. Lorillard (LO) ($48.00 at market close on Friday, Feb. 14), Altria (MO) - Get Altria Group Inc Report ($35.57 at last close) and Reynolds American (RAI) ($48.21 at last close) are all major cigarette companies. But for now, e-cigarettes are a very small portion of their overall revenues.
Smaller companies such as Vapor (VPCO:OTC, $5.78 at market close on Friday, Feb. 14), Victory Electronic Cigarettes (ECIG:OTC, $13.50 at last close) and mCig (MCIG:OTC BB, 33 cents at last close) offer pure play access to e-cigarettes. In addition, mCig offers access to investing in the legalization of marijuana -- though it is also a penny stock, and inherently very risky.
What Are E-Cigarettes?
An e-cigarette is a battery-operated alternative nicotine delivery system. E-cigarettes have a replaceable inhaler cartridge containing vegetable glycerin and/or polyethylene glycol, flavoring and nicotine. With every inhalation, a sensor triggers a "vaporizer" to heat a small amount of liquid flavoring. The liquid turns to vapor and is drawn into the user's mouth and then lungs.
The vaping technology of e-cigarettes does not burn anything. The liquid mixture is simply vaporized. The vapor does not contain the harmful additives found in true smoke from hookahs or cigarettes.
The replaceable cartridges come with different nicotine levels. Each is equivalent to 2 packs of cigarettes. HowStuffWorks has created a visual on the anatomy of an e-cigarette.
Market Size
Electronic cigarettes' sales are growing wildly, from almost nothing five years ago to roughly $500 million in 2012 and over $1.5 billion in 2013. E-cigarettes are now for sale at the 75% of tobacco retailers that carry at least one e-cigarette brand.
The growth in the market is expected to continue. Wells Fargo and Bloomberg estimate that e-cigarette sales will surpass traditional cigarettes within the next decade. The U.S. tobacco industry is a $90 billion industry. The most optimistic scenario puts the U.S. e-cigarette market at over $80 billion in 10 years, representing a 47% compound annual growth rate and a global opportunity for $300 billion in 10 years.
Even more conservative estimates are rosy. Assuming no-growth in the overall tobacco market size and 50% cannibalization of tobacco cigarettes sales, e-cigarette sales could reach $45 billion in 10 years, representing almost 40% growth per year. Using a more conservative estimate that e-cigs would take 25% of total traditional cigarette sales, the e-cigarette industry could reach $20 billion over the next decade, or a compound annual growth rate of over 30% per year for the next decade.
Key Trends
The Centers for Disease Control and Prevention found that in 2011, nearly one in five adult cigarette smokers tried e-cigarettes. That number is up 10% from 2010. Currently, about 6% of all adults have tried vapor smoking, nearly double the estimate in 2010. The growing adoption of e-cigarettes is driven by a number of trends including legality, social acceptability, health reasons, cost effectiveness, increased awareness and increased variety.
While tobacco cigarettes are banned in public places across the nation, e-cigarettes are not as strictly regulated. Smoking is banned indoors through much of the country now. And some cities, such as New York, Chicago and Long Beach, prohibit e-cigarettes in the same ways they do traditional cigarettes. But overall e-cigarettes can still be used indoors in the vast majority of cities. This creates significant demand for e-cigarettes, particularly in cold-weather locations. Smokers can get their nicotine fix indoors without having to deal with the harsh weather conditions.
E-cigarettes seem to be more socially acceptable than traditional cigarettes, too. For many, the unacceptable part of traditional cigarettes is the smoke and the smell. Unlike traditional cigarettes, e-cigarettes do not produce smoke. This leads to a lower level of intrusion and a higher level of social acceptance. This is confirmed by the 2014 American E-Cigarette Etiquette Survey conducted by Harris Interactive: nearly 63% of Americans say they would not be bothered by someone using an e-cig in close proximity.
At first glance, e-cigarettes seem to be less of a health risk than traditional cigarettes. With traditional cigarettes, smokers are inhaling a number of additives that cause cancer, including tar, benzenes, formaldehyde, arsenic, ammonia and carbon monoxide.
Nicotine itself does not cause cancer. It is a stimulant similar to caffeine. Stimulants increase your heart rate, speeds up other bodily functions and constrict blood vessels. Both are highly addictive and can cause severe withdrawal symptoms, making it difficult to quit.
E-cigarettes may be more effective then patches or gum at helping smokers stop quitting, as they replicate the process of smoking. The act of smoking becomes almost as addictive as nicotine, with some estimating 60 to 70% of the addiction is the process of placing a cigarette to your lips. The patch carries other disadvantages, like potential visibility, side effects and inability of the user to control the dosage.
A study conducted by the National Institute for Health Innovation at the University of Auckland showed the percentage of people who quit smoking was higher with e-cigarettes than nicotine patches and placebo, at 7.3%, 5.8% and 4.1%, respectively. The study also showed relapsed e-cigarette users smoked less. Of the volunteers in the e-cigarette group, 57% halved their daily cigarette use by the end of the six months, compared with 41% in the nicotine patch group and 45% in the placebo group. According to a 2011 report from the Centers for Disease Control, 68.9% of adult smokers wanted to quit smoking and 42.7% made an attempt to quit. The total market for smoking cessation products such as nicotine patches and gum was estimated at $835 million.
E-cigarettes are generally cheaper than traditional cigarettes. According to NJOY, a single NJOY King sells for $7.99 and lasts as long as two packs of cigarettes. The Tobacco Atlas places the average pack of cigarettes at $6.36 in the U.S., leading to an average savings per two packs of cigarettes of about 40%.
In 2012, the average U.S. smoker smoked 19.1 cigarettes a day. At a consumption rate of 20 cigarettes per day, the average smoker in the U.S. could save $863 per year with e-cigarettes. Reynolds American estimates that annual savings of about $1,000 for smokers who convert to e-cigarettes. In New York City, the cost of a pack of cigarettes is roughly $15, suggesting an average annual savings of $3,834.
Manufacturers NJOY and Blu are advertising heavily, drawing consumer attention. NJOY ran a commercial during the Super Bowl, and Blu enlisted celebrities Stephen Dorff and Jenny McCarthy to promote their products. Traditional cigarette advertising was banned from television in 1970, and banned from outdoor advertising in 1997. Regulations may change, but for now this gives the advertising advantage to e-cigarettes.
A wide variety of flavors are available to e-cig buyers, perhaps enticing social smokers. Traditional cigarettes are now banned from adding any flavors.
With all these factors in place, the e-cig market should continue to grow.
But how can investors profit from this trend? I'll discuss that more in my next article.
Part 2 of this article on e-cigarettes will arrive at TheStreet Thursday. Stay tuned.

Harris Shapiro is the publisher of The Focused Stock Trader.

At the time of publication, the author held no positions in any of the stocks mentioned.
This article represents the opinion of a contributor and not necessarily that of TheStreet or its editorial staff.
Harris Shapiro, the founder of TFST Publishing LLC., the publisher of
The Focused Stock Trader, and is a contributor to
TheStreet.
He has been a stock broker, investment banker, and CEO of 2 micro-cap companies. His newsletter ended 2013 with 85 profitable trades out of 95 recommendations, for an annualized return of 265%. The service combines fundamental analysis, technical analysis and focus on the industry groups that are in the spotlight among investors. Shapiro has been involved in the small-cap market for 50 years. He currently covers such diverse industries as Robotics, 3D Printing, Solar Energy, Wearable Computing and similar categories that most services do not cover till the Public Companies become mid-cap stocks or larger.