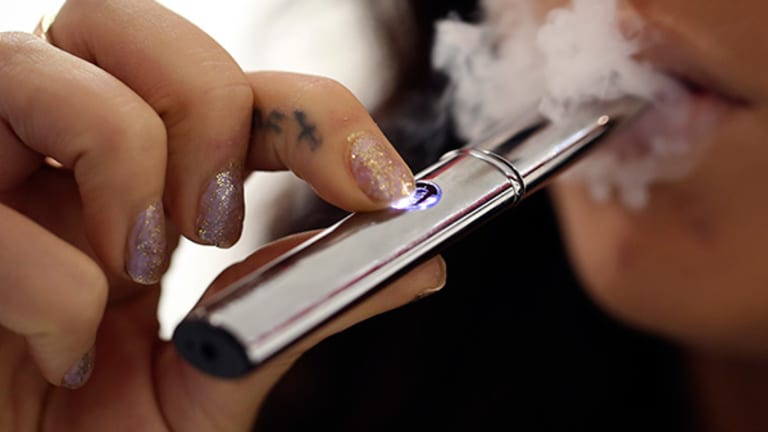 NEW YORK (TheStreet) -- While e-cigarettes are an area of growth for big tobacco companies, their popularity with young smokers could spur more U.S. states to raise the minimum age to buy all tobacco products.
Hawaii became the first state to raise its minimum smoking age to 21, citing a recent study of six Hawaii high schools that found 18% of 9th and 10th graders use electronic smoking devices regularly. Previously, Hawaii's age limit was 18, the same as the federal minimum age. 
E-cigarettes are now a $6 billion market worldwide, according to market research firm Euromonitor. That's just a fraction of the $100 billion tobacco industry, but big cigarette makers such as Altria Group (MO) - Get Altria Group Inc Reportand Reynolds American (RAI) have each moved quickly to enter the electronic market to compensate for slowing domestic sales in their flagship cigarette brands. Higher minimum age purchase requirements shrink their pool of legal consumers.
Reynold's RJR Tobacco domestic cigarette shipment volume fell 5% from 2013 to 2014, according to regulatory filings. Altria's Philip Morris USA disclosed that its total cigarette shipment volume in the U.S. dropped 3% from 2013 to 2014.
Nu Mark, an Altria e-vapor subsidiary that debuted an e-cigarette in 2013, estimated in company filings that total annual consumer expenditures on e-vapor products in 2014 were $2 billion.
Vuse, an e-cigarette brand produced and distributed by a division of RJR, was given a national launch in early 2014.
According to the Centers for Disease Control and Prevention, nearly 264 billion cigarettes were sold in the United States in 2014, a 3.3% decrease from 2013. But for the first time in 2014, e-cigarette use surpassed every other tobacco product including conventional cigarettes among high school and middle school students.
Congress passed a federal minimum smoking age of 18 in 2009, but then directed the Food and Drug Administration to determine if it should be pegged even higher.
In March, an Institute of Medicine study commissioned by the FDA projected that a national minimum smoking age of 21 would mean 25% fewer smokers between the ages of 15 and 17, and 15% fewer smokers between 18 and 20.
Richard J. Bonnie, who chaired the committee that wrote the IOM report, said that many states besides Hawaii are interested in raising their minimum age laws.
"My impression is that other states are actively looking into this report and will act on it, even now, without waiting for the FDA's report," he said.
Only Congress, states, or localities can raise the smoking age, not the FDA.
Hawaii's move came ahead of California, New Jersey and otherstates that have entertained legislative proposals to raise their state's smoking age. Sixty-eight localities, including New York City, have raised the smoking age to 21, according to Campaign for Tobacco-Free Kids in Washington, DC.
An Altria representative said states and localities should wait for guidance from the FDA on age minimums before enacting separate laws but that local laws won't change how they do business.
"One of the things we focus on is that we market to adult consumers that are age 21 or older," said David Sutton, a company spokesperson.
Similarly, R.J. Reynolds spokesperson David Howard said the company hopes states remember that the FDA is reviewing age limits, but reaffirmed the tobacco company's commitment to "accelerating the decline in youth tobacco use."