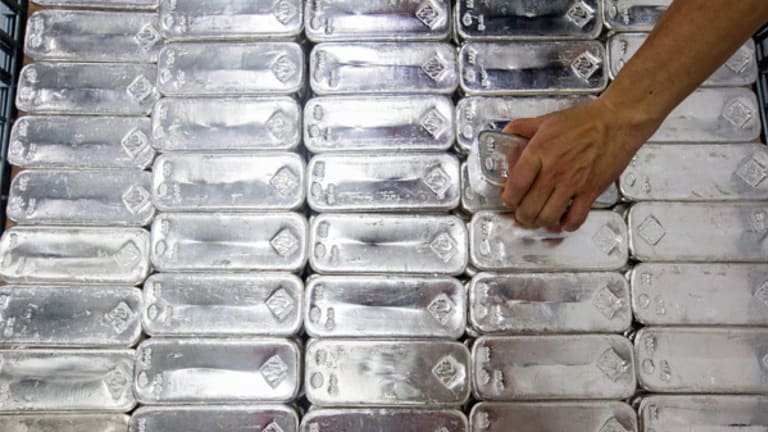 Publish date:
During The Crisis-Prone Year Ahead, This Silver Stock Could Surge 60% or More
As worried investors flee to precious metals in what promises to be a tumultuous year, shares of this silver-streaming company could more than double.
As worried investors flee to precious metals in what promises to be a tumultuous year, shares of this silver-streaming company could more than double.
It's not just the paranoia of Fed-bashing, hard-money zealots: Precious metals really do make a lot of sense now.
Fact is, the market's wild intraday gyrations are giving investors the cold sweats. With some analysts calling for a "cataclysmic market" in 2016, precious metals are starting to regain their luster after a bad year. One classic crisis hedge that often -- and unfairly -- takes a back seat to gold is silver.
If you're concerned about a potential stock market crash this year, silver warrants your attention. One reason silver retains its value during crises is the metal's integral role in many industrial processes. Unlike gold, which has few industrial applications, a myriad of processes would grind to a halt without silver.
Here's the best silver stock you'll ever find: Silver Wheaton (SLW) . This company is an unconventional play on the silver market, with smaller interests in gold. Rather than producing silver, Silver Wheaton is a "silver-streaming" company that makes an upfront payment to miners in return for the right to buy a fixed percentage of their production. The company then makes smaller, incremental delivery payments as it receives the metal.
Without exposure to the actual production side of the business, Silver Wheaton is more of a pure play on silver prices than miners. As several fundamentally flawed and overvalued stocks take a tumble this year, precious metals like silver will prove their mettle.
Headquartered in Vancouver, Canada, the company is by far the largest precious metals streaming company, with a market cap of about $4.61 billion. The company has 18 long-term purchase agreements and one early deposit long-term purchase agreement associated with silver and gold.
Silver Wheaton is highly leveraged toward silver prices, which are expected to rise in 2016. Investment bank HSBC last month released its 2016, 2017 and long-term silver price forecasts at $15.90 an ounce, $18 an ounce and $20.50 an ounce, respectively. The price currently hovers at about $14 an ounce.
Fueling the rise in silver prices is a growing shortage that resulted from cutbacks in production among miners in 2015, as the price of the metal slipped. Now, as global markets show extreme volatility and investors fret over a possible collapse in stocks, silver is coming to the fore as an industrial necessity and a crisis hedge.
What's more, Silver Wheaton isn't shouldered with the exploration risk and fixed operating and capital costs of traditional miners. To be sure, the company's upfront royalty payment to a silver miner can be lost if a mine fails, but that loss is minor compared to the huge costs incurred by a miner if it strikes out on a mine.
In the near term, mining stocks' prices move with the price of what they produce. Over the long haul, however, only rising production and growing reserves create value. And the larger a mining company becomes, the more difficult and expensive it becomes to replace output.
With interests spread throughout North and South America, Silver Wheaton also is much more diversified than traditional miners, or streaming competitors such as Franco-Nevada.
Silver Wheaton's stock has declined 52% over the past year, but it has gained 4.2% over the past five days, as investors start to catch on to the growing potential of streaming companies. Silver demand is set to rise this year, as nervous investors flee dangerously overvalued stocks to put their money into precious metals.
SLW data by YCharts
Silver Wheaton posted ostensibly weak third-quarter operating results, but in the context of silver prices that have declined over the past year by about 12%, revenue and earnings were more than respectable and set the stage for a better 2016, when silver prices are expected to rebound.
Silver Wheaton's third-quarter revenue came in at $153 million, down from $166 million in the same period a year earlier. The analyst consensus had called for $169 million. But significantly, the streaming company's silver equivalent "production" reached a record 11 million ounces in the quarter, up from 8.4 million ounces in the same year-ago quarter. The company sold 10.2 million silver equivalent ounces, up from 8.7 million last year.
Excluding one-time items, the company posted earnings per share of 12 cents, missing Wall Street's expectations by a penny. Last year in the same quarter, EPS came in at 20 cents.
The stock is now trading at about $11, but the median 12-month price target of analysts who follow Silver Wheaton is $18, which suggests shares could gain more than 60%. The highest analyst price target is $28, which suggests upside of more than 150%.
As we've explained above, investors face a highly uncertain year ahead and Silver Wheaton is a great hedge against crisis. On the flip side, we've found several highly dangerous stocks that are terrible places for your money today. In fact, using a little-known financial "health test," the stocks on this list are a failure in every category. Click here now to make sure you don't make the mistake of owning one.
John Persinos is editorial manager and investment analyst at Investing Daily. At the time of publication, the author held no positions in the stocks mentioned.