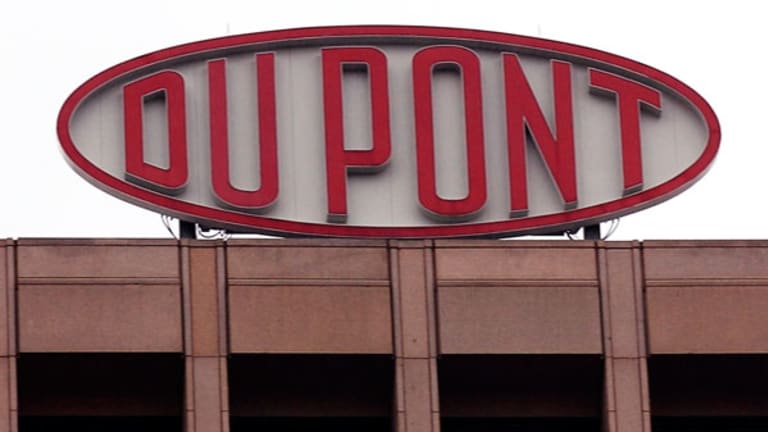 DuPont Delivers Ahead of Dow Chemical Merger
The company beat on earnings and revenue as CEO Ed Breen's streamlining campaign continues to produce results.
Updated with comments from TheStreet's Jim Cramer.
Most of the attention surrounding chemicals giant DuPont (DD) - Get Report is understandably focused on its $130 billion merger with Dow Chemical (DOW) - Get Report . But the company on Tuesday provided a fresh reminder of what it is capable on its own, reporting results that topped expectations.
Wilmington, Del.-based DuPont reported adjusted earnings per share of $1.24 on revenue of $7.1 billion, beating analysts' forecasts of $1.10 a share in profit on $7.01 billion in sales. The company also lifted the low end of its full-year forecast for operating earnings per share by 10 cents to $3.15, keeping the high end at $3.20.
Chairman and CEO Ed Breen in a statement said that DuPont benefited from lower input costs and was also able to achieve $160 million in cost savings during the quarter, keeping DuPont on track to reach $1 billion worth of savings on a run-rate basis by year's end.
"Solid execution enabled volume growth of 2%, and we expanded operating margins across all reportable segments," Breen said. "Cost savings, mix enrichment from new technologies and lower product costs contributed to the margin expansion."
Breen, who is credited with lifting scandal-plagued Tyco International out of its downward spiral last decade, took over as CEO at DuPont last October and quickly reached a deal to combine the chemicals giant with Dow. Shareholders approved the merger plan last week, and the companies hope to close the transaction prior to the end of the year pending regulatory approval.
The companies intend to split into three more specialized independents after the deal closes, with both pushed by activists in recent years to rejigger their operations and separate lower-growth but more consistent commodity chemical operations from higher growth but more research intensive units like specialty materials and agriculture.
Breen, who will become CEO of the combined DowDuPont post-deal, on a call with analysts said the second-quarter results "indicate our plan is working." He said that the company -- which gets about half of its sales from outside of North America -- is assuming little improvement to the global economy or strong dollar for the remainder of the year and into 2017, meaning any easing of those pressures would mean upside.
"Unbelievable quarter, every single division," said TheStreet's Jim Cramer, who holds Dow Chemical in his Action Alerts PLUS Charitable Trust Portfolio. "Five major divisions up huge."
He gave a glowing review of Breen, who led cost-cutting and improved sales at DuPont.
"How was that company managed before, because Ed Breen is killing it," Cramer added.
DuPont said it expects the dollar strength to bruise full-year profit by 15 cents a share.
DuPont saw increases in each of its operating segments, with agriculture leading the way with operating earnings that were up 12% on lower product costs and higher volumes and despite $36 million in negative currency impact. The company's nutrition and health business saw operating earnings up 30%, and industrial biosciences were up 24%.
Agriculture is of particular interest to both investors and regulators considering the Dow/DuPont deal because of a flurry of consolidation in the sector. In addition to combining the ag businesses of Dow and DuPont, Monsanto is currently the subject of overtures from German chemicals giant Bayer, while Syngenta plans to sell to state-owned ChemChina. The sheer volume of activity in the sector has agriculture groups concerned, and seems likely to mean increased regulatory scrutiny on the Dow/DuPont transaction.
The Dow/DuPont deal also means both companies will not be involved in the Monsanto bidding or other consolidation in the ag sector for now. Breen said in response to an analyst question that while the companies individually or post-close could dabble in M&A they were unlikely to take on anything substantial given what else they have going on.