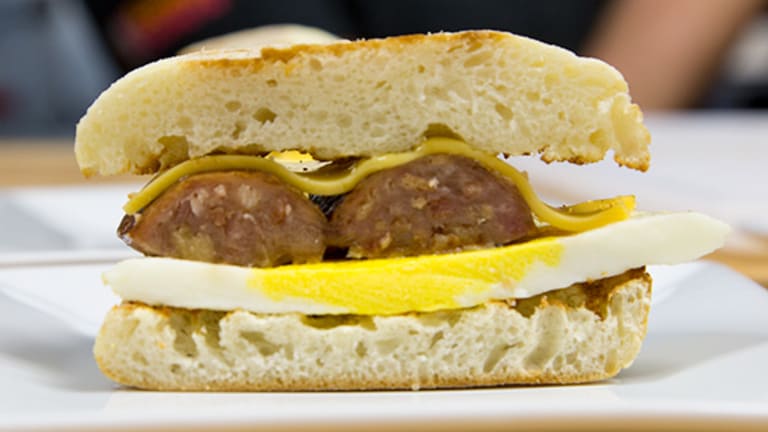 Publish date:
Dunkin' Donuts Commits to Tastier Eggs, Bagels After Sluggish Sales
Dunkin' Donuts had a mixed second quarter and will now look to enhance some of its ingredients.
Dunkin' Donuts had a mixed second quarter and will now look to enhance some of its ingredients.
Updates throughout with comment from conference call and stock price.
Fresh off a mixed second-quarter, Dunkin Donuts (DNKN) - Get Report will now spiff up some of its foods in an effort to get more people through the door.
The doughnut and coffee giant said Thursday it will soon launch a test of a better-tasting egg. By year end, it expects to debut a reformulated bagel. A company spokeswoman didn't immediately reply to an inquiry on the precise changes.
"There are a lot of opportunities to improve some of our basic ingredients," a Dunkin' exec told analysts on a call Thursday morning. The new push by Dunkin' to enhance its eggs comes as its rival in the breakfast hours, McDonald's (MCD) - Get Report , continues to promote on TV its use of fresh eggs on the Egg McMuffin.
According to the ingredient profile for a standard Dunkin' egg white flatbread, the egg is composed from a host of items. They include: "Egg Whites, Water, Egg Yolks, Modified Corn Starch, Natural Sauteed Flavor (Soybean Oil, Medium Chain Triglycerides, Natural Flavor), Salt, Artificial Butter Flavor (Propylene Glycol, Artificial Flavor), Xanthan Gum, Citric Acid, and Coarse Ground Black Pepper." 
Meanwhile, Dunkin' reported that net sales for the second-quarter rose 2.3% from the prior year to $216.3 million. Analysts expected sales of $220.2 million. Earnings, adjusted for one-time items, gained 14% year over year to 57 cents a share, narrowly beating Wall Street estimates of 56 cents.
Dunkin', which reported a solid first-quarter thanks to favorable weather in the Northeast and a barrage of new foods and drinks, missed analysts' sales expectations across the board.
At Dunkin' U.S., same-store sales rose 0.5%, falling shy of estimates for a 0.9% increase. Same-store sales for the division rose 2% in the first quarter. At Baskin-Robbins U.S., the 31-flavor ice cream chain that has benefited with America's continued infatuation for the sweet treat, sales increased 0.6%. Wall Street estimated a 3.4% increase.
Meanwhile, Dunkin' and Baskin-Robbins, respectively, saw 3.1% and 6.6% same-store sales drops overseas during the quarter. Both results badly missed analysts' expectations. 
Shares are down 4% to $45.18.
"As for our five-part plan designed to drive Dunkin' Donuts' U.S. comparable-store sales growth, while we are still in the early phases of implementation and have not yet seen an acceleration of top-line sales, we are making significant progress with our initiatives," conceded Dunkin' Brands Group President and CEO Nigel Travis in a statement.
Dunkin' reiterated that same-store sales for Dunkin' U.S. are still expected to rise as much as 2% for the full year, suggesting sales have rebounded so far in the third quarter. The company also maintained its adjusted earnings per share guidance of $2.20 to $2.22 a share. 
It's not really a shocker that Dunkin' saw softer sales during the quarter.
Primarily a result of economic pressures such as a slowing U.S. labor market, total restaurant industry traffic was flat in the first quarter, according to the latest data from research firm NPD. Even the historically hot fast-casual sector -- led by names such as Chipotle (CMG) - Get Report  and Panera Bread (PNRA)  -- was sluggish in the first quarter as traffic levels were unchanged from the prior year.
"There is a confluence of changing demographics, economic pressures and evolving consumer attitudes and behaviors creating shifts in what, where, when and how we eat," said Bonnie Riggs, NPD restaurant industry analyst.
Panera Bread is a holding in Jim Cramer's Action Alerts PLUS Charitable Trust Portfolio. Want to be alerted before Cramer buys or sells PNRA? Learn more now.