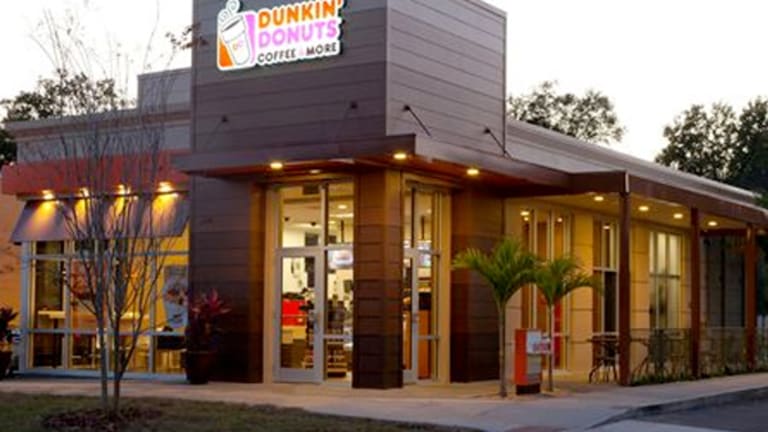 Dunkin' Donuts Testing Chicken and Waffles
In a bid to drive faster sales growth this year, Dunkin' Donuts has started to test several new items with national potential.
McDonald's (MCD) isn't the only fast-food joint currently testing out some interesting new foods in the U.S. to plump up its sales.
Dunkin' Donuts, a division of Dunkin' Brands (DNKN) , has started tests on several items across the country that are a bit fancier than its standard fare of donuts and coffee, confirms a company spokeswoman. Following a year of sluggish sales due to fierce price competition in the coffee and breakfast sandwich categories, Dunkin' could use the lift from attention-grabbing new items. 
The company surprisingly saw sales decline 0.8% in the fourth quarter, while traffic to its restaurants fell 1% year over year. The result marked the second straight disappointing quarter in the U.S. for the donut and coffee chain. Shares of Dunkin have lost about 10.4% over the last year compared to a 1.2% drop for the S&P 500.
Meantime, spicing up the menu has worked wonders for Dunkin's nemesis McDonald's.
McDonald's first-quarter same-store sales rose 5.4%, propelled by interest in all-day breakfast, the company's new " McPick 2" value menu that launched earlier this year and new products such as kale bowls and yogurt smoothies being tested in various parts of the country. The company's U.S. business has posted two consecutive quarters of same-store sales growth above 5%.

The product news for the Golden Arches looks poised to continue into the summer.  McDonald's said earlier this week it will launch brats in over 125 Wisconsin markets, while two new versions of the iconic Big Mac have already arrived to locations in Ohio. 
"Looking ahead, we look for the number of menu items to be on the nationwide all-day breakfast menu to be expanded (McGriddles, already offered by approximately in 1,000 McDonald's U.S. outlets all day, seems to be one such reasonably logical choice), and some type of 'McNugget news' appears to be on top for a possible nationwide launch this August," said Nomura analyst Mark Kalinowski in a recent note to clients. A source close to the matter confirms McDonald's may have some "McNugget news" on the way.
TheStreet takes a brief look at what Dunkin' Donuts has in the works.


1. Cold Brew Coffee 
Market:
 participating restaurants in Springfield, Mass., and Portland and Bangor, Maine.
Of all the items in testing by Dunkin' Donuts, cold brew is the likeliest to go national given the success Starbucks (SBUX) has had with selling the more-refined coffee (and often more expensive). Starbucks is in the process of rolling out its cold brew to supermarkets.  

Similar to Starbucks, Dunkin' Donuts says its cold brew is made in small batches each day. 


2.Belgian Waffle Breakfast Sandwich
Market: participating restaurants throughout the Cleveland and Youngstown, Ohio, Tampa and Gainesville, Fla., and Providence, R.I., areas.
Talk about a fast-food tailor made for a fun Instagram picture. 
The sandwich has bacon, egg and American cheese between two Belgian waffles with maple butter.


3. Chicken & Waffle Sandwich
Market: participating restaurants throughout the Tampa and Gainesville area
Surprisingly, Dunkin' hasn't launched this sandwich in the heart of the south, where Bojangle's (BOJA) reigns supreme with its affordable chicken and biscuits. 
Dunkin's sandwich has two Belgian waffles with maple butter and breaded chicken.


4. Sausage Bites
Market: participating Dunkin' Donuts restaurants in the Pittsburgh area
Easy to eat on the go, and likely high margin, basically sums up Dunkin's new sausage bites.
These are individual bites of breaded breakfast sausage, available in four or eight pieces and served with an individual cup of syrup.


5. Large Kolache
Market: participating restaurants in Houston and Austin, Texas.
Go ahead, just call it a cooler pig in a blanket. 
Dunkin's new large Kolache features sausage and cheese rolled in sweet dough.