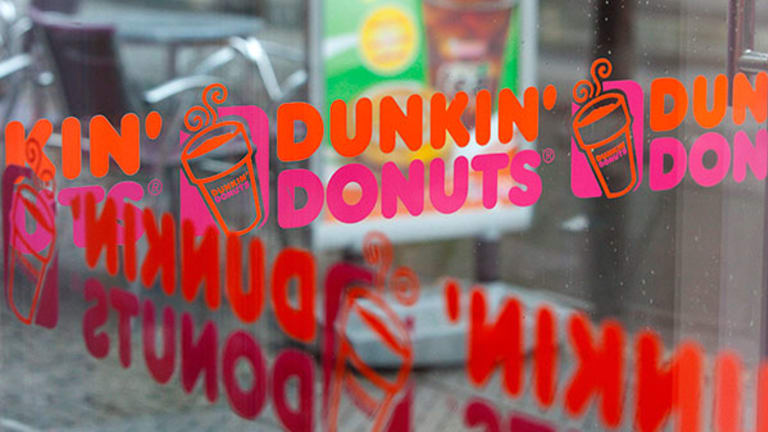 Dunkin' Donuts Is Pushing to Win the Battle for Breakfast
Fast food restaurants are waging a breakfast battle.
NEW YORK (TheStreet) -- The battle for customers this year -- especially at breakfast time -- among fast food restaurants Dunkin' Donuts (DNKN) - Get Dunkin' Brands Group, Inc. Report , McDonald's (MCD) - Get McDonald's Corporation Report , Yum! Brands (YUM) - Get Yum! Brands, Inc. Report  and even local convenience stores has been fierce thanks to discounted coffee offers and new breakfast sandwiches.
"What has happened is that everyone sees coffee as a traffic driver, and that's forcing increased competition," said Dunkin' Donuts Chairman and CEO Nigel Travis in an interview with TheStreet.  After all, coffee is "easy to make," Travis added.
"You've got all of the convenience chains, they like coffee, they like going out with discounted offers to drive coffee sales" and  "all of the quick-service restaurants from McDonald's to Burger King (BKW) to Wendy's (WEN) - Get Wendy's Company Report driving coffee as much as they can."
To lift breakfast sales amid all the competition, Dunkin' Donuts is focusing on numerous areas, from speedier restaurant operations to continued menu innovation. "Menu innovation is critical," said Travis. This year has seen the introduction of Taco Bell's waffle taco and revamped breakfast sandwiches from Seattle-based Starbucks (SBUX) - Get Starbucks Corporation Report . Dunkin' Donuts will launch its newest steak offerings in November, as part of a company initiative to give "people what they want to eat, when they want to eat it," according to Dunkin' Donuts president, global marketing and innovation, John Costello, in a Sept. 29 interview with TheStreet.
Travis said the company has some other product platforms in the works that it has "not explained just yet." But he did offer a hint at what's to come: "We can put steak on bagels, in wraps, and we can do them in different sizes."
Dunkin' has begun to tweak its kitchen operations to maintain its trademark fast service speed. The move is necessary as the menu becomes larger and more complex. "We've done a whole bunch of innovation to our sandwich station, we've got some new equipment that has gone in, and we've sped up our ovens over time," said Travis.
The competition in the breakfast category, which makes up about 60% of the business at Dunkin' Donuts, sheds light on why the company said it "it will be a challenge to achieve the low-end" of its full-year U.S. comparable-store sales guidance of 2% to 3%. Further, it underscores the inability of McDonald's to revive its flagging U.S. sales. Comparable-store sales in the U.S. at McDonald's declined 3.3% in the third quarter, with the fast food chain blaming "sustained competitive activity."
Dunkin' Donuts had outlined 2014 U.S. comparable-store sales growth of 2% to 3% during its second-quarter earnings call in July, which was revised from growth of 3% to 4% earlier in 2014.
Must Read:
Chipotle Mexican Grill Is Making a New Push Into...Asian Fast Food?
But Travis sought to put things into perspective by saying, "Despite the fact I was disappointed with our 2% (comparable store sales increase), when I compare it with, say McDonald's, we are about five points higher -- it's a mistake to lump us together."
Travis said during the company's earnings call on Thursday that the "consumer ... is in a strange place." He explained further to TheStreet that the consumer is making "very select decisions about how they spend." The culprit for the sluggish consumer spending, according to Travis, is a "belief they (the consumer) are still not doing as well as they were before." 
Travis' comments come on the heels of recent sales warnings by retail giants Walmart (WMT) - Get Walmart Inc. Report and J.C. Penney (JCP) - Get J. C. Penney Company, Inc. Report  that highlighted consumer spending challenges despite an improving U.S. labor market.
Must Read:
Russia's Moves Against McDonald's Could Further Impact Investors