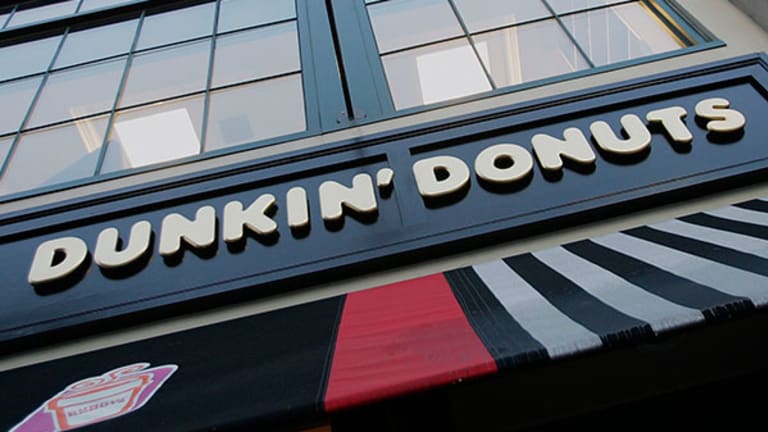 Dunkin' Donuts Has Plans to Add a Jolt to Slowing Sales
Dunkin' Donuts had a mixed second quarter but it has plans to jolt sales.
NEW YORK (TheStreet) -- Dunkin' Donuts (DNKN) had a challenging second quarter as competitors, such as McDonald's (MCD) , gave away free coffee for days at a time. But Dunkin', the coffee brand America runs on, has a host of plans in the works to add a caffeine-like jolt to its sales.
"We are rolling out a steak platform this fall," said John Costello, president, global marketing and innovation, in an interview with TheStreet. The new product platform, which is designed to get customers back into the restaurants in the evening, is part of larger focus by the company to give people what they want to eat, when they want to eat it. For instance, Dunkin' Donuts, unlike McDonald's, offers its new breakfast wraps and flatbread sandwiches from morning to close.
"Snacks will continue to grow," said Costello, so the company has unveiled pretzel twists and supreme bagels, which are bagels with a savory, dinner-type topping. New products are also coming in the form of a packaged snack called a "Go Bar." According to Costello, this coffee-flavored, chewy granola bar "was in test markets" and is being expanded nationally on Monday.
There are no plans to roll out the product to supermarkets just yet, giving Dunkin' Donuts' franchisees an exclusive, impulse product positioned near the register. Starbucks (SBUX)  offers Evolution Fresh granola bars and nuts, as well as Justin peanut butter cups, at its point of purchase.
Dunkin' Donuts is still known for its flavored iced coffees and tea beverages and is currently testing smoothies. "We actually have a test of smoothies going on South Florida and other select markets around the country," divulged Costello. He added, "The test uses a new blender platform which offers smoothies and a light version of the Coolatta drink."
The company also is rolling out digital menu boards in its global restaurants. Costello pointed out that the digital menu boards serve a range of purposes, including "presenting menu changes in a way that's easier for our guests to absorb" and also serve as a "powerful in-store marketing tool." They also provide Dunkin' the opportunity to easily change the menu from morning to afternoon items, and limited-time only products. Importantly, said Costello, "the digital menu boards do provide a positive impact on sales, which was an important factor in rolling them out."
The company could use the sales lift. According to Bloomberg data, Dunkin' Donuts U.S. same-restaurant sales growth slowed to 1.8% in the second quarter from 4.2% in the third quarter of last year. International same-restaurant sales for Dunkin' Donuts have declined for five straight quarters, falling 3.1% in the second quarter following a 2.4% drop to start the year.
Dunkin' Donuts outlined U.S. comparable-store sales growth of 2% to 3% this year on its second-quarter earnings call, revised from an increase of 3% to 4% earlier in 2014. Comparable-store sales growth for the company's Baskin-Robbins U.S. stores was unchanged at 1% to 3%.
Despite new products and the company's DD Perks rewards program for customers, which now totals 1.5 million members compared to 1.3 million at the end of the second quarter, competition is expected to stay fierce, especially as Tim Horton's (THI) prepares to merge with Burger King (BKW) . Costello noted that "mergers and acquisitions are often very difficult, and often provide a distraction for the merging companies as they try to figure out how to merge operations and culture, and look for inevitable cost savings."
Food for thought.
Read More:What Starbucks, Walmart and Pepsi Did to Control their Destinies