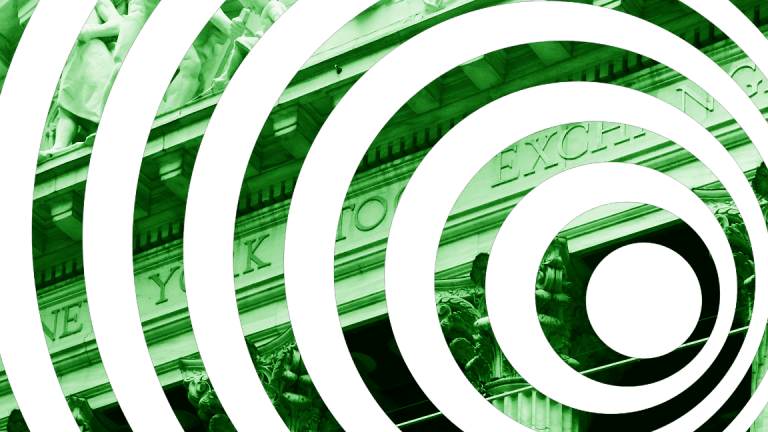 Here Are the Dumbest Things That Could Happen on Wall Street in 2018
Boy, was 2017 dumb. Now that it's come to a close, we're looking ahead to what dense, foolish, empty-headed moves Wall Street could make in 2018.
There were plenty of dumb things we watched play out in 2017. From bitcoin naysayers to Apple Inc. (AAPL) - Get Reportbears, Walmart Inc. (WMT) - Get Reporthaters to Tesla Inc. (TSLA) - Get Reportbulls -- this reporter was been kept busy documenting the very dumbest things to happen in business for weekend columns.
But it's time to look ahead. Undoubtedly there will again be no shortage of misguided moves in finance, investing and the economy. Sure, prognosticating is more art than science, but, nonetheless, here is a compilation of some of the dumbest things Wall Street could do this year.
Losing Discipline
"2017 was marked by steady and climbing markets," said deVere Group CEO Nigel Green in an interview with TheStreet. "However, investors need to keep an eye on several key factors over the next 12 months that could increase turbulence."
One of those factors is investors losing focus.
Adjusting asset allocation to chase even further gains would be misguided, said Leo Kelly, CEO of Verdence Capital Advisors.
"It's when people stop buying a company or asset and they're just buying a return," Kelly clarified.
Taking on more risk to chase bigger profit -- even when you're already basking in the glow of a 6% or 7% return -- is a bad idea, but people will certainly do it in 2018.
To be sure, they are being sucked into taking more risk.
With Goldman Sachs economists predicting a 9% total return on the S&P 500 in 2018, the bull market looks unstoppable. But beware: this bull market now lays claim to the third-longest streak of time without a 5% pullback since 1930. At 384 trading days without such a move, this bull market lags only those of 1994-1996 and 1963-1965.
It's an especially dumb call given that volatility will likely return to markets this year, Kelly said. When asked if we'll see a significant correction on the horizon, Kelly said, "I think we have to."
Focusing Only On Growth Stocks
Value names will stage a major comeback in 2018 after a year dominated by growth stocks, Kelly said.
As the S&P 500 pulls away from the broader market sentiment, volatility will tick higher, a change in market leadership will occur, and finally, value stocks will pull ahead. Kelly said that's what has happened time and again after a period when investors favor growth over value.
Kelly's opinion isn't shared by all.
Goldman continues to recommend firms with high-growth prospects. Growth far outpaced value by 15 percentage points in 2017, points out Goldman. Companies with a focus on growing in 2018 are expected to reach a cash return on cash investment of 16% vs. the broader market's 11%.
Despite Wall Street's differing views, it's worth diversifying. After all, what goes up must come down, right?
Going All In On Bitcoin
"Bitcoin is going to be the dumbest thing someone does, whether it's buying or not buying," Kelly said.
His firm views the cryptocurrency as a bubble, which is becoming an increasingly popular view given it ran up over 1,600% last year. Kelly said he sees 2018 as the "final speculative run" for the cryptocurrency.
"Someone is going to get caught chasing bitcoin at a level far too high," Kelly said.
While the cryptocurrency shed some of its explosive gains toward the end of the year, experts see it ranging in price anywhere from $15,000 to $40,000. That's a wide window that could spell trouble if one isn't careful.
And if bitcoin does blow up, it may take the entire stock market with it. 
"The most egregiously overvalued sectors [of the stock market] will be hurt if bitcoin were to crash, absolutely there will be contagion," said Danielle DiMartino Booth in an interview with TheStreet. Booth, a former Federal Reserve adviser, pointed to the mid-December crash in bitcoin prices and subsequent pullback in FAANG stocks (Facebook (FB) - Get Report , Amazon (AMZN) - Get Report , Apple, Netflix (NFLX) - Get Report and Alphabet (GOOGL) - Get Report ) as a reason that investors must watch crypto prices.
From mid-December to the end of the month, FAANG stocks generally were under pressure and lagged the Dow Jones Industrial Average. The Dow itself was relatively flat during that stretch, as was the S&P 500.
Hampering Free Trade
"President Trump does not believe in multilateral trade agreements and could yet tear up NAFTA," Green said.
At a November briefing regarding 2018 predictions, the Conference Board said potential trade conflicts could breed risk for globalization and raise the cost of trade. That could mean bad news for multinational companies such as Apple and Boeing (BA) - Get Report .
"Protectionism leads to higher prices and inflation, leading to a sharp fall in Treasury prices (and a rise in yields) that will be echoed on global bond markets," Green said. "Risk assets will fall notably as investors buy into higher bond yields, or shelter in cash and gold."
So all that aforementioned risk you take on when you lose investing focus? That will bite you in the behind if President Trump trashes NAFTA.
Markets have off days and Washington takes recess, but worry not -- there is always going to be someone doing something dumb somewhere on Wall Street.
Apple, Alphabet and Facebook are holdings in Jim Cramer's Action Alerts PLUS Charitable Trust Portfolio. Want to be alerted before Jim Cramer buys or sells these stocks? Learn more now.
We revisit Walmart (WMT) - Get Report bears being dumb ahead of several catalysts for the retail giant. 
Checkout the best of "Dumbest Thing On Wall Street"