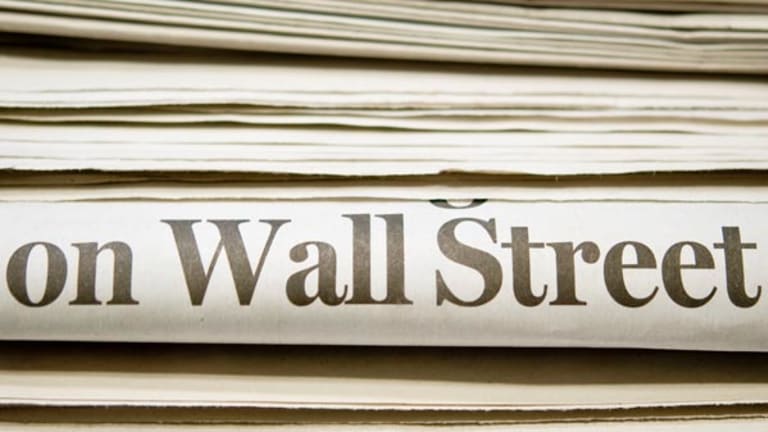 Dumbest of This Week's 5 Dumbest: New York Times Pay-Wall Woes
About 35% of our readers felt the NY Times' new pay wall system was the dumbest thing on Wall Street last week.
NEW YORK (
) --The
New York Times'
(NYT) - Get Report
plans to set up an incredibly porous pay wall was considered the dumbest thing on Wall Street this week by readers of
TheStreet
.
As of late Friday, about 35% of the nearly 160 people
who took our poll
believe the Times plan is ill considered.
The new subscription system for the company's namesake newspaper debuts on March 28, allowing nonsubscribers 20 article views each month before the wall kicks in, or better put, until one decides they'd like to allow the wall to kick in.
All articles linked to the
Times
Web site from social media networks such as
Twitter
and
Facebook
, as well as five articles a day from search engine sites like Google, can be viewed independent of the limit, leaving a huge gap in the wall that the broadsheet is now seeking to plug.
The
Times
spent somewhere between $40 million and $50 million to build the wall. Despite that, publisher Arthur Sulzberger seems to have no idea who's reading his paper, or how everyday people use the Internet to their advantage.
"Can people go around the system? The answer is yes. There are going to be ways," Sulzberger said at an appearance at the Paley Center for Media. "Just as if you run down Sixth Avenue right now and you pass a newsstand and grab the paper and keep running you can actually get the
Times
free." Oh, so we're not savvy Web users, we're all thieves.
"Is it going to be done by the kind of people who value the quality of
The New York Times
reporting and opinion and analysis? No," he continued. "I don't think so. It'll be mostly high-school kids and people who are out of work."
Shortly after uttering this gem, Sulzberger was smacked with a sudden moment of self-realization. Maybe he saw what it would look like in print. "I can't believe I just said that." Neither can we.
With over 23% of the votes, former
Qwest Communications
(Q)
CEO Joseph Nacchio filing suit against his own lawyers was deemed the second dumbest thing on Wall Street.
Nacchio is currently serving a 70-month sentence for selling $52 million worth of stock based on insider information. He is suing his former defense team at Roseland, N.J.-based Stern & Kilcullen.
The former Qwest CEO alleges that among the $25 million in billings from his former legal team, he footed the bill for tens of thousands of dollars in breakfasts, in-room movie rentals charged to hotel room bills, and yes, attorney underwear purchases, according to a court complaint made by Nacchio in state Superior Court in Newark, N.J., and reviewed this week by
Bloomberg
.
Howard Stern's suit against his employer,
Sirius XM
(SIRI) - Get Report
came in third with more than 17% of the vote.
Stern filed suit against Sirius for allegedly failing to pay stock awards it owed the shock jock in exchange for helping the satellite radio company surpass its subscriber growth target. At the end of December 2010, the company had 20.2 million total subscribers, the highest number of net subscribers in its history. Stern, naturally, believes he played a not-so-small part in making that happen.
One Twelve, Stern's production company, and his agent, Don Buchwald, claim Sirius didn't adhere to its five-year compensation agreement. According to the suit, Sirius gave Stern his initial bonus stock award of 34.4 million shares, then valued at $225.8 million, after he signed on in January 2006, but has failed to do so over the past four years. The self-professed "King of All Media" is claiming that he should have received a new stock award each year.
"Pursuant to our October 2004 agreement with Stern, we agreed to deliver these shares in December 2010, or earlier if as of the end of any fiscal year we exceeded agreed upon subscriber targets," Sirius said in a document filed with the
Securities and Exchange Commission
on Jan. 5, 2006.
The addiction of banks to dividends came in fourth with nearly 16% of the vote. Banks are scrambling to return to a dysfunctional lifestyle that landed them on skid row: The life-shortening and ever-increasing dividend.
Over the past week,
JPMorgan Chase
(JPM) - Get Report
,
Citigroup
(C) - Get Report
and
Wells Fargo
(WFC) - Get Report
announced that they plan to resume or increase dividends. Others, such as
Bank of America
(BAC) - Get Report
and
Capital One Financial
(COF) - Get Report
, weren't so lucky. They remain in rehab until they are strong enough to handle the real world.
As bankers will tell you, the dividend has turned into a brutal mistress. It is something that investors, especially institutional investors, have come to expect as a quid pro quo for owning shares that offer growth in the less-than-nothing range.
In many ways, dividends have turned into a shareholder protection scheme. A few notes stuffed in an envelope every quarter for investors to make sure, you know, nothing
bad
happens to a bank's stock.
Finally,
Research In Motion's
( RIMM) late introduction of its PlayBook tablet was deemed the least dumbest thing of the week, garnering only 7.5% of the vote.
Delays have plagued RIM's effort to catch up with
Apple
(AAPL) - Get Report
,
Motorola
(MMI) - Get Report
and
Samsung
in the tablet race.
The RIM PlayBook will be the fourth sizable player in the market, and its QNX operating system represents a much smaller sales opportunity for application developers targeting Apple,
Google's
(GOOG) - Get Report
Android and even
Microsoft's
(MSFT) - Get Report
Windows Phone 7 software.
--
Written by Ross Tucker in New York
.