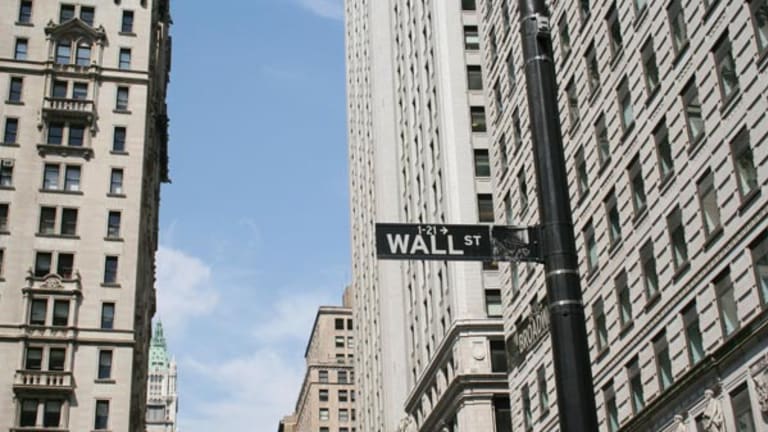 Dumbest of This Week's 5 Dumbest: Goldman's Facebook About-face
About 40% of voters found it dumb that Goldman Sachs decided to exclude U.S. clients from a private offering of shares in Facebook.
NEW YORK (
) --
Goldman Sachs'
(GS) - Get Goldman Sachs Group, Inc. (GS) Report
mishandling of its Facebook relationship
was considered the dumbest thing on Wall Street this week by readers of
TheStreet
.
As of late Friday, about 40% of the readers that
took our poll
thought that Goldman's decision to exclude U.S. clients from a private offering of shares in Facebook was particularly dumb.
In a statement to the
The Wall Street Journal
, Goldman said its decision to exclude U.S. investors was not "required or requested by any other party," including the
Securities and Exchange Commission
.
Goldman said it had "concluded the level of media attention might not be consistent with the proper completion of a U.S. private placement under U.S. law."
Goldman may have leaked the news of the private offering of Facebook shares to the press, only to cancel them.
Then Goldman blamed Facebook for leaking the deal. The
New York Times'
Andrew Sorkin, who initially broke the news of the deal, reported that "over the last two weeks, the companies' relationship has grown increasingly tense," as "accusations about the news leak have flown back and forth."
The news that the NFL was unhappy about an ad that
Toyota
(TM) - Get Toyota Motor Corp. Sponsored ADR Report
ran during ESPN's Monday Night Football, because it contained an image of a helmet-to-helmet hit, was considered the second dumbest thing on Wall Street with 22% of the votes.
The 30-second spot featured technology that the automaker developed with partners at Wake Forest University that could prevent football-related head injuries.
Toyota told
Reuters
that the NFL complained to broadcast partners
CBS
,
NBC
,
Fox
and
ESPN
, who brought the complaints to Toyota. Those complaints resulted in a cut of the offending image.
"I'm sure if they'd had their druthers, we'd have pulled the spot. We weren't pulling the spot. We couldn't. But we never intended the spot to irritate the NFL," Toyota spokesman Tim Morrion's told
Reuters
.
"From time to time, we will address an ad that portrays our sport unfairly," NFL spokesman Brian McCarthy.
Almost 18% of voters think that
UBS's
(UBS) - Get UBS Group AG Report
40-page employee style standards guide is pretty dumb.
According to the
Associated Press
, UBS employees must follow specific guidelines for how they should look, act and even eat when reporting for duty.
The guide explains that underwear should be skin-colored and that employees shouldn't eat garlic or onions. It even guides women on their makeup and perfume choices.
UBS employees can breathe a sigh of relief though. Things are going to be loosening up. UBS said this week that it was revising its style guide, turning it into what the
AP
described as a "pared-down booklet with more general guidelines on how to impress customers with a polished presence and sense of Swiss precision and decorum."
Close to 17% of voters found it dumb that
Starbucks
(SBUX) - Get Starbucks Corporation Report
introduced
the Trenta, a new 31-ounce beverage cup size
.
Trenta, Italian for the number 30, will hold 31 fluid ounces, which is nearly a quart. The new size cup will be for cold beverages only, such as iced lattes, iced teas and coffees, frappuccinos and lemonades. It will cost 50 cents more than the next largest size, the Venti, which holds around 24 ounces.
The Trenta will go nationwide on May 3, but the company started phasing in the new size in 14 states this month, mainly in warmer areas like Alabama, Mississippi, Louisiana and New Mexico. Coincidentally, six of the 14 states the Trenta is starting out in rank among the Trust for American's Health and the Robert Wood Johnson Foundation's 10 most obese. All but Hawaii have obesity rates in excess of 25%.
Investors bidding up the deal between
Ener1
(HEV)
and Wanxiang twice was considered dumb by 3% of voters.
Lithium ion battery market player Ener1 announced on Tuesday, just before fanfare about President Hu Jintao's visit to the U.S. reached a crescendo, that it had inked a joint venture with the electric vehicle division of Wanxiang, the largest "tier one" auto parts producer in China.
Ener1 shares opened up nearly 40% on Tuesday, before settling for a 25% spike after the euphoria settled, sort of. Ener1 trades roughly 25 million to 30 million shares a month. On Tuesday, more than 20 million shares changed hands, and for the week, it's come close to its average monthly tally.
Ener1 had announced the joint venture in May, and at that point the stock rose from $3 to $3.66 based on the deal. This week, Ener1 shares rose from below $4 to as high as $5.90, after the new announcement about the previously announced joint venture.
On Tuesday, appearing on
CNBC
, the Ener1 CEO said he was very excited about the deal signed in Indianapolis, though he didn't mention that it was the same deal he was very excited about when he was last quoted about the deal in Indianapolis in May.
In the end, Ener1 investors may in fact dig a profitable hole to China rather than a hole in their wallets. If it all pays off none of this will matter. Ener1 clearly didn't commit any abuses and was merely playing the market marketing game the way it's played, but boy did it seem like some investors rode that fast boat to the Chinese electric car market without slowing down long enough to think about it.
-- Written by Theresa McCabe in Boston.
>To contact the writer of this article, click here:
Theresa McCabe
.
>To follow the writer on Twitter, go to
.
>To submit a news tip, send an email to:
.
Disclosure: TheStreet's editorial policy prohibits staff editors and reporters from holding positions in any individual stocks.