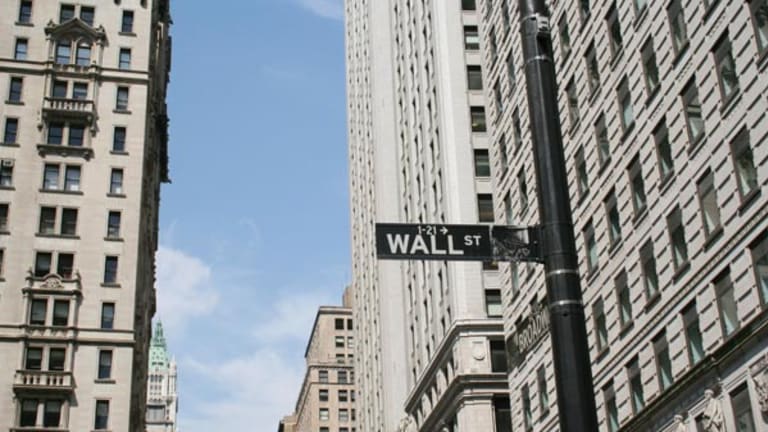 Dumbest of This Week's 5 Dumbest: For GM, Every Day Is a Tax-Free Day!
About 48% of investors find it dumb that the government has excused General Motors from paying taxes.
NEW YORK (
) -- The news that
General Motors
(GM)
is exempt from paying taxes was considered the dumbest thing on Wall Street this week by readers of
TheStreet
.
As of late Friday, about 48% of the readers who
took our poll
thought that excusing GM from paying taxes is a particularly bad idea.
GM returned to the New York Stock Exchange on Thursday, a year and a half after it was delisted when it filed for bankruptcy protection. The failed automaker's share price was up on its first day of trading, rising 3.6% to $34.19 from its initial public offering of $33.
The offering's total value should be about $23.2 billion, including $18.2 billion from the sale of common stock and $5 billion from selling preferred stock. A big beneficiary of the offering is the federal government, which should take in about $13.6 billion as it sells the majority of its shares, reducing its ownership in the company from 61% to 33%.
Of note, however, is that unlike the case for virtually any other company that declares bankruptcy, the government has allowed the newly created GM to
assume the benefit of tax losses from the old GM
.
According to federal filings, GM won't have to pay $45.4 billion in taxes on future profits thanks to the carry forward.
With approximately 19% of votes, bank executives admitting that their faulty foreclosure practices may be the root of the nationwide mortgage crisis was voted the second-dumbest thing on Wall Street this week.
>>>Foreclosure Crisis: What Bank Execs Say
Harold Lewis, a managing director at
Citigroup's
(C)
CitiMortgage told Congress that
the bank will probably have to refile thousands of foreclosure documents
executed before the fall of 2009.
Lewis said that some of the affidavits may not have been signed in the presence of a notary, while others may have been affected by the practice of robosigning -- when an employee signs off on hundreds or thousands of documents without properly verifying the information within.
Meanwhile,
Bank of America
(BAC)
and
JPMorgan Chase
(JPM)
announced that they temporarily halted foreclosure proceedings in judicial states while they reviewed hundreds of thousands of affidavits that may have flaws.
Wells Fargo
(WFC)
has indicated that 55,000 documents had to be filed again, though it hasn't stopped processing foreclosures.
The news that
wrote a letter thanking the government for saving the economy back in 2008 was considered dumb by 12% of voters, earning it third place in our survey.
>>Dear Warren Buffett, You're Too Polite
The CEO of
Berkshire Hathaway
(BRK.B)
didn't actually send the note directly to Uncle Sam. Instead, it appeared in the
New York Times
. After the letter ran, Buffett set out on his usual round of television interviews.
Meanwhile, on the same day that Buffett's letter was published, President Obama announced that Buffett would be awarded the Presidential Medal of Freedom, the highest civilian honor in the U.S.
Close to 10% of voters found it dumb that in the face of the invasive TSA search debate,
American Airlines
(AMR)
announced that it will be offering its customers cheaper in-flight drinks.
"As we wrap up the year, we want to show our customers that we appreciate their business," said Rob Friedman, vice president of marketing for American. And so, starting Dec. 1, passengers on domestic, Canada, Caribbean and Mexico flights departing between 5 p.m. and 5:59 p.m. will be able to buy cocktails, wine and beer for $5. That represents a savings of $1 on beer and $2 on liquor and wine.
While customers may appreciate the slight price drop, they would presumably rather see the airline company focus on the issues surrounding the new invasive security search measures.
Almost 10% of voters think that the United Kingdom's department of health calling on
Pepsi
(PEP)
,
McDonald's
(MCD)
and
Yum! Brands'
(YUM)
KFC to help write the government's new health policy is pretty dumb.
The U.S. is embarking on an overhaul of government policies on issues health-related issues such as obesity and alcohol. And who better to write that government policy than the companies that contribute to those problems the most?
The U.K.'s policy makers believe that behavior should not be dictated by legislation. Even here in the states, the liberal mayor of San Francisco couldn't get behind legislation banning toys from unhealthy meals, a measure he vetoed earlier in the week. The U.K. government says its hoping to nudge consumers into better choices rather than resorting to legislation.
-- Written by Theresa McCabe in Boston.
>To contact the writer of this article, click here:
Theresa McCabe
.
>To follow the writer on Twitter, go to
.
>To submit a news tip, send an email to:
.
Disclosure: TheStreet's editorial policy prohibits staff editors and reporters from holding positions in any individual stocks.