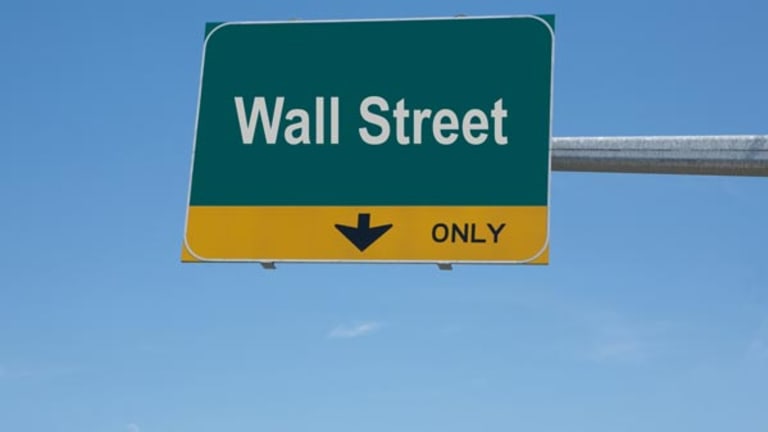 Dumbest of This Week's 5 Dumbest: Christmas Wins the War Against Christmas
About 34% of readers think its dumb that the American Family Association has been accusing retailers of snubbing Christmas.
NEW YORK (
) -- The American Family Association accusing retailers of snubbing Christmas was considered the dumbest thing on Wall Street this week by readers of
TheStreet
.
As of late Friday, about 34% of the readers who
took our poll of the 5 Dumbest Things on Wall Street This Week
thought that the AFA waging a war on retailers who market "holiday" spirit rather than "Christmas" spirit is a particularly bad idea.
About ten years ago, the AFA began its campaign for retailers to embrace Christmas-specific advertising. Since then, their bullying tactics have proven so effective that their list of Companies Against Christmas has been thin. This year they've had some trouble finding a target.
When
Dick's Sporting Goods
(DKS)
hosted an online "Holiday Shop" and didn't single out Christmas in its advertising, the AFA put its 2.3 million supporters on notice that Dick's should be boycotted until Dec. 25 for its consideration of others.
"In our research of the Top 100 retailers in America, Dick's advertising is likely the most 'anti-Christmas' of all," the AFA said. "Sure, Dick's wants you to buy their products, but no retailer in the nation has appeared to go out of its way to snub 'Christmas' more than Dick's."
By Monday, Dick's was falling all over itself to assure the AFA that it
really liked Christmas
more than any other holiday. The company's vice chairman assured the AFA that its online holiday shop would be quickly renamed the Christmas Shop, and that its advertising would specify Christmas, disregarding Hannukah, Kwanza, Las Posadas and Bodhi Day.
With approximately 27% of votes, activists expecting travelers to slow down the already slow process of airport security check by opting for the pat down was voted the second-dumbest thing on Wall Street this week.
After the Transportation Security Administration introduced the use of full-body scanners, protestors declared Nov. 24 as
. Flyers, outraged over their privacy being invaded in the name of safety, were to say no to scanning on one of the busiest flying days of the year. They were supposed to opt for the pat down.
As it turns out, the Internet often reflects the voice of the vocal and not necessarily the majority. Opt-Out Day did not go as planned, and travelers were more concerned with getting to where they were going on the day before Thanksgiving. By noon on Wednesday, media outlets were reporting business-as-usual conditions at most major airports.
The news that
drinking glasses that were marketed to kids contained lead levels in excess of federal limits
was considered dumb by 19% of voters, earning it third place in our survey.
A report conducted by the
Associated Press
found that some of the most popular comic book or movie-themed glasses sold by
Time Warner's
(TWX)
Warner Brothers and
Coca-Cola
(KO)
contained up to
1,000 times
the amount of lead permitted by Federal limits for children's products.
The tests, conducted by ToyTestingLab in Rhode Island, were conducted on superhero and
Wizard of Oz
glasses bought from the Warner Brothers Studios store in Burbank. They found that decorations on the glasses were 16% to 30.2% lead, far exceeding the federal limit of 0.03% for children's products.
Approximately 160,000 glasses have been recalled. Coke said it is recalling over 88,000 glasses.
Close to 14% of voters found it dumb that American businesses earned profits at an annual rate of $1.659 trillion in the third quarter, the highest figure recorded since the government began keeping track more than 60 years ago -- yet still can't seem to find it in their hearts to rehire any significant percentage of the millions of workers they laid off in the last two years.
>>Top 10 S&P 500 Buybacks of 2010
Indeed, the Fed is estimating that more than 10 million Americans will remain jobless through the 2012 elections. The current 9.6% national unemployment rate will only fall to 9% by the end of 2011, and 8% by the time the next presidential election is taking place.
Even with corporate profits up 28% in the third quarter, Commerce reported that spending by corporate America on compensation for employees in the past year has only risen by 7.6%. Meanwhile, corporate insiders have been cashing out of their stocks this month through insider sales at higher rate than at any other time in the previous few years.
>>Top S&P 500 Insider Sales of 2010
Coming in last in the week's survey of dumbness, almost 6% of voters think that the media hyping Americans' fears of a cocoa shortage was pretty dumb. While it's true the cocoa prices are soaring, and consumption is on the rise, the same could be said for almost any commodity.
The Cocoa Research Association announced that global consumption of chocolate is increasing well beyond the rate of cocoa production, a situation it deemed unsustainable, according to the
.
Despite most of the action on the cocoa front heating up over the summer, the media latched on to the story this week, just in time for Americans to panic over the perceived threat to their way of life. "In 20 years chocolate will be like caviar," John Mason, executive director of the Nature Conservation Research Council, told the Independent. "It will become so rare and so expensive that the average Joe just won't be able to afford it."
Major chocolate manufacturers such as
Hershey's
(HSY)
and Mars are working to
genetically engineer cocoa trees to boost chocolate production
. Mass-market chocolate, especially in the U.S., doesn't use a lot of real cocoa anyway, suggesting Americans might accept substitutes in their Hershey's or
Tootsie Roll Industries
(TR)
products.
--Written by Theresa McCabe from Boston
Disclosure: TheStreet's editorial policy prohibits staff editors and reporters from holding positions in any individual stocks.