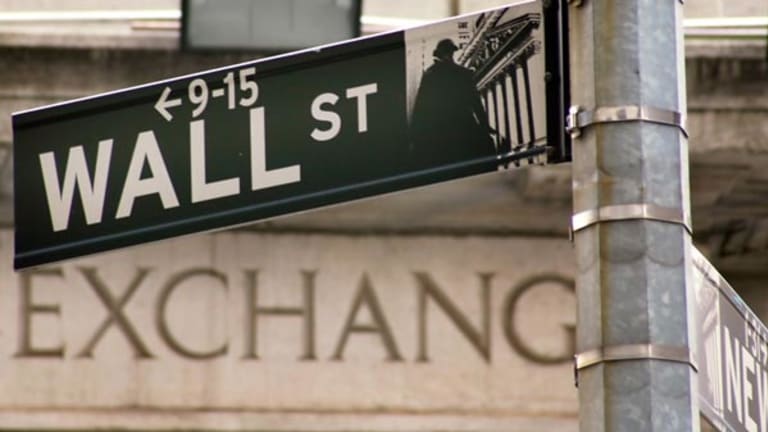 Dumbest of This Week's 5 Dumbest: Amazon.com Slips on Smut
About 34% of voters found it dumb that Amazon defended selling a pedophilia how-to guide, then removed it from its site.
NEW YORK (TheStreet) -- Amazon.com (AMZN) - Get Amazon.com Inc. Report attempting to justify its selling of a how-to guide to pedophilia, only to remove the title from its store hours later, was considered the dumbest thing on Wall Street this week by readers of TheStreet.

As of late Friday, about 34% of the more than 200 readers that
took our poll
thought that Amazon making
The Pedophile's Guide to Love and Pleasure
available for purchase was a particularly bad idea.
When Amazon began receiving criticism for selling the title, it initially refused to remove the title.
"Amazon believes it is censorship not to sell certain books simply because we or others believe their message is objectionable," the company said on Wednesday. "Amazon does not support or promote hatred or criminal acts, however, we do support the right of every individual to make their own purchasing decisions."
Later that day, the book was gone from the site and Amazon had ceased all communication about the issue.
With approximately 29% of votes, mortgage giant
Freddie Mac
undefined
suing a branch of the Treasury to avoid a tax bill was voted the second-dumbest thing on Wall Street this week.
Freddie recently went through an Internal Revenue Service audit, and received a $3 billion tax bill, according to its recent
quarterly earnings report.
During the audit, the IRS found that from 1998 to 2007, Freddie wasn't correctly accounting for its financial "hedging strategies." According to a footnote in the quarterly report, Freddie says it wants to settle with the IRS and that Freddie's board and management "believe adequate reserves have been provided for settlement on reasonable terms."
Freddie, which has received billions in bailout funds from the U.S. Treasury, is now suing another branch of the Treasury in an attempt to get out of the bill. As Jonathan Weil says in a
recent column in
Bloomberg:
"Talk about biting the hand that feeds you."
Former
BP
CEO Tony Hayward making headlines this week was considered dumb by 18% of voters.
On Monday, the U.S. government announced that it did not think BP cut corners and prioritized cost over safety in its BP well operations, leading up to the major oil spill in the Gulf of Mexico.
>>Time for BP, Tony Hayward to Move On
The next day Hayward spoke to the media, opining on the media "feeding frenzy" surrounding the spill and his infamous decision to dash off for a yachting excursion in the midst of the catastrophe. "I have to confess, at the time I was pretty angry actually," said Hayward on the coverage of his sail. "I hadn't seen my son for three months. I was on the boat for six hours.... I'm not certain I'd do anything different."
Close to 12% of voters found it dumb that executives at for-profit colleges and universities are getting rich at the expense of its student and federal aid programs.
According to
Bloomberg
,
executives at 15 for-profit colleges, including Apollo Group (APOL) and Education Managementundefined, garnered $2 billion over the last seven years by selling company stock.
Strayer Education
(STRA) - Get Strategic Education Inc. Report
CEO Robert Silberman earned $41.9 million last year, or according to Bloomberg, "26 times the compensation of the highest-paid president of a traditional university."
The aggregate market capitalization of 14 publicly traded corporations in the for-profit school space was $26 billion as of July 14, according to the U.S. Government Accountability Office. Their students got more than $4 billion in Pell Grants and more than $20 billion in federal loans last year from the Department of Education. In summary, a $26 billion-plus industry benefits from $24 billion of government aid and loans each year.
Repayment rates at for-profit schools were just 36% in fiscal 2009, according to research from the Institute for College Access and Success, a student-advocacy group. At private nonprofit schools the repayment rate was 56%, and at state colleges and universities the rate was 54%.
Almost 8% of voters think that the concept of gold being used as a proxy currency on exchanges is pretty dumb.
This week, London-based Intercontinental Exchange (ICE) announced that it would begin accepting gold bullion as collateral for energy and credit trades.
The purpose of collateral is to make sure that if one side is shorting the exchange, the lender is covered if the trade goes bad. It's best if that collateral price is stable and highly liquid, but gold is a "precious metal," and subject to major price swings.
There are signs that even the gold bulls are pausing to take a breath. The physically backed gold exchange-traded fund,
SPDR Gold Shares
(GLD) - Get SPDR Gold Shares ETF Report
, has shed 2.43 tons since Monday. Investors don't seem to be committing new money to the ETF but aren't selling their long positions either.
-- Written by Theresa McCabe in Boston.
>To contact the writer of this article, click here:
Theresa McCabe
.
>To follow the writer on Twitter, go to
.
>To submit a news tip, send an email to:
.
Disclosure: TheStreet's editorial policy prohibits staff editors and reporters from holding positions in any individual stocks.