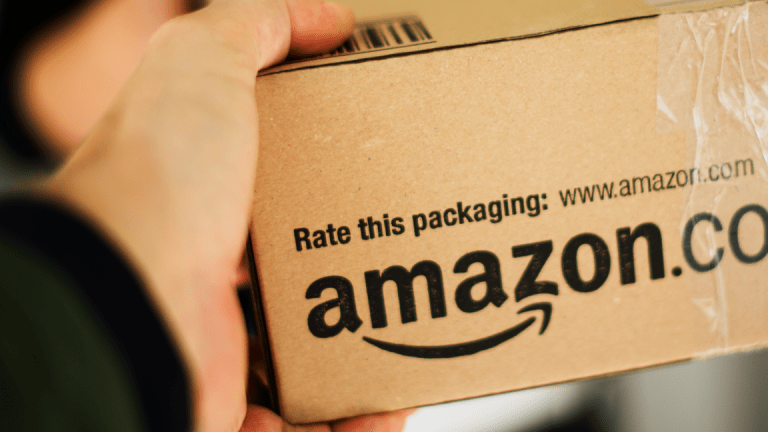 It's Dumb to Think Amazon Will Be Able to Skirt Trump's Regulators Forever
Amazon has spread like a disease into every industry from retail to entertainment and now even small business lending. If you think regulators won't figure out some way to slow its roll, you could be one of the dumbest on Wall Street.
It has probably been forever since you just bought a book on Amazon (AMZN) - Get Amazon.com, Inc. Report . Regulators may at some point look to acknowledge that.
What started as an online bookstore in 1994 has expanded exponentially to now include grocery delivery, cloud computing services, music downloads, film production and so much more. Oh, and then there is a large organic grocery store chain that Amazon owns ...something called Whole Foods.
A great deal of this growth has been inorganic. In its 23 years, Amazon has acquired the aforementioned Whole Foods Market, Zappos, Souq.com, Audible, Twitch Interactive and many others. The company recently formed a partnership with Berkshire Hathaway (BRK.A) - Get Berkshire Hathaway Inc. Class A Report and Action Alerts Plus holding JPMorgan (JPM) - Get JPMorgan Chase & Co. Report to explore ways to lower healthcare costs. It could mean acquisitions by the group down the road. 
Reports have also surfaced stating Amazon will team up with Bank of America Corp. (BAC) - Get Bank of America Corp Report  for its Amazon Lending small business loan program, according to CNBC.
Despite the impressive expansion, Amazon has largely circumvented regulators even as it has grown from a $438 million company at its 1997 IPO to a $693 billion company today. But if you think evasion will work long-term for Amazon, you might be one of the dumbest on Wall Street.
Amazon is the fastest growing major retailer in the U.S., and outpaced eCommerce's growth as a whole in early 2017, Yale Law statistics show. The company's growth plans have caused shock-waves throughout many industries, notably healthcare, where big players fear Amazon's price-slashing and speed. In response, CVS Health (CVS) - Get CVS Health Corporation Report is nearing a deal to buy health insurer Aetna (AET) . Walgreens Boots Alliance (WBA) - Get Walgreens Boots Alliance Inc Report is reportedly looking to buy the rest of drug wholesaler AmerisourceBergen it doesn't own.
"We cannot cognize the potential harms to competition posed by Amazon's dominance if we measure competition primarily through price and output," Lina M. Khan wrote in a Yale Law Review note last year. "Specifically, the current doctrine underappreciates the risk of predatory pricing and how integration across distinct business lines may prove anticompetitive."
This begets a question: are today's regulatory standards and best practices capable of reining in Amazon? Are the antitrust laws first established in 1890 in the U.S. fit for 21st century companies?
Following updates in the 1970s and 1980s, antitrust has focused primarily on keeping prices low for consumers -- which Amazon has indeed done -- through an "Efficient Market Hypothesis" instead of an economic dominance lens. Amazon has subsequently gobbled up the competition and other new businesses, masking the potential for a monopoly with low, consumer-friendly prices.
But can it last?
Even the president himself has long appeared to dislike Amazon and its CEO Jeff Bezos.
On Wednesday, March 28, an Axios report citing unnamed sources said the president has wondered if there's a way to "go after Amazon with antitrust or competition law." Trump reportedly wants to knock Amazon's power by altering its tax treatment. In Trump's view, Amazon has destroyed the old-school business that made him a billionaire. 
In July, the Federal Trade Commission (FTC) looked into Amazon's pricing discounts ahead of its Whole Foods acquisition.
And in 2014, the Justice Department blocked a merger between leading online review platforms Bazaarvoice Inc. and PowerReviews Inc., submitting that data-driven industries have network effects that can raise both costs and the barrier to entry, Yale research stated. Comments from FTC Commissioner Terrell McSweeny suggested the group will continue to assess the "competitive implications of data."
That could mean regulation will eventually come for companies such as Amazon, which uses large amounts of data to its advantage.
"The Amazon people are pretty smart in that what they're acquiring are not horizontal competitors," says Rob Baumann, chair of the economics department at College of the Holy Cross. "These large firms -- they merge smartly."
Amazon is unlikely to face regulatory backlash based solely on its acquisitions, Baumann explained. It would take some "existential abuse of power" to draw the real ire of antitrust regulators. But it's hard not to wonder if a shift in narrative could take place. After all, internet companies of today are rapidly evolving beasts.
And the powers that be overseas are also keeping a close eye on Amazon and others online.
"The European Commission has been considerably more aggressive in eCommerce," says Edward Duffy, antitrust lawyer and commercial litigator at Reed Smith LLP.
European regulation of companies such as Action Alerts Plus holding Alphabet Inc. (GOOGL) - Get Alphabet Inc. Class A Report or Amazon are "part of this bigger strategy that has been developed over the past few years," Duffy said. "They're typically using a more traditional framework for looking at it."
It's worth noting that many experts point to Amazon's relative size compared to the likes of Walmart Inc. (WMT) - Get Walmart Inc. Report , claiming it can't monopolize any faster than Walmart. Walmart had $500 billion in sales last year, compared to Amazon's $178 billion.
But the issue isn't that Walmart is large, but rather that Amazon is wide. It has a hand in everything. Have you ever heard of Walmart Studios? Didn't think so. 
One of the most high-profile regulatory examples is Microsoft Corp. (MSFT) - Get Microsoft Corporation Report  back in 2001. In Microsoft's case, the issue in question was whether the company could bundle its web browser and operating system. While that case ended in a settlement, it illustrates the notion that internet companies aren't like a Walmart.
Duffy pointed out that the Department of Justice or FTC could challenge a particular industry-specific practice that may affect the tech and data-driven sectors that might have previously gone unnoticed or unregulated.
"For a while there can be a lack of enforcement," Duffy said. "But that can change quickly."
Amazon has made it clear that it has no plans to slow down. How many more deals, tie-ins and mergers does Amazon have left until antitrust goes full Robber Baron on Jeff Bezos? Not many, perhaps.