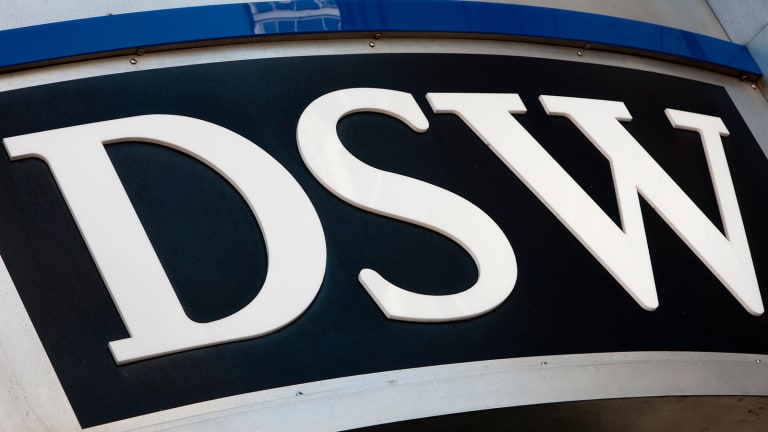 DSW Has Put on Its Running Shoes and Sped Up Sales Growth
Growth appears to be accelerating for footwear and accessories retailer DSW, despite slowing sales for retailers in general, so buying while its shares are relatively cheap makes sense.
NEW YORK (TheStreet) -- Footwear and accessories retailer DSW (DSW) - Get Free Report has lately been focusing on improving same-store sales -- a closely-watched metric that looks at performances of stores opened at least one year. And that focus has shown up in DSW's recent results. Not only has DSW gotten more consumers into its stores, they're spending more, too, which bodes well for the long-term value of DSW stock.
Sure, April's retail sales data was uninspiring, which has caused some worried selling of several retail stocks and sent the SPDR S&P Retail ETF (XRT) - Get Free Report down 1% in the past month. But April's gone. What's more important to focus on are the months and quarters ahead.
DSW was trading lower Tuesday morning, down 0.9% at $35.02. The company is due to report fiscal first-quarter earnings Wednesday before the opening bell. Although DSW shares have underperformed so far in 2015, losing more than 5% compared to 2% gains for the Dow Jones Industrial Average (DJI) , that's not  the whole story. The company's same-store sales -- also known as comps -- were up 7.6% last quarter and beat estimates, which is an encouraging sign.
DSW opened 37 stores last quarter, bringing its total store count to 431, and demonstrating that the Columbus, Ohio-based chain is still building for the future. Plus, given the rate at which profit margins have begun to expand as revenue rebounds to low double-digit percentage increases, investors could do well here.
At just 20 times earnings, the shares are reasonably priced compared to the average P/E of 21 for the S&P 500. On a forward-looking basis, DSW is trading at just 16 times it fiscal 2016 earnings estimates of $2.12 per share. If those estimates prove accurate, DSW will deliver 13% earnings growth. That, by the way, is two percentage points lower than DSW's long-term projected growth rate of 15%, which means the company predicts earnings are on course to accelerate in the years ahead.
It's for these reasons and others analysts remain positive about DSW's long-term prospects. Not only does DSW stock have a consensus buy rating, its average 12-month price target of $44, suggesting 25% gains from current levels. Coupled with the company's 20-cent quarterly dividend, yielding 2.20% annually, patient investors should buy the stock now and hold for the long term. This is regardless of what the results reveal Wednesday.
For the quarter that ended April, the company expected to earn 47 cents per share on revenue of $653 million, translating to year-over-year increases of 12% and 9%, respectively. For the full year, ending in January, earnings is projected to climb 11% year over year to $1.88 per share, while revenue of $2.69 billion calls for an 8% increase.
These projections suggests that DSW is no longer suffering from slowing growth. And although competition remains an important factor, that DSW has beaten both revenue and earnings expectations for three straight quarters implies that its rivals aren't having the effect they once did. In that vein, investors shouldn't expect any signs of slowdown Wednesday, and should scoop up these shares while they're relatively cheap.
This article is commentary by an independent contributor. At the time of publication, the author held no positions in the stocks mentioned.