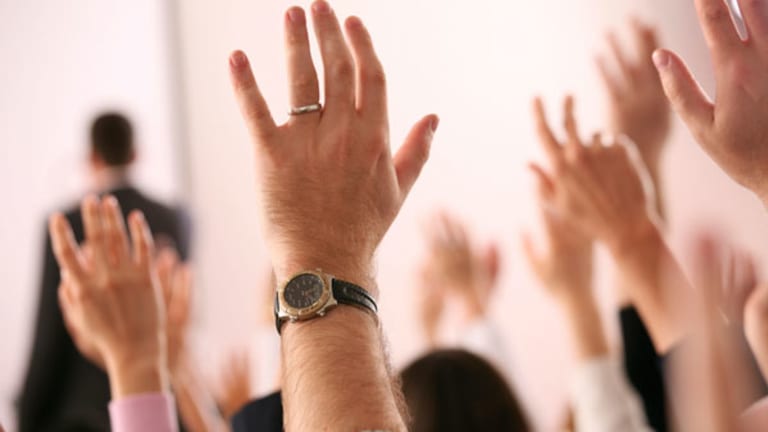 Dry Bulk Shipping Bulls Give Thumbs-Up to Steve Cohen's Genco Bet
Hedge fund billionaire Steve Cohen's big bet on Genco and dry bulk shipping stocks in general is bound to pay off, say readers of TheStreet.
NEW YORK (TheStreet) - Last week, we detailed the enormous long position that Steven Cohen's hedge fund SAC Capital had taken in the shares of Genco Shipping & Trading (GNK) - Get Free Report, a company that operates dry-bulk ships -- the kinds of huge oceangoing liners that transport from exporter to importer the world's non-liquid raw materials, such as iron ore, coal and grain.
Cohen's fund's bought more than two million shares of the company, making it the second-largest shareholder in Genco behind the company's founder, Peter Georgiopoulos.
>>The Genco Trade: Steven Cohen, Dry-Bulk Bull
We explained that SAC's trade amounted to much confidence on the part of the hedge fund that Genco's nearly $600 million acquisition of 18 ships earlier this year will pay off -- and soon.
The acquisition itself is a huge wager that dry bulk freight rates will surge -- and soon -- despite an uncertain global macro economy, and despite a well-documented and much-feared oversupply of freshly built vessels ready to come onto the market this year and next.
To one way of thinking, SAC's bet is a bullish short-term call on the state of global trade. The thinking appears to be that China, once again, will buoy the bulkers.
Genco is considered the riskiest play among the already high-beta dry-bulk sector, which includes such volatile names as
Excel Maritime
(EXM)
and
DryShips
(DRYS) - Get Free Report
. That said, if rates do go up, Genco's stock stand to pop to a greater degree than that of its peers.
Thus, last week we asked readers of
TheStreet
to
by answering a simple question: Will Cohen's wager work? Or will it turn sour?
The results indicate that most of our survey's participants are either Cohenesque dry-bulk bulls, or they simply trust that SAC's crew of pro stock pickers knows what the heck they're doing.
A whopping 77% of the poll's voters sided with Cohen. In fact, more people registered uncertainty over the whole thing than those who believed SAC was wrong: 12.4% responded to our question with the "don't know" option, while about 10.5% disagreed, saying the Genco Trade would fail.
How has the trade done so far? Since SAC disclosed its position with the
Securities and Exchange Commission
on Sept. 7, Genco shares have declined 4%, closing Friday's session on the
at $15.32.
And so the reclusive billionaire -- along with all the dry-bulk bulls -- will have to wait a little while longer for this one.
-- Written by Scott Eden in New York
RELATED STORIES:
>>The Genco Trade: Why Steven Cohen Is a Dry Bulk Bull
>>DryShips Dilutes Amid Drillships Struggles
>>Dry Bulk Shipping Execs Air Bullish Views
Disclosure: TheStreet's editorial policy prohibits staff editors and reporters from holding positions in any individual stocks.