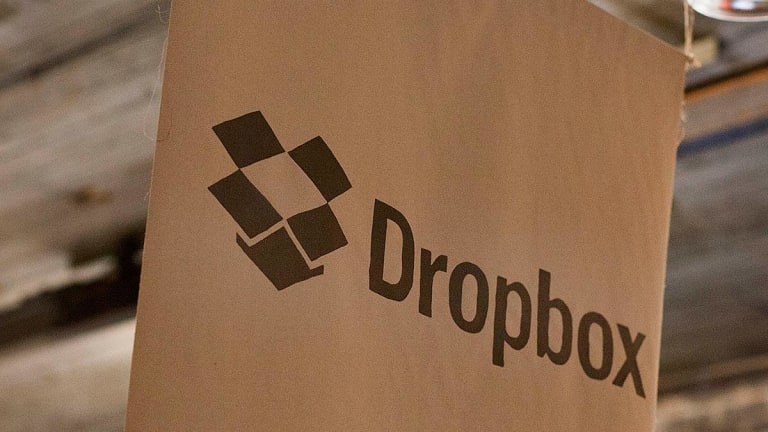 Dropbox's Selloff After a Solid Earnings Report Is a Cautionary Tale
The cloud storage firm's results and guidance were good, but investors are looking to take profits after a strong pre-earnings rally.
Dropbox  (DBX) - Get Report is a solid company, and its latest results and guidance were far from awful.
So why are shares down over 8% post-earnings? The departure of COO Dennis Woodside appears to be playing some role. But beyond that, the selloff seems to be a product of investors who had witnessed Dropbox's stock rise over 9% the day before -- and close to 30% from a near-term low set in late July -- choosing to sell on the news in the absence of a blowout report.
As such, Dropbox's selloff acts as a cautionary tale for getting too caught up in the euphoria of a big run-up for a tech stock in a "hot" industry. And certainly, there hasn't been any shortage of tech companies witnessing such run-ups in 2018.
To recap: Dropbox reported Q2 revenue of $339.2 million (up 27% annually) and non-GAAP EPS of $0.11, topping consensus analyst estimates of $330.9 million and $0.06. And on its earnings call, the cloud storage/file-sharing firm guided for Q3 revenue of $350 million to $353 million (above a $345.9 million consensus), and hiked its full-year sales guidance to a range of $1.366 billion to $1.372 billion from one of $1.343 billion to $1.355 billion.
Other metrics were also generally healthy. Billings -- defined as revenue plus the sequential change in deferred revenue -- came in at $359.4 million, easily topping a $343.7 million consensus. And with the help of both billings growth and the fact that Dropbox's capital spending is well below its depreciation expenses on prior capex, free cash flow (FCF) rose 24% to $102.2 million, which is well above net income of $48 million.
In addition, gross margin rose by 7.8 percentage points annually to 74.5%, paying users grew by 400,000 sequentially and 2 million annually to 11.9 million (a little better than expected). Dropbox's average revenue per user for the trailing 12 months grew by $2.33 sequentially and $5.47 annually to $116.66, with the help of good adoption for Dropbox's Advanced plan for businesses (it was launched in 2017).
One possible concern: In spite of the Q2 beat and above-consensus sales guidance, Dropbox is for now keeping its full-year FCF guidance unchanged at $340 million to $350 million. It's also hiking its full-year operating margin guidance by a modest half a percentage point, to a range of 9.5% to 10.5%. Somewhat elevated spending growth -- GAAP operating expenses rose 24% last quarter to $256.9 million -- is playing a role.
Regardless, at first glance, Dropbox's numbers don't seem to warrant an 8% drop -- even with a COO departure thrown in. Things become more understandable, though, when one remembers how much Dropbox had rallied, both over the short-term and since its March IPO.
Going into earnings, Dropbox was up 64% from its March IPO price of $21, which itself was above an original IPO range of $16 to $18. That rise had left shares trading for over 8 times their pre-earnings 2019 sales consensus, and close to 30 times their 2019 FCF consensus. Naturally, that spelled high expectations.
What happened to Dropbox's stock in June perhaps serves as a cautionary tale here. Back then, shares soared over 40% in just a few days' time in the absence of major news -- as a result, there was a lot of vague buyout speculation -- only to give back the lion's share of their gains within nine days. In this tech stock environment, momentum trades for cloud and Internet high-flyers can wind and unwind pretty quickly.
With all that said, one can still argue that Dropbox's post-earnings fall is excessive. The company continues to see healthy revenue, billings and paid user growth in the face of stiff competition from tech giants and others. And while its unique business model -- Dropbox spends a relatively small percentage of its revenue on sales and marketing, and depends heavily on consumer and small-business clients -- affects its ability to battle the likes of Microsoft (MSFT) - Get Report  and Box (BOX) - Get Report for large enterprise deals, it's also a key reason why the company has a cash-flow profile that many SaaS firms can only dream of for now (Dropbox's reliance on its own cloud infrastructure is another factor).
All of that could allow Dropbox, which is expected to see good FCF growth in 2019 and 2020, to eventually shake off its Friday swoon and resume adding to its post-IPO gains. Nonetheless, it's safe to assume that those who bought in at the tail end of Dropbox's pre-earnings rally wished they hadn't gotten caught up in a momentum trade.
Microsoft is a holding in Jim Cramer's Action Alerts PLUS member club. Want to be alerted before Jim Cramer buys or sells MSFT? Learn more now.