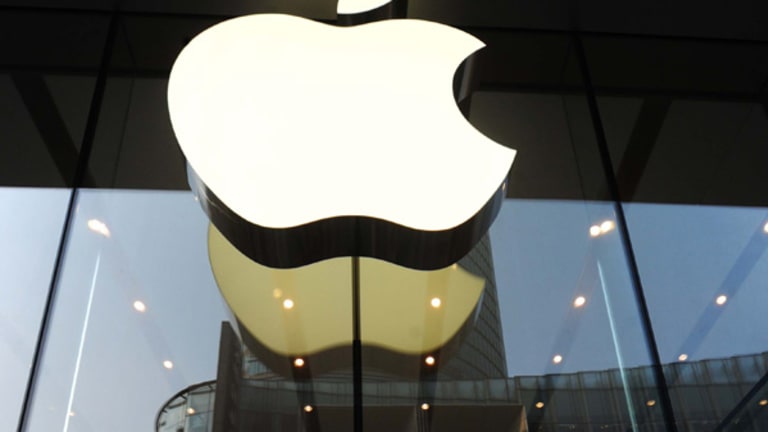 Drop in Apple Stock Is a Crime
Analyst and media hysteria could explain AAPL's reversal from its all-time highs.
NEW YORK (TheStreet) -- Apple (AAPL) - Get Apple Inc. (AAPL) Report was humming along. In fact, as it notched an all-time high just above $705 on Friday, Sept. 21, it looked as if it might spend this past week consolidating in the $695 to $705 area.
Instead, the relative bottom fell out.
>>
Also see
:
Apple Bull Case Laced With Sloppy, Bearish Holes
Granted, from a percentage standpoint, the drop was not all that dramatic. However, I would have expected Apple to follow in
Google's
(GOOG) - Get Alphabet Inc. Class C Report
footsteps and break out.
In one respect, this should not come as a surprise. When a stock runs like AAPL has -- up nearly 20% over the past three months and over 60% year-to-date -- you expect profit-taking.
Plus, this is not uncommon behavior for AAPL when it hits key psychological levels. It reacted similarly at $400 and $600, only busting through with authority at $500.
data by
But then, there's another side. One that suggests drops in AAPL are not natural and hardly logical.
On Tuesday, I targeted Wall Street analysts such as Gene Munster for using unscientific methods to derive irresponsible estimates. On Wednesday, I discussed the media's role, particularly smash-and-grab artists such as Henry Blodget, in market-related AAPL hysteria:
Cheerleader Analysts Shaft Apple, Investors
; and
Were Apple's iPhone Sales 'Crappy'? Henry Blodget Thinks So
.
While I do not believe in some concerted effort to ding AAPL, analysts and the media deserve scrutiny for the stock's volatility.
To be clear, I don't think there's an analyst or media member out there who consciously attempts to make AAPL move -- at least not down. In fact, analysts such as Munster have become unabashed cheerleaders.
As analysts morph into caricatures of themselves, however, their bullishness can have a counterproductive impact on the stock.
Consider Munster. His absurdly high estimates for the stock and iPhone sales alongside his seemingly constant -- and incorrect -- predictions for iTV contribute to the noise investors can't ignore. Thus, AAPL, often for no good reason, drops.
Dan Rayburn wrote an excellent article about Munster's record on iTV for
in August: "While I don't know Gene personally, and for all I know he's one of the nicest guys in the world, I don't understand why anyone listens to him when he's been predicting the same thing, year after year, with no results to show for it."
That's where the media comes in. They not only report, but perpetuate, proliferate and, consequently, make relevant the things analysts say, thereby creating chaos where none should exist.
Ironically, as much as I have missed on AAPL's stock price since roughly $350, I, as it ends up, treat the company more fairly than most. That's because I make a conscious effort to express what I really think, irrespective of dogma.
Guys like Munster are basically politicians. Or researchers who do not use hypotheses. Instead, they come to a conclusion first and cherry pick data to support it.
It's half the reason why I ducked out of my doctoral program. While many scholars were scientifically thorough and true to the craft, far too many did research for one reason only -- to fuel an agenda.
A small chunk of readers like to chide me because I often state -- very openly -- that I do not care about being right or wrong. When you become obsessed about those things, you risk falling into the aforementioned trap. All of your work services your need to be right and not wrong.
I prefer opinions -- presented as such -- that change as information changes. Perspectives that evolve as the thinker thinks and writes and thinks some more. Frequently, there's nothing better than being wrong to move your own thought process and the conservation forward.
Investors can get much more out of this interplay, this exploration of world views and possibilities than they can analyst conjecture presented as authoritative and the media spectacle that follows.
While AAPL's recent drop might not be criminal in the literal sense, it's sane to think of it as mischievous from a figurative standpoint.
At the time of publication, the author held no positions in any of the stocks mentioned in this article
.
This article is commentary by an independent contributor, separate from TheStreet's regular news coverage.
Rocco Pendola is a private investor with nearly 20 years experience in various forms of media, ranging from radio to print. His work has appeared in academic journals as well as dozens of online and offline publications. He uses his broad experience to help inform his coverage of the stock market, primarily in the technology, Internet and new media spaces. He has taken a long-term approach to investing, focusing on dividend-paying stocks, since he opened his first account as a teenager. Pendola, 37, is based in Santa Monica, Calif., where he lives with his wife and child.