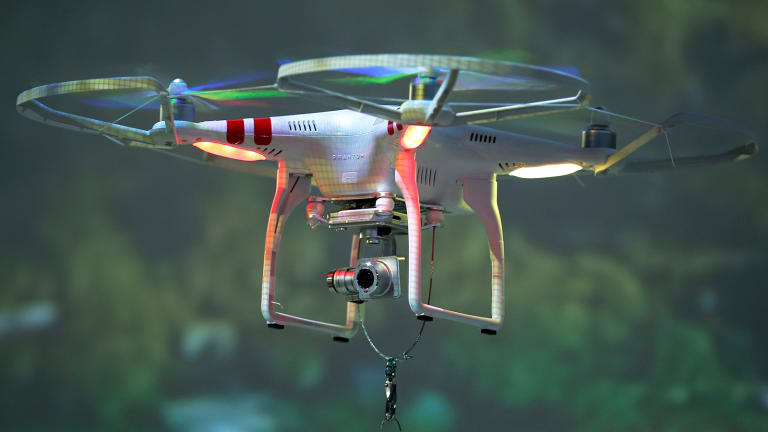 Publish date:
Drones Invade Washington and This One Stock Is Set to Benefit
The headline sounds like a B-movie, but current activity in Congress underscores how drones are evolving from science fiction to big business. Here's the best way to profit.
The headline sounds like a B-movie, but current activity in Congress underscores how drones are evolving from science fiction to big business. Here's the best way to profit.
Editors' pick: Originally published Jan. 26.
Hold onto your seat: Congress is actually on the verge of doing something worthwhile for investors.
This past month, hundreds of arm-twisters for the commercial drone industry have been descending on Capitol Hill to help shape new legislation that would revise the U.S. Federal Aviation Administration's new rules governing the use of these futuristic flying machines.
In most cases, this army of K Street lobbyists is trying to soften the FAA's safety and privacy rules, to create more flexibility for the testing and deployment of drones. And it appears as if they're about to get their way, which would be a huge shot in the arm for the already ascendant commercial drone business. In today's gridlocked and viciously partisan Congress, the passage of any meaningful legislation is tantamount to a miracle.
Leading the charge are companies such as Amazon and Alphabet'sGoogle, which intend to use drones for delivery. Lawmakers are nearly finished with a draft of a bill that is more to industry's liking. Notably, the proposed legislation would ease current FAA restrictions for the use of drones for delivery and make it easier to test their use in public spaces.
Some groups want to strengthen the FAA's rules in certain areas, and they appear likely to get their way as well. For example, the Air Line Pilots Association (ALPA) wants to enhance the FAA's existing mandate for drone registration to include point-of-sale registrations at retail stories or online. Pilots are increasingly concerned that drones pose a risk to commercial aircraft and fear their unimpeded use in American airspace.
The flurry of activity right now in the halls of Congress underscores how commercial drones are evolving from science fiction to a huge mainstream consumer industry. Indeed, drone sales have been soaring. According to a report in January from the Consumer Technology Association, U.S. consumers bought 1.1 million new drones in 2015, compared with 450,000 in 2014 and a meager 128,000 in 2013.
Drones represent an unstoppable technological trend that will boost certain tech-oriented stocks in 2016 and beyond. Below is the best play in the drone industry. It's a small-cap stock that's set to rocket higher in 2016, even as global markets struggle.
data by
AeroVironment (AVAV) - Get Report
AVAV is the world's leading manufacturer of unmanned drones, for both the commercial and military sectors. The stock is among a group of small-cap tech innovators that are poised to beat the coming bear market and rocket higher in 2016.
During the past three months, while the S&P 500 declined 8.63% amid a host of global woes, AVAV gained 8.86%. With a market cap of only $567.06 million and a market leading position in drones, the company has considerable room to grow.
As we look ahead to a year that promises to be volatile, momentum is on AVAV's side. AeroVironment reported second-quarter fiscal 2016 financial results in December that exceeded analysts' expectations for earnings. Revenue reached $64.7 million, for a year-over-year increase of 23%. Earnings came in at $4.4 million for earnings per share (EPS) of 19 cents, after a loss in the year-ago quarter. Reported second-quarter EPS easily beat the 9-cent loss expected by Wall Street.
In another good sign for the coming year, AeroVironment reported that its backlog grew nearly 50% to $97.2 million.
AVAV now trades at about $24, with the analyst consensus calling for a one-year target of $33.50, for a gain of nearly 40%. If you're looking for a small-cap, fast-growth play on the rise of unmanned flying machines, this is the one stock to buy.
Many analysts predict a bear market in 2016, but you don't have to sit on the sidelines. Are you seeking other small-cap rockets with revolutionary technology? DARPA, the Pentagon's famous research arm that helped develop the Internet and GPS, is at it again. They've developed an innovation so groundbreaking it's been called "the greatest game changer in Army history since the machine gun." Click here now to learn more about this program, and how you can invest in its future today.
John Persinos is editorial manager and investment analyst at Investing Daily. At the time of publication, the author held no positions in the stocks mentioned.