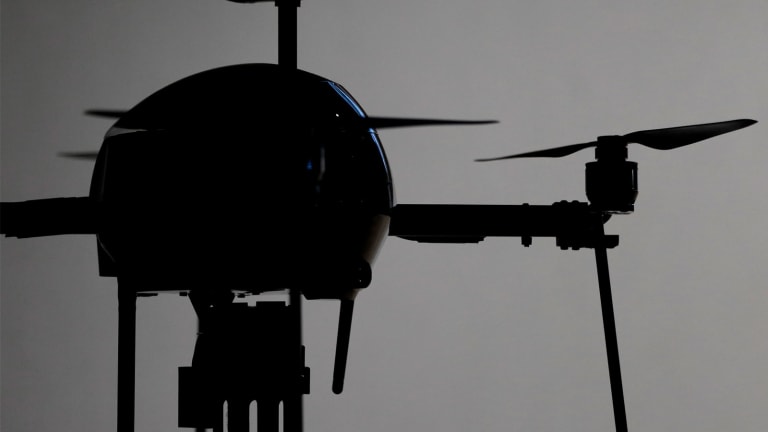 Drone Maker AeroVironment Poised for Big Gains in 2016
The major military contractor is the industry leader in the production of unmanned aerial vehicles.
Every four years, American presidential candidates pledge to get tough with overseas adversaries and to beef-up a supposedly neglected military. It's a tiresome quadrennial rite that's usually at odds with reality, ever since Jack Kennedy lambasted Dwight Eisenhower for a non-existent "missile gap."
Today, the Pentagon is pivoting away from the legacy weapons of the Cold War and toward ultra-sophisticated devices such as unmanned aerial vehicles (UAVs). 
This new military reality presents enormous growth prospects for one company in particular: UAV maker AeroVironment (AVAV) - Get Report , which is scheduled to issue third-quarter fiscal 2016 earnings on Tuesday, March 8. With a market cap of about $592 million, AeroVironment exemplifies one of the most exciting investments you can find: an innovative but stable small-technology company that's riding an accelerating trend.
data by
Budgetary austerity in Europe is adding uncertainty to global military spending plans, but UAVs are assured a healthy slice of the Pentagon's procurement pie for years to come. In addition, a significant civilian UAV market is emerging, as increasing numbers of federal organizations such as the Coast Guard, Border Patrol and even the Forestry Service require airborne surveillance and monitoring systems.
AeroVironment is a major military contractor but it would benefit the most from the mainstreaming of small-scale civilian drones, because these miniaturized UAVs are its specialty. The company boasts a 30% share of the UAV market, making it the leader by far.
The company's forte is making small and nimble UAVs that have the ability to carry payloads and are fitted with GPS systems and contact avoidance systems. These are the types of units that would help Amazon.com's CEO Jeff Bezos realize his bold vision of delivering packages door-to-door via drones.
AeroVironment last announced its quarterly earnings data on Dec. 8, when it posted EPS of 19 cents, exceeding Wall Street's estimate (a loss of 9 cents) by 28 cents. The company's revenue came in at $64.70 million for the quarter, compared to analysts' expectations of $57.74 million, for a 22.8% year-over-year jump.
Five analysts have provided estimates for AeroVironment's March 8 earnings announcement, with the lowest EPS at 3 cents and the highest at 10 cents. AeroVironment posted EPS of 10 cents during the same quarter a year ago.
AeroVironment's earnings expectations for its third quarter are modest, but investors should take into account a confluence of positive factors that more than compensate: the company's huge backlog of orders, entrenched client roster, and high spending on research and development.
AeroVironment is playing the long game, as it taps into the inexorable rise of pilotless drones.
UAVs are a hot phenomenon that generate considerable buzz in the financial, defense and technology media, so it's no surprise that the stock's valuation is high. AeroVironment sports a trailing 12-month (TTM) price-to-earnings (P/E) ratio of 86.01, compared to its competitors Lockheed Martin (18.89) and Raytheon (18.35). But among its peers, AeroVironment is the only pure play on the explosive demand for UAVs, which gives it greater growth potential.
AeroVironment shares now trading at about $25, but the one-year median analyst price target is $33.50, for a gain of 34%. On the high end, the one-year price target is $36, for a gain of 44%.
AeroVironment is in the vanguard of game-changing technology. Here's a small-cap biotech "rocket stock" that's about to take off. UCLA researchers are stunned by a Nobel Prize-winning cancer breakthrough that's proven in clinical trials to eliminate lethal forms of cancer with a single dose. One small company owns the patent to this life-saving treatment. Now trading at about $5 a share, the stock of this innovative company is projected to surge 2,700% on an imminent FDA announcement. To download the full report, click here.
John Persinos is editorial manager and investment analyst at Investing Daily. At the time of publication, the author held no positions in the stocks mentioned.