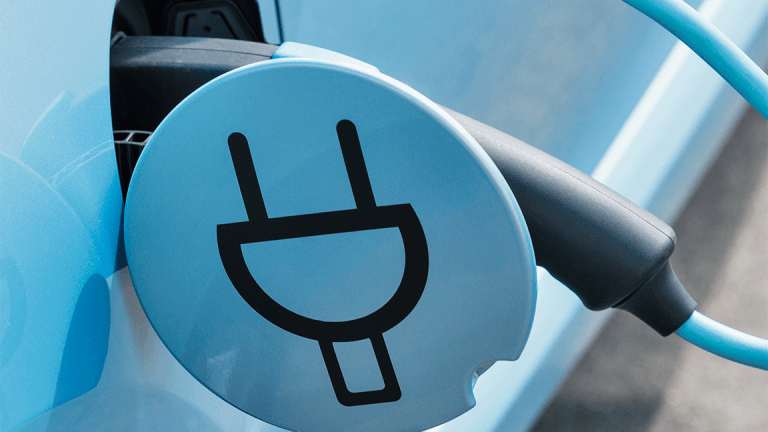 Giving Each Electric-Car Maker a $2.8 Billion Taxpayer Subsidy Is Asinine
OPINION: The 'Driving America Forward Act' should be called the 'Muscle Cars for Billionaires Law,' and Trump should veto this stupid plan if it ever reaches his desk.
A bipartisan group of U.S. senators introduced legislation Wednesday to make another 400,000 electric cars per automaker eligible for U.S. tax subsidies that are beginning to phase out. The proposal calls for offering $7,000 of tax credits per vehicle, or $2.8 billion per manufacturer -- great news for electric-car makers like Tesla (TSLA) - Get Report and General Motors (GM) - Get Report , but a bad deal for the rest of us.
Why? Well, consider the fact that 46.8% of the 328,118 electric cars sold in America during 2018 went to drivers in just one state -- California. And as anyone who's visited California knows, electric-car sales are heavily focused in a very small number of the very wealthiest ZIP codes along the coastline, basically the San Francisco Bay Area and the Los Angeles/San Diego corridor. Drive even 20 minutes away from those places and you're practically in Kansas as far as electric cars are concerned.
In my view, it's an affront to all that's decent and rational for the rest of America to give $7,000 tax credits to people in Silicon Valley's richest neighborhoods so they can buy themselves new toys. While the proposal's sponsors call the bill the "Driving America Forward Act," I think they should really dub it the "Muscle Cars for Billionaires Law." (Full disclosure: I'm short TSLA, although I'm long GM and Fiat Chrysler (FCAU) - Get Report ).
Is there even a limit on how many electric cars one person can buy and qualify for the $7,000 break? Or can billionaires like Mark Zuckerberg or Larry Ellison each buy 100 of them and collect $700,000 from the rest of us?
Sure, let's give rich Silicon Valley plutocrats almost a million dollars each so that they can outfit their homes with dozens of expensive electric cars. That's the ticket!
I presume the Democrats will strongly oppose this massive wealth transfer from the poorest Americans who live in the heartland and drive gas-powered cars to those who live in $20 million Silicon Valley mansions. But even if they don't, President Donald Trump and his budget staff have been very vocal recently about going in the exact opposite direction. They want to abolish electric-car subsidies altogether, not give each automaker a fresh $2.8 billion gift so that they can shower big tax breaks on people in the bluest-of-blue California ZIP codes.
And by the way, these tax credits would be "new money" for the recipients -- some of whom might turn around and give the cash to Trump's Democratic opponents in the 2020 presidential race. Indeed, on top of all of the other insanity behind the idea that U.S. taxpayers should give each automaker a $2.8 billion gift, that's the way Trump needs to look at this bill. With much of the tax break going to the bluest of blue neighborhoods on the California coastline (where Trump gets almost zero votes), this measure could pump billions of dollars into his 2020 opponents' election campaigns.
I think Trump will understand that such a move would be political suicide for him, and in my view, he needs to come out strongly against this bill -- and veto the measure if it actually passes. Thankfully, his administration is already on record as planning to do just that.
At the time publication, Wahlman was short TSLA and long FCAU and GM. However, positions can change at any time. The author regularly attends press conferences, new-vehicle launches and other events hosted by most major automakers.